Changemakers Series
By Natalie Mahn on May 17, 2022 in People, Senior Living
Now in its fourth consecutive year, the Changemakers series showcases forward-thinking leadership in senior living. But not just any leaders earn the honor. The Changemakers title is reserved for those who drive positive change across the industry — and who pursue innovative strategies along the way.
It's empowering to see how each honoree is transforming the industry as we know it. That's made possible through in-depth interviews conducted by Senior Housing News (SHN) and sponsored by Yardi.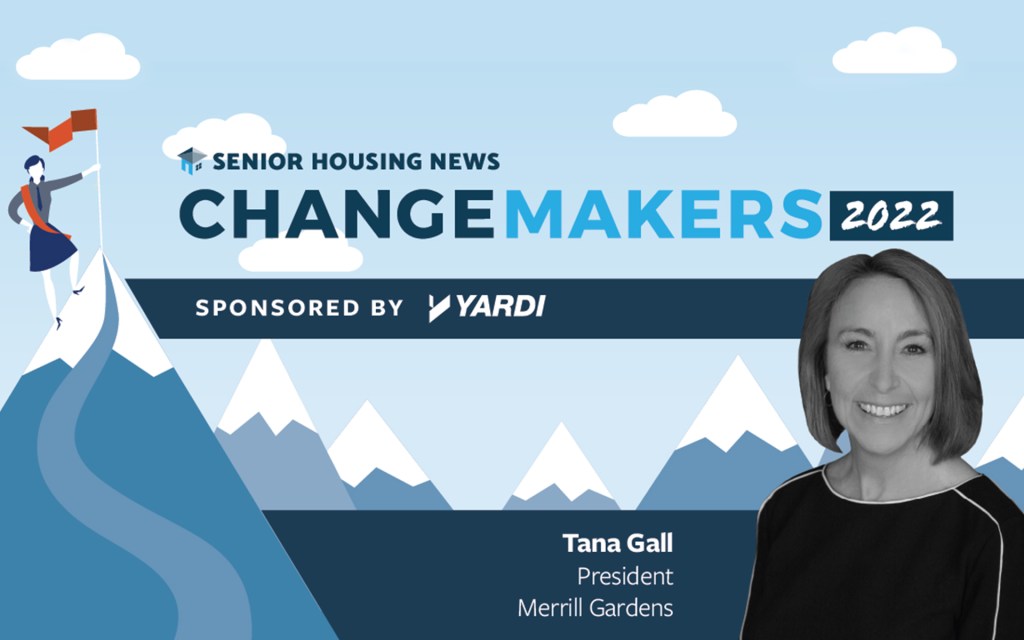 And lucky for you, the first batch of interviews is live. That includes one from Tana Gall, president of Merrill Gardens, a family-owned company and Yardi client. Her story is one you don't want to miss.
Meet Tana Gall
From decades of experience in senior living, Changemaker Tana Gall is skilled at problem solving. That comes from her initiative to take risks and forge new paths, which Gall has done throughout her career. Now as president of Merrill Gardens, she has an important perspective on what it takes to spearhead change.
In her interview, Gall tells SHN about her bold but calculated risk-taking approach, plus she shares lessons learned from her 27 years in the industry. Keep reading for a highlight.
SHN: Thinking back on your career in senior living, what are some of the changes you're especially proud of leading?
Gall: In the early 2000s, I was able to work with a group on changing our industry messaging. For my first few years in the industry, a lot of the same words were used to describe what we did — respect, integrity, independence. They were generic and didn't capture what the industry represented, so we took a leap. During my time at Leisure Care, I worked with a very creative group of people to roll out Five Star Fun, and that was our tagline.
Our marketing material looked way different than anyone else's in the industry. We had ladies in a convertible with their hands in the air, reshaping the way people thought about senior living. Today, when I look at how the industry communicates to different audiences, I still see little pieces of that, and we are continuing that mission with Merrill Gardens.
Then if you fast forward, I could not be more proud of the work we're doing on Truewood by Merrill and really doing what we can to serve the middle market.
It's something that's been tried but not really done completely or done well yet in the industry, and to be able to be a part of really changing who can take advantage of living in our communities is something I'm very, very excited about.
SHN: Do you think the senior living industry is changing fast enough?
Gall: Yes and no. As we recover from the pandemic, we're finding our stride again and seem to be doing okay. I feel fortunate to have had so much time in the industry and seen how it has evolved, because now groups like active adults are a part of our industry continuum.
Did that happen fast? Well, kind of. There was a lot of good research before these trends developed, but I think we have an opportunity to make decisions more quickly as we move forward. Sometimes change happens in small pockets as opposed to the industry as a whole. While I think we're changing fast enough, we need to move faster to accommodate new generations' need for our services in the future.
SHN: How do you innovate and drive change without getting so far ahead of the curve that the market is not ready for your idea or product?
Gall: There is a Merrill Gardens saying that I had nothing to do with, that says, "Try it, fix it, do it." That whole mantra is a great way to test things. To me, what's worse than anything is over-analyzing a situation and never doing anything. I would rather make a few little mistakes along the way because I tried it, because you know what, maybe it'll work.
Next month, we're putting 17 robots in our communities for dining. We didn't spend a ton of time on that. Our thought is, "Let's just try for a month, and if we're able to fix part of our labor problem in dining, then it was worth doing." We weigh things out when it comes to timing, but I think we're pretty bold when it comes to giving things a shot.
Read Tana Gall's full interview
To learn more of Tana Gall's experience, stories and advice, read her full interview with SHN.
From Yardi EHR to RentCafe Senior CRM, Yardi tools help Merrill Gardens steer their communities forward. To read about our single connected solution — built for the unique needs of senior living providers — view our product suite.