Webinar Recap
By Natalie Mahn on Nov 21, 2023 in Senior Living
To help professionals across senior living prep for industry changes ahead, we joined Senior Housing News (SHN) last month to host an insightful roundtable webinar — Senior Living in Flux: C-Suite Changemakers Discuss a Transforming Industry! Featuring experts Sarabeth Hanson of Harbor Retirement Associates (HRA), Earl Parker of Commonwealth Senior Living, Sevy Petras of Priority Life Care and Yardi Director of Healthcare Solutions Fil Southerland, the conversation offered tangible ways to navigate change expected for 2024.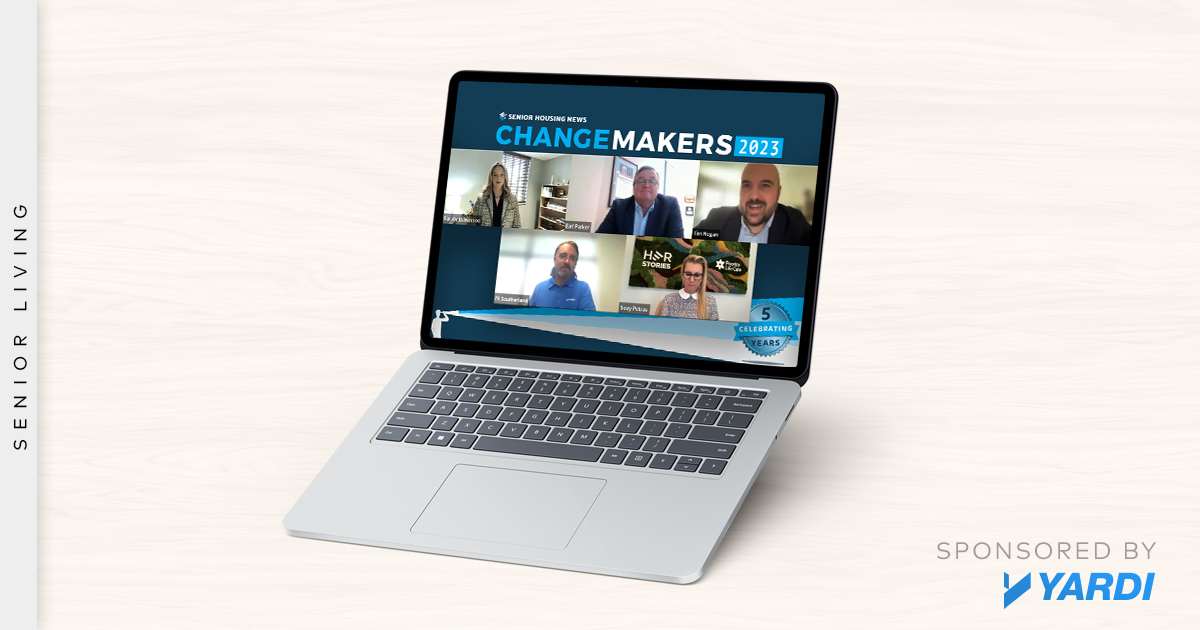 Read on to discover the webinar's key takeaways on topics crucial to senior living today:
Major ways the senior living industry is changing
The importance of the middle market
How to meet the needs of a new consumer
Key ways technology is shaping the industry's future
2023 Changemakers + Yardi expert share advice and insights
When asked where they see the industry changing, the panelists shared a range of answers. Sevy focused on the power of technology and data, stating the two will push the industry forward come 2024. For Sarabeth, change is centered around serving a new consumer — baby boomers — as well as senior living staff, who now have different expectations than years prior.
Earl brought the conversation back to technology, emphasizing the small margin for error in today's industry and how that's driving a focus on data. He spoke to Commonwealth's success with Yardi Senior IQ — our business intelligence powerhouse — in harnessing real-time data to make sharper, informed decisions. Fil relayed Yardi's focus on digital transformations and accelerating complex workflows to meet the needs of today's communities. Sarabeth chimed in to share more positive experiences with Yardi's evolving solutions, focusing on the benefit of using fully integrated tools that unite on a single platform.
Shifting gears to speaking on the middle market, Sevy shared how the industry may not have the keys to address these new consumers entirely — but it's getting there. She noted that technology can play an important role. Earl agreed that technology is important, sharing that he envisions a tremendous opportunity ahead given the changing demand. Sarabeth then offered concrete ways HRA is evolving to meet the new wave of seniors, noting the importance of offerings that promote independence. She shared HRA's development of flexible scheduling, robust recreation plans and ghost kitchens.
Circling back to technology, each panelist agreed it's shaping the industry like never before. The talking points centered on innovations at Yardi, the emergence of artificial intelligence and the importance of technology in addressing industry-wide staffing challenges. Fil placed an emphasis on Yardi's partnership with Kno2, speaking to the value it brings our clients in an ever-evolving environment.
Learn more from the panelists
We loved joining SHN to bring you this impactful conversation! If you'd like more perspectives from 2023 Changemakers, both those who spoke on the webinar and additional honorees, read this year's Changemakers ebook.
If the roundtable sparked your interest in our senior living solutions, watch a webinar to learn more.