Recognizing Sarabeth Hanson
By Natalie Mahn on Jun 23, 2023 in Senior Living
We're excited to announce the next batch of 2023 Changemakers — innovative trailblazers in senior living — which includes three new honorees! If you haven't seen our previous posts this year, in short, Changemakers is an inspiring interview series produced by Senior Housing News that we're sponsoring for the fifth consecutive year.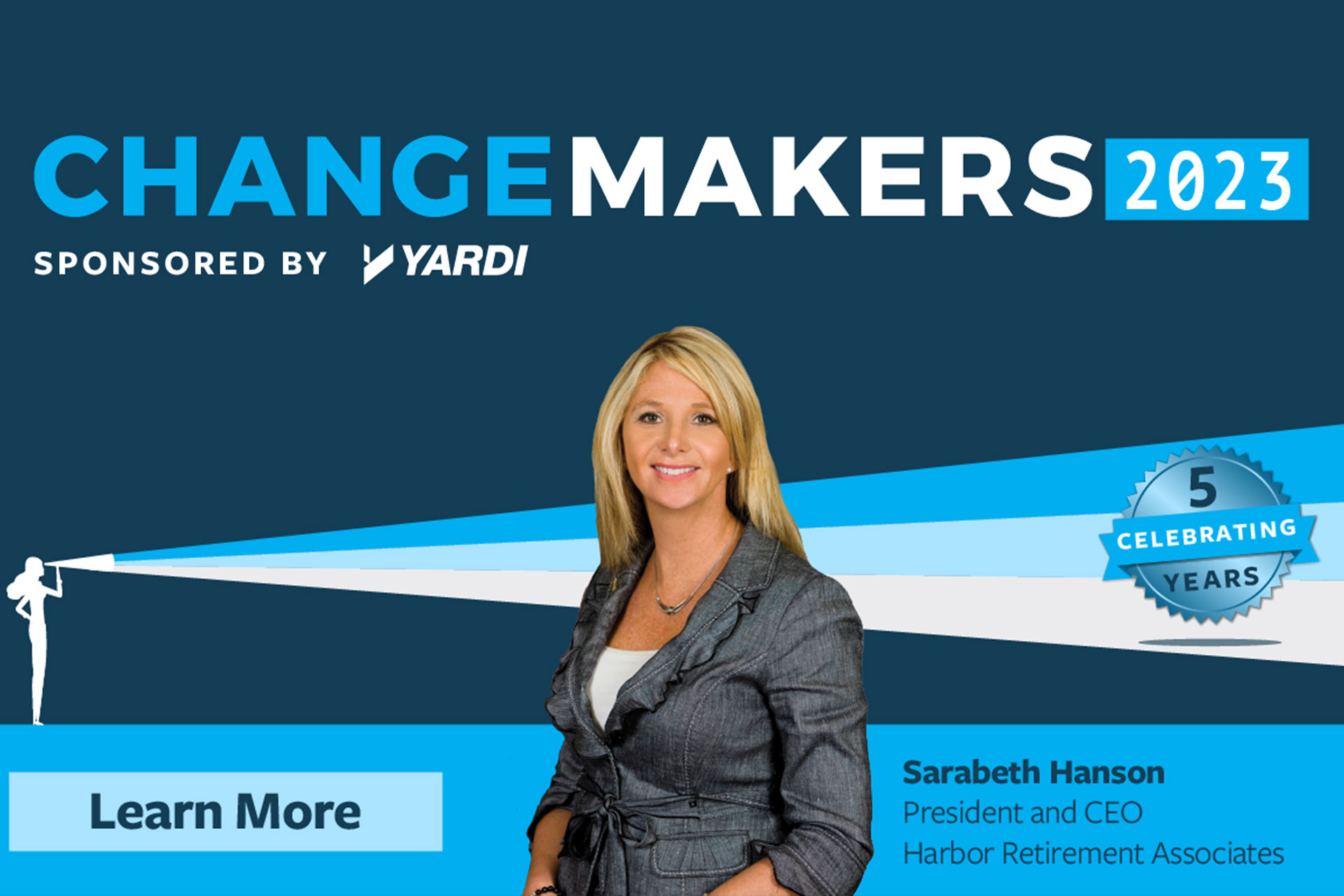 The Changemaker we're featuring today is Sarabeth Hanson, CEO and president of Harbor Retirement Associates (HRA), an amazing Yardi senior living client. Enjoy a snapshot of Hanson's interview below.
Yardi client Sarabeth Hanson named 2023 Changemaker
With dedicated experience as a leader at HRA, Sarabeth Hanson has driven positive change across the organization's 36 communities. Currently operating as CEO and president, she brings over 20 years of senior living experience — and a passion for helping older adults — to her work today.
In her interview with SHN, Hanson shares what her journey has looked like over the last several years — and shares what she's focusing on looking ahead.
SHN: How have you changed as a leader since starting in this industry?
Hanson: I've changed so many ways since starting in the senior living industry, especially since I started in the senior living industry as a recent college graduate who went to school to teach elementary education in the second grade, and found that there was something missing in my fulfillment in that process and stumbled into a therapeutic recreation director position at a not-for-profit skilled nursing assisted living community, where I learned that I was called to serve seniors.
I learned the beauty in seniors and really started to lead immediately following that process because that wasn't a leadership process. I was a team of one, but quickly learned that you don't have to be assigned to be a leader to be a natural leader. Quickly found that if I had good ideas and was willing to share them, that I could lead efforts that would really change the lives of seniors.
SHN: Obviously, we at SHN think of you as a changemaker, but do you see yourself that way — are you always excited to drive change?
Hanson: I am proud of HRA and the company that we have become because we're a little disruptive in the industry. I would say that it excites me to make change in a positive way. You know what, if I sat next to you, Nick on an airplane, and you asked me what I did for a living, I would no longer tell you that I'm in senior living. I would tell you that I'm in the hospitality industry serving seniors. The difference there is when I said I'm in senior living, people wrinkle their nose like, "Oh, thanks so much. Oh, what a hard job." But when I say it the other way around, they say, "Tell me more."
I want people to know more because we are no longer, at Harbor Retirement Associates, we're no longer what people think of when they think of retirement living or senior living. We are truly focused on exceptional experiences. That is created through leading with hospitality and not leading with things that are expected like great care and medications given at the right time, but by exceeding their expectations through a hospitality approach and offering choice to our residents in a very safe environment.
SHN: As you look across the rest of the senior living industry, do you think that it's changing fast enough to keep up with the times?
Hanson: Covid-19, I think threw a little bit of a monkey wrench into probably some growth because the industry, like everything else got sequestered and had to work through a very high-level clinical model. What we found through that exercise is that we are more clinically capable than we ever thought we were before and that we had ever expected to be. We always were a residential model, not a clinical model. Although when the time came that we had to prove ourselves as a clinical model, we did an exceptional job of keeping our residents safe and well throughout the process of quarantining and very scary, scary times.
I think that will help us grow as an industry. I think there are a lot of change makers or disruptors that got ahead of this. In the next five years, those baby boomers, the clients that we will be serving, will not want a small studio apartment. They're going to be able to afford more than that. In their assisted living environment, they're going to want to still have space to move around and an art studio to paint in, and to have plenty of choices and options throughout what they do.
I think we need to continue to evolve and grow. I think technology will play a bigger part in the next several years than it has probably in the past because the boomers are familiar with technology and friendly with technology, and early adopters of technology. I think we'll see it used more with them than we certainly have with the greatest generation that we're serving now. I think there's a lot to come there, but I think that although there was probably a slight setback, there also was a lot of growth during the COVID period.
Read Sarabeth Hanson's full interview with SHN
If you're ready for more insights from Sarabeth Hanson, read her entire SHN interview. We're loving sharing this year's class of Changemakers, Yardi clients included, and we hope you're enjoying the series so far!
If you have any questions about how our senior living solutions help operators like HRA build success, reach out here.