Safer Screening
By Lee Ann Stiff on Apr 14, 2020 in News
For its speed and efficiency, online leasing might be one of the best things that's ever happened to property managers and renters. And with the current impact of COVID-19 on multifamily operators and renters alike, mobile tools and services that enable social distancing for necessary transactions are more valuable than ever.
Renting sight unseen
Prior to the pandemic, the 2020 NMHC/Kingsley Associates Apartment Resident Preferences Report found that 14% of respondents would rent without seeing an apartment in person. There's no doubt that the number of unvisited rentals will explode with social distancing rules in place.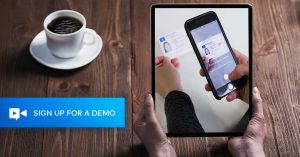 But that comes with increased risk. In order for online leasing to support your bottom line by filling your units with quality residents, you need to be sure your applicants are who they claim to be. New technology can help you safely confirm the identity of your applicants online in just a matter of seconds.
ID Verify is a smart software solution that quickly authenticates real world personal ID documents such as driver's licenses and passports and it's now accessible within the RentCafe leasing workflow.
Protection that converts
The right online services can help you sign leases with quality renters without meeting them in person. Customer journey statistics show that while engaging a customer in a mobile transaction, if you require them to leave the channel to provide documentation, such as a personal ID for a rental application, the abandonment rate can be as high as 90%.
Allowing applicants to provide ID documents online as part of the leasing process can make a big difference in your conversion rates. ID Verify harnesses computer vision and artificial intelligence technologies to automatically classify, extract and authenticate ID documents within seconds.
Automated verifications
For optimal processing, guided document capture helps applicants take quality photos using a smartphone or tablet. Next, computer vision algorithms recognize and classify thousands of diverse ID documents for reliable data extraction.
Finally, ID Verify analyzes each content field in the document and uses a combination of machine learning and unique algorithms to authenticate the document.
Optional face biometric comparisons
Tested with millions of selfies and ID documents, this ID Verify feature uses sophisticated face comparison technology to automatically compare the photo extracted from the ID document with a selfie to prove the person submitting the ID document is the rightful owner.
With these new tools, selecting reliable residents from a socially safe distance has never been easier. Learn more about ID Verify to optimize your leasing process and mitigate risk.
Ready to start using ID Verify today? Sign up for a demo to see how it works in less than 15 minutes or contact your Yardi account manager.