Future of Leads + Leasing
By Erica Rascón on Jan 5, 2021 in Marketing, News
How has the pandemic permanently altered multifamily housing? This is one of the many questions explored during the 2020 National Apartment Association APTvirtual conference. The event hosted 63 breakout sessions and five TED-style Game Changer sessions that helped participants tackle tough questions.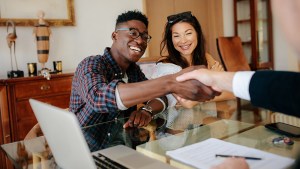 The Connect with Execs session offered a unique opportunity for guests to talk to Anant Yardi, founder and president of Yardi. Together, participants explored technologies that surged during the pandemic and are now industry standards.
"The pandemic has accelerated the transition of digital media and the use of digital media," observed Mr. Yardi. "AI is such an important topic. AI, big data and IoT are three topics that are taking a lot of attention."
He continued, "These are the technologies that are coming to the forefront. This is what we mean by innovation, bringing tech to the market for the benefit of the industry."
Artificial intelligence and apartment chatbots, our new coworkers
Technologies that leverage artificial intelligence, such as chatbots, bridge the gap between live customer service and cost efficiency. Chatbots permit leasing agents to focus on high-value tasks instead of repetitive inquiries. When leasing agents are not available, chatbots offer a natural supplement to their services.
RentCafe Chat IQ can guide prospects through the leasing journey by readily presenting information on pricing and availability, tour scheduling, pet policies and more. It communicates via chat and text and will soon have capabilities for emails, calls and in-app messages.
Chatbot interactions are natural, intelligent and accurate. The engine has learned, for example, that "What r ur business hours" is actually the question "What are your business hours?" It uses natural language processing to understand typos and improper grammar. Machine learning enables AI engines to adapt to human speech and writing patterns. With each interaction, chatbots become increasingly more intelligent.
"We find that our chatbot is being quite well received. We find that prospects that engage with the chatbot are comfortable giving their personal information," said Mr. Yardi. "As long as the chatbot is promoted on the website, we're getting leads through it."
Self-guided tours bring more leasing opportunities to communities
When leasing agents are not able to welcome prospects, self-guided tours offer a viable alternative. These tours use smart home and IoT technology to provide a convenient and safe touring option, during and outside of office hours.
Mr. Yardi explained, "Depending upon the infrastructure at the apartment building and for those who've implemented smartphone tech or digital locks, we have the capacity to verify the prospect: take a photograph of their driver's license, taking a selfie and matching the photographs. Assuming the ID is validated, they're issued a digital key so they can do the self-guided tour."
Self-guided tours extend leasing hours without increasing staff. The added security of ID verification, digital locks and motion sensors promote safety in the community.
Learn how you can attract renters and create more leasing opportunities with self-guided tours.
Contactless, paperless solutions offer efficiency and flexibility
All attendees of the session experienced at least a partial shift to remote work environments during quarantine. Although work locations changed, work demands continued. Remote work environments and expedited service expectations require secure, digital access to files and data. Conventional invoice processing — with its paper checks, paper invoices and long turnaround times — has no place in the digital future.
Contactless, paperless solutions empower staff to maintain workflows while working from home. The technologies also offer faster processing times than conventional methods. Joseph Anfuso, CFO of San Diego-based MG Properties Group, used a combination of outsourced invoice processing and Yardi PAYscan to stay on top of procurement.
"We got rid of 95% of paper checks using PAYscan," said Anfuso. "Accountants didn't have to come in to write these paper checks. We transitioned six months before the pandemic, and it was nice to have that done already. Accountants come in once a week. Financial statements are still done on time, and we haven't seen an uptick in delinquencies."
Looking forward
AI will continue to grow in service to the real estate industry. Its implementations are growing beyond marketing and customer services as innovators at Yardi explore opportunities in unit turn and accounting.
Mr. Yardi said, "During the unit turn, there is typically an inspection. A technician has to make a determination to replace appliances or repair. Replace carpet or clean? Some of the decisions will be facilitated by AI. We don't think we'll be at a point where the AI engine will make a clear decision, but it'll make a recommendation for the inspector."
He continued, "From an accounting perspective specifically, I think we are a little bit away from AI in the end-of -month process."
The pandemic has shown that the multifamily industry is adaptable and resilient. With the help of technology such as AI and IoT, the industry can remain nimble in the face of change.
Connect with Yardi experts to learn more about solutions to help social distancing.