Self-guided Tours
By Erica Rascón on Apr 16, 2020 in Marketing
If you are on the fence about self-guided tours at your property, take heart. The benefits of self-guided showings are plenteous, and you can still provide many benefits of agent-led tours. Additionally, self-guided experiences alleviate many frustrations for leasing office staff and prospects.
Read on to learn how you can benefit from making the switch.
The benefits of agent-led showings
Multifamily professionals often prefer guided tours for a few great reasons. Leasing agents learn more about prospects during the tour. They can then use that information to determine which unit, amenities, and community features will most appeal to the prospects. Of equal importance, leasing agents build rapport with prospects which is a vital part of the sales process.
When tours are booked through the office and led by an agent, property managers may feel more at ease. They know exactly who will be on the property and when. When prospects are accompanied by an agent, the property manager knows the guests will see the best of the community and have all their questions answered.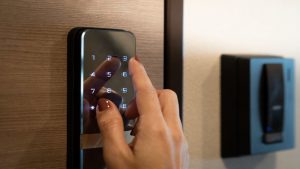 Self-guided tours can offer many of the same benefits—and more! Agents can still connect with prospects before the showing. They can use that information to highlight areas of interest for prospects. Additionally, self-led tours can be accompanied by audio or written guides, so prospects don't miss out on the most important details of the unit, community, and neighborhood.
Technology also addresses security concerns. Through the tour scheduling app, prospects receive a unique code that is only functional during their tour time. Property managers will still have a clear idea of who is touring the unit and when.
There are several unique benefits to self-guided tours as well:
The benefits of self-guided tours
Practice social distancing without losing business. Social distancing is a necessity during times of major health concerns, such as COVID-19. Client-facing industries, like multifamily housing, can keep staff, residents, and prospects safer by switching to self-guided tours.
Schedule and self-guided tours online. Skip the hassle of going back and forth over the phone or via email. Leasing agents can list their availability online. Prospects then select the tour time that best fits their schedule. It's easy scheduling with zero lag time.
Manage the tour schedule online. If a prospect needs to cancel or reschedule, you can update the schedule online. The new schedule is synced between calendars, eliminating the confusion cause by emails and handwritten notes.
Expedite the leasing process. Back-and-forth communications slow down the leasing process. Leasing agents save time when they don't have to schedule and conduct tours. This permits them to focus on nurturing leads and the conversion process.
Give prospects their desired space to make a decision. According to a 2019 HRC Retail Advisory survey, a notable 95% of consumers prefer time to themselves while shopping. Prospects may find it more challenging to make a confident decision about a unit when the leasing agent hovers during the tour. Self-guided tours give prospects time to explore the benefits of the unit for themselves.
Improve marketing ROI. Self-guided showings facilitate higher occupancy rates. There is less down time between turning the unit, scheduling tours, conducting tours, and completing the lease. As a result, you can see faster returns on your marketing spend.