Multifamily and COVID-19
By Leah Etling on Mar 17, 2020 in Matrix, News
It seems no industry is immune from the impact of the COVID-19 virus, and that includes multifamily real estate.
The global spread of the COVID-19 virus has brought a technical end to the 11-year bull market in equities, forced a European travel ban and sent Treasury rates to historic lows.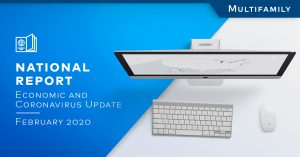 According to the latest multifamily report from Yardi Matrix, the industry may feel the effects of COVID-19 as it spreads across the nation, although the rental housing industry remains well capitalized and strong enough to weather a modest slowdown.
"Owners and operators may face short-term rent collection issues if there is a tightening in the employment market, and value-add projects will likely slow," states the special report from Yardi Matrix. "However, most real estate investors are poised to sustain their operations and may see an investment opportunity as the market shocks continue."
Travel, hotel, restaurant and trade industries will likely be hurt the worst, as business and leisure travel draw nearly to a halt.
"It seems inevitable that the U.S. economy will experience a technical recession," states the report. "Business travel has all but stopped and personal travel has slowed considerably, leading the airline industry to be one of the hardest-hit sectors. Restaurants and tourism will also feel significant pain as trips are canceled and social distancing increases."
While the data has yet to reflect the impacts of COVID-19 (February employment growth was very strong, jobless claims did not increase, and rent growth continued its steady increase), the coming weeks and months are likely to show employment cuts and a slowdown in trade with widespread impacts.
Learn more by downloading the full Yardi Matrix special multifamily report at yardimatrix.com
Yardi Matrix offers the industry's most comprehensive market intelligence tool for investment professionals, equity investors, lenders and property managers who underwrite and manage investments in commercial real estate.