Multifamily Investment
By Leah Etling on May 13, 2016 in News
This week, Yardi's Jeff Adler (Vice Preside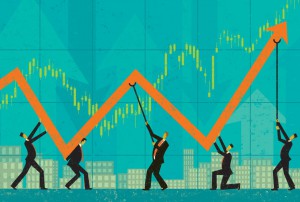 nt of Matrix) and Jack Kern (Director of Research/Publisher of MHN, CPE) presented a biannual webinar on the health and welfare of the U.S. multifamily investment sector.
In an hour-long presentation, Adler and Kern summarized the various forces that impact investment, including job growth, oil prices, rent growth and supply. Data is derived from the reports created by Yardi Matrix, the industry's most comprehensive apartment market intelligence platform.
While striking a more cautionary note than six months prior, the outlook for multifamily investment remains very positive, Adler said. Occupancy is high and rent growth strong at 6 percent.
"U.S. multifamily is still the place to be (for investors), even if the ride is at risk of a few potential transitory bumps in the road," he commented. "The only caution I have is that the risk of global, debt driven macroeconomic dislocation, has, in our view, risen."
Concern about unstable economies in China, Japan and Europe, as well as slow growth in GDP at home, prompted the tempering of the outlook.
"The US economy is the one eyed man leading the blind. If you look at the Eurozone, performance has been horrific. In Japan, it is a 20 year deflationary deadbeat. China is going through the right kind of transformation, but it's going to take time and they've misallocated a whole bunch of capital," Adler said.
Looking at markets on a regional basis, some slowdown has been noted in previously red hot cities, Adler noted.
"There's deceleration going on in Houston, Denver, and San Francisco, but acceleration in Orlando, Atlanta and Phoenix," he said. One factor that is influencing growth is what Adler called "intellectual capital nodes," suburban neighborhoods with an abundance of creative individuals, a supportive business climate, and lifestyle amenities.
"These are places where the value of place is most likely to increase," Adler said. Seattle, Denver and Atlanta are all home to such submarkets.
When it comes to supply, new apartment stock is being delivered – about 250,000 new units are in lease-up now, with a half-million under construction. But consumer demand remains high enough to absorb those new units and remain hungry for more.
"Occupancies are high and sustainable in the 96 percent range for stabilized property," Adler said. A big differentiator for apartments these days remains the in-unit washer dryer, he noted. Investors looking to add value to their properties should consider that amenity first as a way to stand out.
The next Matrix outlook webinar will be presented in November, 2016. Find the presentation deck from Wednesday's event here. Visit http://www.yardimatrix.com/ to learn more about the product, reports, and upcoming events.