Moving Forward
By Leah Etling on May 19, 2020 in News
Yardi multifamily experts Dhar Sawh, Paul Yount and Patrick Hennessey went in-depth on how industry professionals can best prepare for what's next in a helpful operational strategies webinar this week. Miss it? You can register for additional sessions here.
The hour-long presentation featured both current economic data sourced from Yardi Matrix as well as key takeaways from Yardi's Downturn Playbook, a comprehensive resource for meeting the challenges ahead.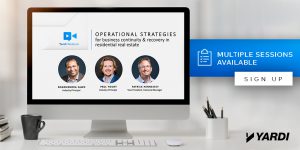 "When we saw COVID-19 hit the U.S. in March, we really saw (multifamily demand) plummet. But we are already seeing that demand bounce back. It's bounced back, but it has definitely changed," said Sawh, industry principal at Yardi. Find out more about national multifamily trends in the latest Matrix webinar recording.
Preparing for success in the post-COVID-19 multifamily world will involve shifts in the way leasing and operations teams are used to doing business. Examples include:
A virtual marketing and leasing experience, from start to finish. "It is critical prospects can get what they need to make a decision when they cross your digital threshold," said Yount, industry principal at Yardi. That may mean activating aspects of your marketing website that you haven't used before. Do you have adequate photos, videos and 3-D floor plans? What about the ability to chat live online with a leasing representative? Nudge marketing? Details about how your property has responded to coronavirus is another essential. And the need to fully execute a lease online is more important than ever – many prospects are now willing to consider signing without ever visiting a property in person.
The opportunity to take a self-guided tour. Self-guided tours were already growing in popularity before the pandemic, but they now provide an opportunity for contactless viewing and will be likely more popular than ever moving forward. But they require planning at the site level and the ability to verify prospect IDs remotely before authorizing unit access. You'll also need to account for cleaning and sanitizing the unit after every visit. Operators who were already set up to offer agentless tours are faring especially well with leasing right now, Yount shared.
Optimizing prospect and resident communications. Now more than ever, the messaging and tone of your communications with potential and current renters is key. "You're either seizing or missing out on a big opportunity to make sure your residents know they live in a safe and well managed community," said Yount. For current residents, you'll need to communicate new property protocols around common spaces and continue to provide information about deferral payments and distanced social gatherings. If you haven't allowed rent to be paid by credit card in the past, this may be the time in order to keep payment percentages high. Such things will make a big difference when it comes to lease renewal negotiations and ongoing retention.
Plan now for possible changes to prospect screening moving forward. High national unemployment and the potential for attempted fraud when leasing are two key considerations when it comes to future screening, said Hennessey, vice president and general manager at Yardi. Dialing back some leasing requirements like deposits or income standards may open a broader potential new resident pool. Employment has also become more difficult to verify during the shelter-in-place period, but there are new tools available to help with that. "Make data driven decisions in these areas and do what's best for your business. Your screening provider will be there to help, so work with vendor partners to determine the best course of action," said Hennessey.
Yardi will continue to offer a variety of webinar topics to help real estate professionals navigate these challenging times. You can find a full listing of learning opportunities. For more information about how the Yardi Multifamily Suite can help address the changes ahead, check out the full set of products offered in our single connected solution.