Mixed-Income Housing
By Erica Rascón on Jul 8, 2020 in News
As the demand for affordable housing continues to rise, local governments form unique partnerships to fill the need with efficiency and quality. Three Jersey City governmental agencies and two Yardi clients have joined forces to execute Bayfront Redevelopment Plan which includes the largest mixed-income housing development in the Tri-State region. 
A clean slate
The significance of the Bayfront Redevelopment Plan begins with its history. The West Side of Jersey City has had it share of ups and downs. The diverse neighborhood is currently experiencing a renaissance as a wave of investors aim to highlight the beauty of the neighborhood's eclectic nature.
The new development will breathe life back into the Hackensack Riverfront, making it a thriving part of the West Side rather than a forgotten nook. Additionally, the new development will provide the neighborhood with the economic stability that accompanies mixed-income housing.
Bayfront Redevelopment Plan includes the transformation of the former Honeywell Corporation building which the City acquired in 2016 for $100 million. The site, which will remain in control of the City, will boost the local stock of affordable housing from 5% to 35%.
The plan is a leap forward for the neighborhood, and it is a formidable feat. Making the vision into a reality has required the collaboration of multiple entities. Mayor Steven M. Fulop, the Jersey City Redevelopment Agency (JCRA), and the Department of Housing, Economic Development and Commerce (HEDC) represent local governmental agencies. Yardi clients Pennrose, LLC, and Omni America, LLC created the joint venture Bayfront Development Partners, LLC, which will handle development and construction at the site alongside BRP Development Group.
Omni: for the love of community
Omni is a black-owned firm that acquires, rehabilitates, builds and manages quality affordable housing throughout the United States.  The organization, which includes Omni NY and Omni America, also partners with local community and neighborhood organizations to provide vital social services including after school programs for children, skills training seminars and adult education classes.
Regarding the Bayfront Redevelopment Plan, Omni managing director Eugene Schneur said, "Omni is excited to work with local and state officials and our partners at Pennrose on this transformational project which we feel will be the catalyst for future public private partnerships in Jersey City. We expect the Bayfront redevelopment to benefit all members of the community and transform underutilized land into a vibrant and thriving neighborhood."
Truly mixed-income housing for Jersey City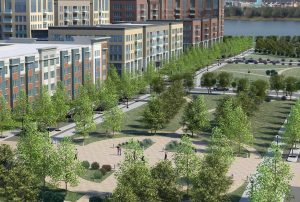 Phase one of the Bayfront Redevelopment Plan begins with 16 acres of the 100-acre property. About $26 million is allocated to the development of four parcels that will contain nearly 1,100 multifamily units. Pennrose/Omni will contribute 540 units including 189 designated for affordable housing that are up to 60% of average median income (AMI). BRP development will contribute 552 units that range from 30% AMI to 120% AMI.
"Through this redevelopment project, we are demonstrating our continued commitment to our more vulnerable residents who are among the hardest hit by this pandemic," said Mayor Fulop.
He continued, "I hope with this project Jersey City can demonstrate to the country what type of development is possible when we don't let the typical boundaries limit us. We made a $100 million-dollar bet on affordable housing and it looks like this will pay off huge both economically for current taxpayers and future residents."
Learn how affordable housing has become one of the most stable investments.
Fresh opportunities for the Tri-State region
Bayfront Redevelopment Plan has several opportunities built into its blueprint. In addition to more affordable housing, the plan emphasizes sustainable development and will provide jobs for locals during and after construction. There will be considerations for minority- and women-owned businesses.
Discover more Yardi clients and employees that are making positive changes in their communities.