10 Years with Yardi
By Natalie Mahn on Jul 21, 2022 in News
From occupancy to staffing, various challenges circulate the senior living industry each year. Fortunately for providers facing these challenges, implementing technology solutions can ease the burden — and lead their communities toward a brighter future.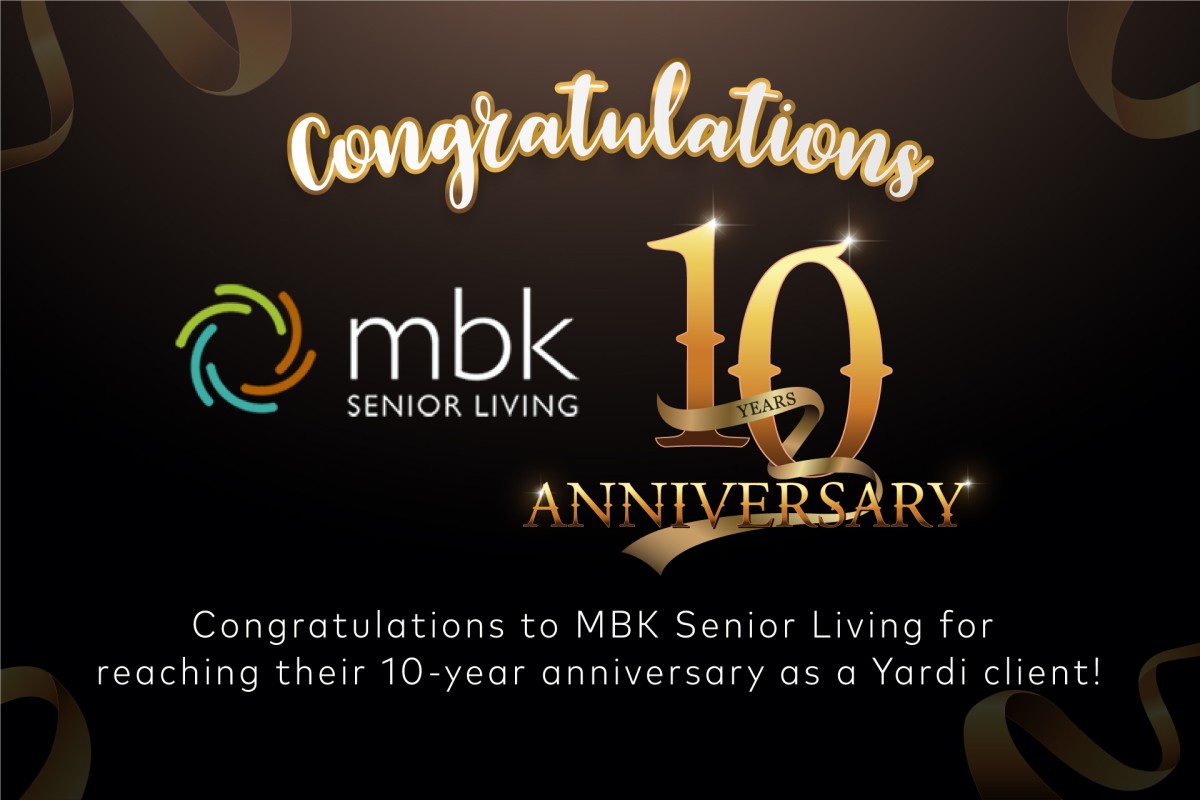 Here at Yardi, we strive to help providers navigate obstacles with our senior living management software. This includes MBK Senior Living, who recently reached their 10-year anniversary as a Yardi client. From our team to MBK's, it's an honor to celebrate this special milestone!
About MBK
MBK Senior Living follows a people-first approach in senior living. Putting residents' health and happiness first — emphasizing exceptional care, nutritious dining and the highest level of respect — is what makes their communities shine.
Founded in 1990, MBK offers options in assisted living, independent living and memory care. And 30 years of service has led the organization to continuously evolve and innovate, ensuring residents receive the best possible care. Today, MBK owns and operates communities in California, Oregon, Washington, Utah, Colorado and Arizona.
Navigating industry challenges
Like other providers, MBK has worked to strategically navigate the staffing crisis. With help from Yardi software solutions and decades of experience steering their communities forward, they've found creative ways to attract and retain staff.
Highlighted in a Senior Housing News article this year, MBK's staffing approach includes an executive director training program, which has led to the promotion of several internal candidates across their communities. In turn, vital team members have stayed on board throughout the staffing crisis.
In addition to promoting internal candidates, MBK has also recruited new, qualified staff by treating candidates the same way they approach prospective residents: with respect and kindness.
As a result, the staffing crisis hasn't impacted MBK's inquiries, tours and move-ins. Instead, the Irvine, California-based organization continues to retain staff that make each community an exceptional place to live.
Success with Yardi
Our team is proud to have worked with MBK over the last decade, helping power their communities with innovative senior living management software.
By utilizing various tools in the Yardi Senior Living Suite — from RentCafe Senior Living to Payment Processing — MBK is equipped to improve the lives of their staff and residents. And with every tool united on a single platform, managing operations and streamlining care is made easier.
Our goal is always the satisfaction and goodwill of our clients, so from team Yardi to MBK — we congratulate you on your 10-year anniversary. Here's to many more!
To learn about Yardi's single connected solution in senior living, explore our Senior Living Suite infographic.