A Match Made in Heaven
By Erica Rascón on Dec 12, 2019 in News
The 2020 NMHC & Kingsley Apartment Resident Preferences Survey reports that 71 percent of rural renters and 70 percent of suburban renters ranked "additional storage outside apartment" as a top interest. Many multifamily properties, however, are not equipped with storage units for renters. Self-storage facility managers can fill the gap and benefit from a steady stream of clientele—if you make the right connections.
Make an offer they can't refuse
Before the turn of the millennium, additional storage wasn't as in-demand then as it is now. As a result, many older properties weren't constructed with storage units for renters. Even some newer properties with storage options don't have enough to meet demand. Such properties may prove to be your valuable partners.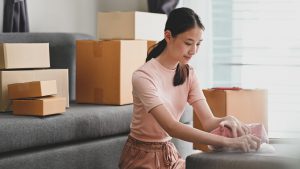 Renters who need storage may find the additional space they need at self storage facilities in the neighborhood. The challenge is to make sure that your storage facility tops their list. You could amplify your online marketing strategy, but that could be costly and time consuming. A captive audience, through a partnership with local apartment communities, could be a much surer path to success.
Think about negotiating an incentive or deal for residents in nearby apartment communities. You're interested in predictable, long-term clients. Multifamily agents want to meet prospects' and renters' demands for storage space outside of the unit. There is room for both parties to benefit.
"Consider approaching the apartment community with a win-win proposal without a formal monetary reward if there is not another competing storage property within proximity. Pitch your storage property as a neighborhood amenity that the community manager can promote.  Only offer a referral bonus if competition forces you to do so," advises Mark Smith, Director of Marketing with Yardi.
He continues, "Storage operators should consider (and continually re-evaluate) their new customer acquisition costs. Make sure that your referral bonus agreement with an apartment community is in line with your normal acquisition costs."
Benefit from verified clients

Most multifamily properties vet their residents before allowing them to sign a lease. A verification of employment history, good credit standing, and background checks are quite common. In contrast, very few self-storage facilities require an in-depth approval process.
When you create a relationship with an apartment community, you can benefit from their verification process. Multifamily renters go through additional steps that could in turn reduce your exposure to missed payments and other risks.
You will still benefit, though, from your own due diligence. "Track all tenants that rented via referral programs and evaluate for ROI," says Smith. "Are they tenants that have paid their bills and stayed long enough to provide a positive revenue stream, or are you better off terminating the agreement with the apartment community?"
Put your best foot forward

To secure your position as their preferred vendor, clearly detail what differentiates you from the competition. You then have a platform to confidently state your price because you have demonstrated the value that you can offer to their renters.
There are a few key features that renters want in off-site storage. If you offer such features, be sure to highlight them in your proposal:
Security In an ideal world, renters would safely store their belongings in their apartment. But with limited space, that isn't an option. They rely on you to provide additional space that is also secure.
Keyless access via a smartphone app or personalized keycodes are popular with renters. (Some use similar technology to access their apartments.) By implementing such tech, you can offer a secure way to access units without the burdens and risks of physical keys.
Most renters expect security cameras and gated entry. Offering 24/7 staff availability (or at least extended office hours) adds an appealing layer of security and reassurance during emergencies or other issues.
Ease of Use While renters want secure self-storage, they want to access it on demand. This is another place where keyless entry places you at an advantage. Keyless entry permits around-the-clock access for those with the proper credentials.
It should also be easy for residents to pay their bills and get support. Many residents pay their bills and submit maintenance requests online. By offering online payments and other convenient features at your facility, you become a seamless part of their routine rather than a burdensome addition.
Controlled Environment Pest control should be standard. Multifamily firms won't tolerate rats, moths, or other pests that damage their residents' property. It would reflect poorly on them and your facility. Ensure that all pests are under control before seeking contracts with multifamily properties.
Climate control, however, may be optional. It's a terrific way to offer units at different price points for varying budgets and needs.
Insurance Renters love to save time. When you offer insurance for self storage, you save them the leg work of researching companies in your area. Tenants pay their insurance premiums in conjunction with their rent. That way, renters have one payment to manage instead of two. Bonus!
Get insider information on originating, pre-underwriting and managing assets in your area. Get the Yardi Matrix self storage report.