Make Ready Solutions
By Erica Rascón on Aug 24, 2020 in News
When was the last time that you reviewed your unit make ready process? During difficult financial times, it is essential for multifamily managers and owners to cut overhead costs and improve efficiencies in every area of business. You could notably improve portfolio valuation by optimizing how you turn a unit.
Yardi caught up with Jennifer Price, director of systems at Walton Communities, to dissect and interpret the latest in multifamily make ready data. Our experience reveals how web-based technologies reduce unit turnover costs and promote efficiency.
Economic downturn prompts research into cost-saving measures
For property managers and owners, efficiency matters more than ever. The U.S. economy is currently in recession, and multifamily market data for summer 2020 reveals negative rents in the second quarter. This is the first prolong quarter of negative rates since the aftermath of the global financial crisis. Rents drops aren't expected to rebound until 2021.
In multifamily housing, spring is normally a time for growth. Most markets would experience rent growth of about 2% in the second quarter alone. At the end of the first half of 2020, however, rents fell 1.8% year-over-year for luxury lifestyle units. Working-class renter-by-necessity units were only up by 1.4%. Additionally, occupancy rates dropped 30 basis points nationally to 94.4% through May. Analysts forecasts that occupancy rates will continue to decline.
A typical multifamily portfolio consisting of 10,000 units will turn 30%-50% of their units each year. Unit turns require a sense of urgency: getting the unit back on the market means restoring cash flow and cutting vacant unit losses.
When the turn process is inefficient, however, the portfolio may experience between $2 million to $3 million of NOI losses, or about $40 to $60 million of potentially unrealized asset value, states a recent report on hidden cost savings in unit turnover.
Where can we create greater efficiency in the unit make ready process?
The planning phase—once residents have given notice that they are moving out– is the critical point. This is the phase in unit turnover where efficiency matters most.
"Turnkey scheduling is where many of us seek ways to be more efficient. Internally, we're working to improve upon it. As soon as the resident gives notice, we aim to get started with unit preparations," says Price.
On average, turn over jobs that were not approved by the move out date took 62% longer to complete. It is essential to begin assessments and preparations immediately after the residents announce their intent to depart.
Read how anticipation plays a vital role of managing resident turnover.
Additionally, a precise assessment of the work required saves a significant amount of time. Scope changes, the gap between what was listed in the assessment and the work truly needed, impacts 50% of jobs. Projects that require scope changes take 56% longer than normal.
Once the resident has moved out, there are additional chances to improve efficiencies. In the study, about 57% of turnovers had gaps within the schedule. This indicates a lack of tight coordination between the leasing office, vendors and maintenance teams. Precision scheduling and task updates can minimize gaps, reduce turnover time and get units back on the market.
The final money pit occurs in the time between job completion and unit approval. If a unit is not approved within 24-hours of job completion, it takes 19% longer to list the unit.
Get 9 easy tips to reduce make ready costs in pet-friendly rentals.
What tools can combat unit turnover inefficiencies?
Digital, mobile-ready software facilitates greater efficacy in the unit turn process. Turnovers managed with a mobile solution were ready to rent 34% faster than turnovers managed without a digital solution.
"We use Yardi Advanced Maintenance on all of our communities," Price explains. "We've converted all maintenance engineers from printed service requests to Mobile Maintenance. The biggest benefit is that the engineers are more efficient in completing service quests, and residents are served much quicker. We promote 24-hour completion on our service, and mobile access has allowed us to provide faster service."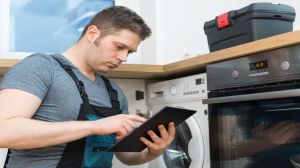 On average, a typical unit has four slack days within its turn process. Those slack days result in loses to the tune of $800,000 per year, states the report. Online scheduling can reduce this downtime by making it easier for staff to assess the unit, schedule tasks, note resources need, document progress and complete the turnover.
Digital maintenance, when coupled with an online marketplace, can reduce the amount of change orders. Using digital services for unit turnover can reduce the number of change orders occurring after the move-out day by 40%, or about $500,000 annually.
Using a customized online marketplace streamlines the purchasing process. It is easy to order pre-approved supplies with electronic invoicing, approvals and a completely automated procurement process. Walton uses Yardi Marketplace across its portfolio for maintenance orders as well as office supplies.
Price says, "The engineers see it like an Amazon-style shopping experience. Each manager creates multiple lists– different categories for electronics, punch list, and plumbing– based on their needs. They can assign the items that they most often buy. If they're out for a week, a maintenance tech can retrieve that list if it's been shared with them, and they can place the orders that are necessary. It's allowed us to be more efficient in ordering and categorization."
She adds that features within Marketplace have improved Walton's bottom-line as well as techs' maintenance bonus. "We use the compare feature, so that if they've been using the same product for several years, they can see if there is something better out there, or less expensive but still serves the same purpose."
Maintenance managers place orders each morning, which automatically create purchase orders in Yardi PAYscan. Property managers approve the POs in the PAYscan dashboard or mobile app.
"In some cases, we have the order the same day. We've gained efficiency there because managers and engineers aren't driving around town looking for products or deals in the hardware stores. It's a win for us for sure," says Price.
Additionally, mobile maintenance solutions can help to quickly identify chargebacks and recover associated costs. Maintenance teams are better able to document the state of units before, during and after the turn process. All data on the unit is conveniently stored in a single place including images, notes, and time stamps which can boost chargeback recovery by about 25%.
Maintenance efficiency is only opportunity for savings. Online vendor management platforms promote better engagement and communication, which promote faster scheduling and a streamlined process for purchase order and approvals.
The report reveals that about 35% of jobs did not have purchase orders costed, approved and issued by the move-out date. As a result, turn unit time increased by 62%. That's about $450,000 per year for multifamily providers.
Price explains, "We process thousands of invoices through Full Service in PAYscan. Full Services processes them for us, which is a huge time saver. It's one less transaction that accounting and the leasing team has to complete. The invoice is auto attached to the purchase order. In a few clicks, the payable is submitted. It's completely online, and less paper being handled is always a positive thing. It's been ideal in creating efficiency within PAYscan."
She adds, "This year, we've processed about 6,000 invoices through full service. Receive, open, code, upload, each is about three minutes per invoice. So we have already saved at least 300 hours this year by using Full Service in PAYscan."
Read how Walton decreased processing times, eliminated transportation, copying and storage costs with Full Service.
Additional benefits to a more efficient turnover process
The main goal of efficient turnovers is to turn a vacant unit into an occupied unit. But there are other benefits to quick turnovers.
By going paperless, multifamily professionals can save about $750,000 per year in physical document storage and retrieval. Staff also benefit from having secure, central locations for all information on vendors and maintenance.
Property managers can also benefit from improved resident satisfaction. Delayed move-in and incomplete units damage the relationship between new residents and property management. Managers must dig themselves out of a hole to restore renter satisfaction. With efficient and accurate turnovers, managers are one step closer to new residents who are happy with their move-in experience.
Summary: let software save you money
The typical portfolio of 10,000 units can prevent having $2 to $3 million siphoned away from its NOI each year. Online software can reduce turnover time by about 60%, which could restore as much as $60 million in unrealized asset value over time! By updating the tools that you use during the turnover process, you can enhance portfolio valuation and succeed even in a time of unprecedented change.
"The technology that Yardi continues to develop improves efficiency and promotes more satisfied residents, which is what really matters to Walton," says Price.