Apartmentalize 2022
By Vianna Mabanag on Jun 21, 2022 in Events
Apartmentalize, powered by NAA, is back! Starting June 22, multifamily leaders from around the nation will gather at the San Diego Convention Center. See the latest innovations and take part in conversations that will shape the future of multifamily.
Find out where success happens at booth 815. We're excited to share how our solutions are solving for industry trends at every stage of the resident lifecycle.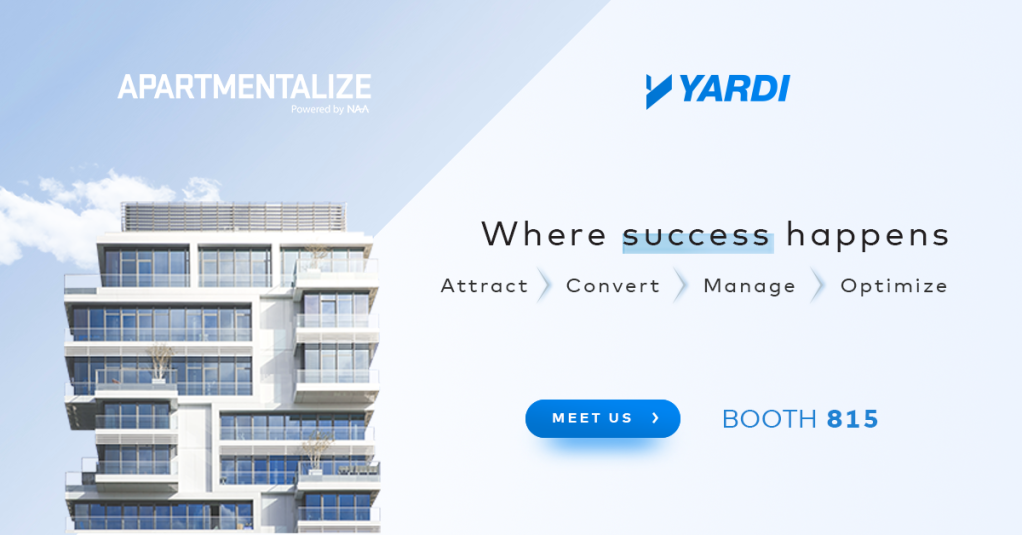 Trusted solutions that fit your workflow
We're here to help you attract quality prospects, convert leads into leases, manage the resident experience and optimize your business. Here's a preview of just some of what we can help you with:
Attract quality prospects with expert help
Ready to attract more prospects that convert? Learn how to grow awareness, traffic and marketing ROI with help from REACH by RentCafe, a dedicated digital marketing agency for multifamily.

Schedule a free consultation with our REACH by RentCafe experts during the show. In just 15 minutes, you'll learn how to create a winning web presence, stand out in search and lower your cost per lease.
Convert prospects with automated communication, nurturing & fraud prevention
Your customer is more than just a renter. Create a seamless prospect-to-resident experience and assist your staff with these customer-centric solutions:
Chat IQ is an automated attendant that responds to chat, text, email and voice. This solution saves our clients time and money, all while delivering superior customer experience 24/7.
Yardi's CRM is your site staff's ultimate partner. It has online and in-person functionalities that engage with your prospects and residents, supporting your staff through the entire leasing lifecycle.
ID Verifyand Income Verificationare mobile-friendly solutions that use AI and automation to quickly authenticate applicant identities and income. No more back-and-forth emails to manually verify applicants – just fast, simple, online leasing.
Book a meeting at booth 815 to see these solutions in action!
Manage residents with an industry-leading system
In multifamily real estate, delivering the right customer experience means retaining residents and keeping them in the family.
Make it easier for residents to stay by enabling them to pay rent online, renew their lease, submit a work order and more from a branded resident mobile app. Then, level up with Maintenance IQ, which reduces days from your unit-turn process – making every property hum with efficiency.
Stop by booth 815 to see how Yardi software continues to put your customers first.
Optimize asset performance with an elevated solution
One of the smartest systems in the industry just got smarter.
Yardi's Elevate Suite, including Asset IQ, Revenue IQ and Forecast IQ, helps you optimize NOI and asset value with predictive analytics backed by data and benchmarking.
Make more informed decisions with a 360-degree view into your business. Expense and revenue benchmarking allow you to understand the full performance picture, placing you at an advantage to optimize occupancy and increase asset value.
That's just the start. Reserve a private demo at booth 815 to see our solutions work.
See more, do more, learn more
Make the most of your time at Apartmentalize with sessions that will inspire you to take action. Yardi leaders will be there to share industry insights and more. Here's a peek:
Youth & Wisdom: Pairing Experienced Marketers with Fresh Perspectives – June 22, 12:30-1:30 p.m.
What can seasoned marketers learn from new employees? A lot! Hear from KETTLER and The Management Group, two industry-leading brands that create marketing magic by combining proven strategy with innovative insights.
Learn how to encourage mentorship and collaboration to drive measurable results. Hosted by Esther Bonardi, vice president of marketing at Yardi and REACH by RentCafe.
Imploding Myths on Technology Advancement with Affordable Housing – June 23, 3-3:45 p.m.
Explore potential affordable housing solutions and learn about the latest tech to advance your industry knowledge.
Join Chris Voss, vice president at Yardi, in a conversation designed to address misunderstandings about barriers unique to affordable housing, including the recertification and interim processes.
The Next Data Evolution: From Information to Transformation – June 23, 4:15-5 p.m.
Transform your business model by shifting from point-in-time reports to daily data dashboards.
Learn how to be proactive with your KPIs in this innovative panel featuring Michael Tuer, vice president at Yardi, Matt Rogers, vice president at MEB Management and Shawn Cardner, executive vice president at Grubb Properties.
Can't make it to Apartmentalize this year?
Don't worry, we'll never leave you hanging.
Check out the Yardi Multifamily Suite to explore solutions for every stage, watch an on-demand demo and contact us with any questions.
Our Yardi Breeze team will also be there, showcasing refreshingly simple software for multiple portfolio types. See what Yardi Breeze is up to at Apartmentalize.
And lastly, we have a feeling that you'll love the look of our brand-new booth. Stop by to see!