Movers and Shakers
By Yardi Blog Staff on Mar 2, 2020 in Events, Global
Movers & Shakers hosted another impactful Build to Rent Forum on Thursday, Feb. 27, where eager build to rent professionals gathered to debate a range of topics impacting this ever-growing market. Movers & Shakers Chairman David Jennings opened the day with an inspiring video of Greystar's 2,000-home Greenford Quay development, showcasing a great example of the high standard of homes the industry has to offer.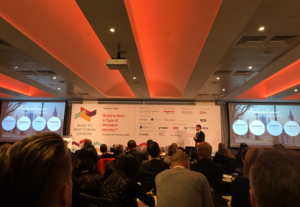 Adam Challis, Executive Director, EMEA Living Research & Strategy at JLL, reaffirmed the previously controversial notion that home ownership isn't all that matters. As an industry, real estate should be focused on product quality and geographical diversity. Challis tapped into the importance of sustainability and thought provokingly asked which company in the market would be the first to achieve zero carbon emissions whilst being able to offer affordable rental prices. Later in the day, Rebecca Taylor of Long Harbour agreed with the sentiment and stated that as well as operating buildings more efficiently, sustainability must also be entrenched in construction and waste management.
News from the Frontline
The passion and enthusiasm to see more collaboration in the market was apparent, especially when it comes to data sharing. Michela Hancock, Managing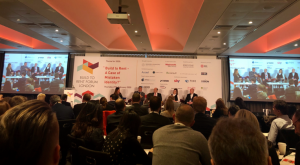 Director, Development & Construction, Greystar Europe, shared some interesting demographic data from Greystar's Salemakers development. Hancock explained how Salemakers is occupied by 50% students, a figure much higher than expected, that the average age of build to rent residents is 29, and that 48% of residents are male.
Ian Gibbs, Director of Neighbourhoods, Get Living, delved into behavioural data sharing that 20% of the East Village population transfer internally when relocating because they know the Get Living brand. Gibbs also stated that 50% of people who have lived in a tall, residential tower building, are more likely to rent in a tower building again.
"Localisation is fundamental. If you don't understand who you're talking to, you could end up disconnecting yourself from the city. It really does matter to be local to your environment."

-Ian Gibbs, Director of Neighbourhoods, Get Living
Communication drives occupancy
Communication is not only essential throughout a resident's time living in the development, but Ramona Bawden, RENTCafé manager at Yardi, noted that it's an invaluable tool in the lease-up stage. Communicating build to rent offerings and brand with automated marketing and response not only saves time and money for leasing teams but also reassures the prospective resident that they will be secure and happy. Sylvana Young of Get Living agreed and shared that after a prospect application is submitted, the optimal response time should be no longer than one hour.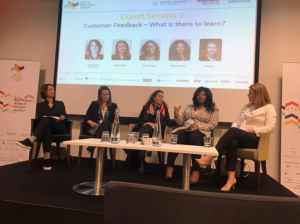 Feedback is everything
Hannah Marsh, Co-Founder of Homeviews, introduced the review platform as the 'TripAdvisor for Build to Rent.' She presented findings from 8,500 resident reviews across 900 developments in 8 different cities. Quality of management, flexibility in pet policies, proximity to transport and community events listed as the amenities that renters are most satisfied with, whereas accessible parking and maintenance management could be improved.
The Build to Rent Forum 2020 demonstrated the market's commitment to driving rental options, exceptional customer service and flourishing resident communities.