IoT in Multifamily
By Erica Rascón on Jul 18, 2019 in Events, News
During the Canadian Federation of Apartment Associations (CFAA) annual conference, attendees walked away with a powerful call to action: understand the role of the Internet of Things (IoT) in your business before implementing. Fulfilling this objective can lead to success for multifamily firms of all sizes.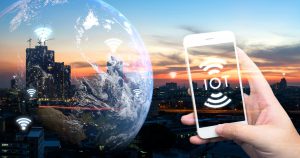 What is the Internet of Things?
The IoT embodies a multitude of devices that are connected to the internet. These devices range from smartphones to home automation and even wearable fitness monitors. Such devices can be controlled remotely and interact with other devices. In many cases, devices connected to the internet also gather and store user data to contribute to machine learning.
Masa Hoshino, product manager at Yardi, explained that three components drive change in the IoT on the consumer level: hardware, software and culture. Hardware, like a smart refrigerator, may use wireless connectivity to automatically set the time on the clock.
Software, such as apps installed on that fridge, is designed to solve a problem and provide a better user interface such as peeking in when grocery shopping.
Lastly, the convenience of internet connectivity has made it a necessity for consumers. Connectivity increases the perceived value and functionality of hardware and software—and a home.
How Does the IoT Impact Real Estate?
In real estate, consumer culture and corporate benefits demand the integration of the IoT in our properties.
Smart homes offer convenience, entertainment, and the potential for lower utility bills. While a home with multiple smart features is desirable for modern renters, multiple apps to control those features is very undesirable. True efficiency entails a single, reliable app that connects residents to their smart homes and property management through a secure user portal.
For property stakeholders, the IoT can also be used to promote greater efficiency and reduce overhead costs. Today's IoT devices can help organizations reach sustainability goals, analyze lead data, automate the leasing process and more. Software stores and analyzes data to help businesses correct inefficiencies, cut costs, and make wise projections.
So Where Do We Start?
Approach implementation gradually. suggests Hoshino: "The baseline package of smart homes includes locks, thermostat and lighting control. You can start with one device at a time, usually starting with locks."
Consider the impact of your IoT program on the property level. Ask what data is being collected, how it's used, who has access and what level of security is required. Gauge your success by the number of implementations, not units.
Stay informed of new developments but don't jump on every sexy new device that hits the market (unless there are resources to spare and your brand appeals to early adapters). Smart home features that require limited hardware updates, few software updates, and timeless conveniences often offer the biggest bang for the buck.
What's next for the IoT? "I predict the next overall trend will be more openness and sharing. There are current concerns of letting Amazon staff into your home to drop off a package, but we are also in time when getting into a stranger's car to get somewhere is normal. Our responsibility is to understand resident concerns and create a story to address that," said Hoshino.
Find part one of our CFAA recap here.