YASC SB 2012
By Leah Etling on Oct 18, 2012 in News | 4 Comments

Welcome back to day two of YASC SB 2012. Wednesday was a packed day of learning and fun, and we heard so many positive comments from clients and Yardi staff about the conference being off to a great start. It's a warm and windy morning in Santa Barbara, and hopefully you've had time to see the sunrise or walk by the ocean before heading to breakfast and your first class this morning.
This thread is where you can find the latest news and information about conference happenings. Our Balance Sheet team will continually update this article throughout the day. We'll also be roaming the halls to chat with clients and share your comments. But before we jump back into the live blog, a few reminders:
-Navigate on over to our Yardi Systems Facebook page and hit the Like button, and you will be entered to win an iPad. Winners will be selected throughout the week. With the exciting focus on mobile apps and technologies this week, we're hearing from clients that desire to make business technology smarter, fitter and tablet friendly is already happening. We met one YASC attendee yesterday whose office is going all-iPad for their computing needs. As Yardi Systems CEO and founder Anant Yardi shared with us yesterday, creating exciting new applications for mobile devices is a major emphasis of Yardi's development efforts today and will remain so moving forward.
-If you're enjoying being in Santa Barbara this week, take a few extra minutes to soak it all in. YASC will be held away from the Central Coast for the first time in 2013, when the West Coast event will be held in Anaheim, Calif. from Oct. 9-11. The trial location  allows for a larger number of conference attendees, so more great courses can be offered to better serve our clients. The East Coast 2013 YASC will continue to be based at the Washington Hilton from May 21-23, 2013.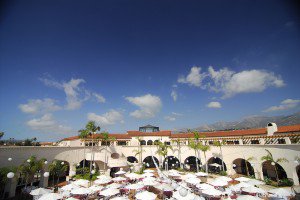 8:15 a.m. – It's another beautiful morning in Santa Barbara. Coming out of breakfast we caught up for a few minutes with Bill Buckman of the Eureka Housing Authority. EHA has been using Voyager to manage 270 units of public and affordable housing for the last four years. "I'm here to learn automation processes," Buckman told us. "We're figured out how to use (Voyager), now let's figure out how to put it to work in the background for us." Voyager has already helped the housing authority become far more efficient as an organization, by drastically reducing time spent on compliance checks and monthly payment processing.
8:30 a.m. – The YES Energy Solutions  demo is terrific, showing how this utility billing and reporting option can be a seamless part of your Voyager package. YES is built into the Voyager database, saving time and making workflows and staff training easier. Managers can pull reports with energy use property by property or market by market to assess usage trends and improve environmental efficiency. It's supported with a customer service call center, so if residents have questions or issues about their billing, they can call YES directly instead of contacting a property manager. There's also a comprehensive invoice management component, so you can monitor seasonal utility spending, vendor-specific expenses, utility cost trends and more.
9 a.m. – Really excited about the Software as a Service Roundtable, coming up in the next session from 10:30 a.m. to noon. Yardi is a SaaS leader in the real estate technology world, and this will be a great opportunity for clients to get questions answered. If you can't make this session but have questions about SaaS or software hosting in the Yardi Cloud, be sure to stop by this evening's Yardi Cloud Services Meet and Greet, taking place from 5-6 p.m. at Rodney's Steakhouse. Learn how Yardi hosting of your Voyager, Microsoft Exchange, Microsoft SharePoint and MITS interfaces with Yardi SaaS or Yardi Saas Select can benefit your business.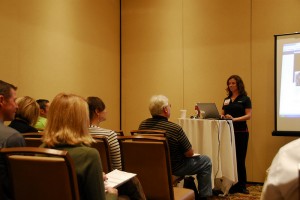 10:15 a.m. – We got great tips on how to establish community in the social media for property management session, led by our own Elizabeth Giles. Engaging your residents on Facebook, Twitter, and other social services requires more than just a "build it and they will come approach." Giles suggested connecting with other businesses in your local community, asking your residents what they want, and observing the successful social campaigns of large  companies to find best practices. "Property managers are some of the most creative people I've ever met in my entire life. You just have to figure out how to translate that online," she observed.
The session caught the attention of longtime YASC attendee Cathy Huffman of Sierra Pacific. She serves as assistant controller for the company but is fascinated with the brave new world of social media engagement. After the class ended, she was still musing about the best way to build a social media community for a multi-vertical company that has multifamily properties as well as industrial and commercial. Cathy had high praise for the conference so far, especially the new buffet lunch format and Wednesday night's cocktail reception in the Rotunda. Tonight, we'll be back in the Rotunda for a gala reception, dinner and entertainment beginning at 6 p.m. Don't miss it!
12 p.m. – The SaaS roundtable discussion, led by Yardi's Don Rogers, was quite engaging. There was an interesting mix of clients in attendance who are already using Yardi SaaS offerings or considering making the switch to Yardi SaaS, Yardi SaaS Select, or Yardi Private Cloud. Questions about security, data center location, redundancy, backups and disaster recovery were all covered and helpful peer insights were shared. At the end of the session, this great analogy to the multifamily real estate world was made by a SaaS client, who compared deciding whether to host data and software offsite to the good old rent vs. buy dilemma. "Do you buy a house, or do you rent an apartment? If I rent – I don't have to deal with a lot of headaches that I would as a homeowner."
One of the many advantages of adopting SaaS is having Yardi's expert ASP staff to handle those headaches for you – in other words, you won't be having any headaches at all. During Wednesday's opening session, it was announced that 2,000 Yardi clients are now using our product offerings in some form of SaaS, and the number of clients adopting Voyager SaaS™ (Voyager S) in the Yardi Cloud is more than 200 and growing.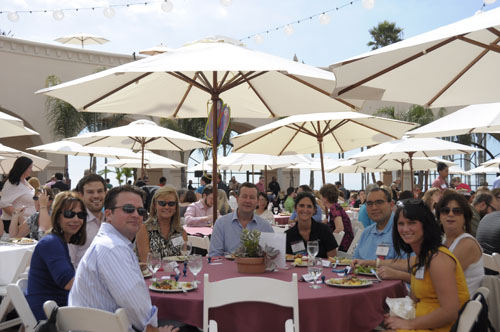 12:30 p.m. – Clients are enjoying another delicious buffet lunch in the Rotunda with views of the Pacific Ocean just across the street. This is an extra fun lunch because Bryant Shoemaker is putting on an impromptu quiz bowl with winners picking up iPods to take home. Questions this year seem to be about everything from this year's Nobel Prize winners to NFL referees – YASC emcee Shoemaker is Yardi's very own Alex Trebek.
1 p.m. – Attending YASC from Houston, Micah Hart of Hanover R.S. Limited Partnership says that his company is fairly new to Voyager, but they are finding it to be an efficiency creator for the national multifamily development and property management firm. Hanover currently has 6,000 housing units in the pipeline, including houses for rent in San Diego, Houston, Austin and Baltimore. As a regional manager for Hanover's property management group, one of Hart's areas of expertise is staff training. He's found it's helpful to bring a Yardi staff member on site for training when introducing Voyager to a new property site team. As the company's growth continues, he appreciates the stability of Yardi's products. "Yardi does not roll out stuff that's not vetted," he said. "They are a stable able."
 1:30 p.m. – We've been talking about so many different real estate verticals over the last couple of days, and here's one more. Did you know that Yardi  has two great new offerings that both happen to focus on single family homes? Voyager can be used to manage portfolios of single family properties, an industry need that has grown due to investors purchasing multiple properties in foreclosure and returning them to the market as rentals. And if you are looking for a distressed property to purchase, look no further than HUDHomestore.com, the website where the public can find and bid on Department of Housing and Urban Development homes available for purchase nationwide. Download the newly released HUDHomestore Mobile Search from Yardi for free at the Apple App Store.
2 p.m. – For Tami Jaffe of TIAA – CREF Financial Services, the next big investment accounting technology her company will invest in is a budgeting and forecasting system.  "Everyone seems to be trying to find the best solution right now for portfolio modeling and 10-year forecasting," Jaffe told us. "That's the hot topic that's been on everyone's minds lately." As a Director of Real Estate Accounting Operations, she's assessing the best option for TIAA- CREF's diverse business needs. The financial services firm uses Yardi for residential and commercial property management accounting, as well as investment management. "It's really an end-to-end solution for us, from an accounting standpoint," she said.
2:30 p.m. – Have you ever thought about better capitalizing on the warehouse of valuable business data you're collecting while using your Yardi software? Could existing data points answer questions about why some marketing is unsuccessful, how to shore up lagging vacancy rates, maximize rental income, or solve any other problem?  Saul Klein and Walt Baczkowski of Point2 have been soaking up all the insight from Yardi clients over the last two days, and they observed there's an increasing excitement around using accrued data to solve business problems. "One of the advantages of meeting with your customers is you can identify what your customer needs," Klein noted. "This is what happens here – needs are identified, and there's actually time to delve into the issues." (By the way, if delving into data is an intriguing concept for you, definitely check out Yardi Orion for SharePoint for commercial or residential.)
4 p.m. – Greg Wietbrock, Vice President of Property Management for the Hignell Companies of Chico, Calif., will be leaving YASC tomorrow with a long to do list. With a diverse portfolio that includes managing Homeowner's Associations, single family homes and apartment communities, as well as commercial properties, he's been benefiting from a variety of course tracks at this year's YASC.
"We want to develop the Yardi skills within our staff to gain as much efficiency as we can," Wietbrock said. "My role is to give the tools to folks to accomplish their goals."  Based on the session that he's attended at the conference so far, Wietbrock plans to adopt the single family home plug-in for Voyager, inspections module for residential and HOA, condo/co-op module for violations, and use his commercial module more efficiently. "That's as of right now," he said of his plans. "I might add a few more items after tomorrow."
4:30 p.m. – Thursday's last classes are wrapping up. That means it's time to think about relaxing and having some fun! At 5 p.m., The Cloud Services Meet and Greet (in the Rotunda) is a great chance to speak with members of Yardi's uber-competent, highly technical cloud experts and IT staff, and ask any questions you might have about Yardi cloud services.  Happening at the same time in Rodney's is the Smart Marketing Conference, part of the first ever Santa Barbara YASC marketing track. Talk one-on-one with Yardi marketing experts and exchange ideas with marketing professionals from around the industry.
After that, we'll move into the gala reception and dinner from 6-10 p.m. Has anybody heard what tonight's entertainment is going to be? I saw a band unpacking their gear earlier .. looks like we might be doing some dancing under warm Santa Barbara skies!
5 p.m. – Despite the fact that there are nearly 2000 words in this post, there is still so much more to share with you about all our areas of specialty here at Yardi. Tonight and tomorrow we encourage our clients on site to ask any of us wearing black polo shirts to help you with any additional questions about our products and services. And if you're reading this from home or after the conference, just navigate on over to Yardi.com, where you'll find a wealth of information. On behalf of everyone at Yardi Systems, thanks to our valued clients for attending YASC SB 2012!