Fair Housing Month
By Vianna Mabanag on Apr 11, 2023 in News
April is Fair Housing Month! 2023 marks the 55th anniversary of the Fair Housing Act, a federal law that protects people from discrimination when renting or buying a home, along with other housing-related activities.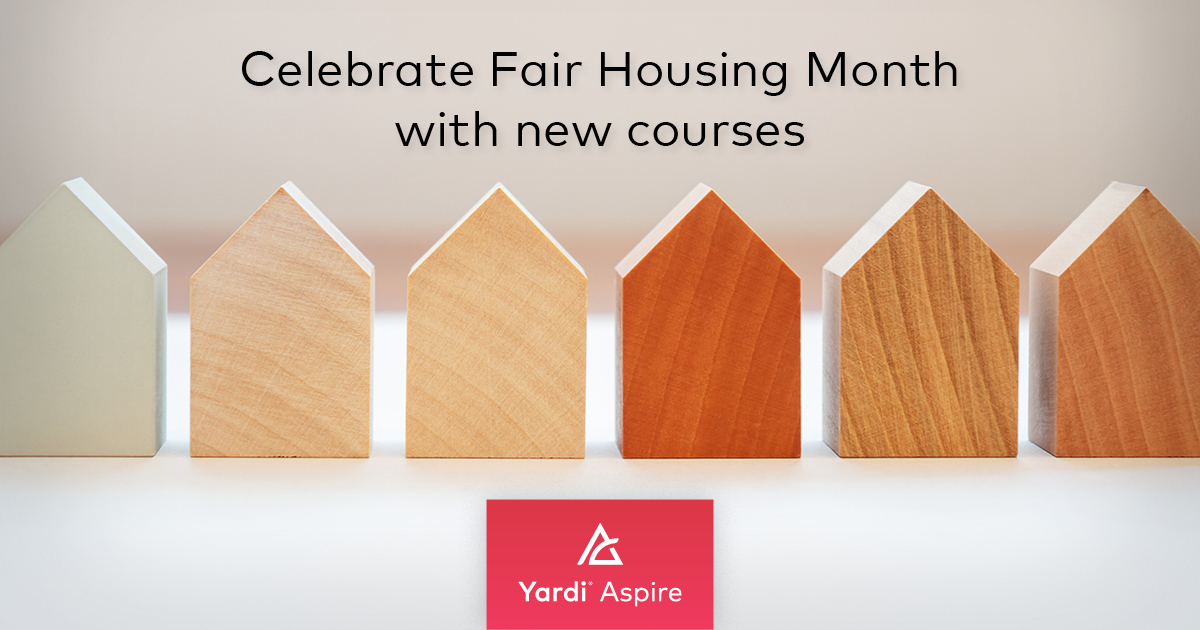 Just in time for Fair Housing Month, Yardi Aspire courses have been refreshed with an all-new illustrated design and an interactive narrative style that keeps learners engaged.
In Aspire, returning learners will notice a new cast of characters and new scenario-based challenges that shine a spotlight on real-world violation risks by property type (market rate versus affordable) and role (property manager, leasing, marketing and maintenance). Fair Housing Month reminds industry professionals that diversity and inclusion are important in our communities, as are the laws that uphold these principles in housing and housing-related services.
It is recommended that companies invest in proactive employee training to ensure compliance, prevent costly fines and avoid punitive damages and legal fees related to violations.
While fair housing training is not mandated by the federal government, it is best practice for employers to require all employees in public and resident-facing roles to complete a comprehensive learning plan of two to five hours within the first 30 days of employment — and recertify on a shorter version of the training annually thereafter.
With a comprehensive catalog of customizable micro-training modules, clients can remove pages and insert company-specific policies, anecdotes and key messages to achieve greater impact. Aspire courses are routinely updated by certified federal fair housing experts.
Aspire gives learners the chance to prepare for situations before they arise. Real-world practice challenges provide a supportive environment for employees to explore appropriate responses to reasonable accommodation requests and fair housing complaints.
Enhance supervisor and administrator awareness with a connected system that ensures training compliance. Aspire delivers deep data with essential tools, including interactive supervisor dashboards, scheduled learning activity reports, detailed learner activity, scheduled due date reports and much more.
Ready to drive training success? Start expanding employee potential with personalized courses.
*Aspire's Fair Housing Courses are approved by The Texas Department of Housing and Community Affairs (TDHCA).