Opting Outside
By Leah Etling on Jan 9, 2018 in Giving
For Rowan Diloia, the key to childhood learning wasn't in a classroom or in the pages of a book.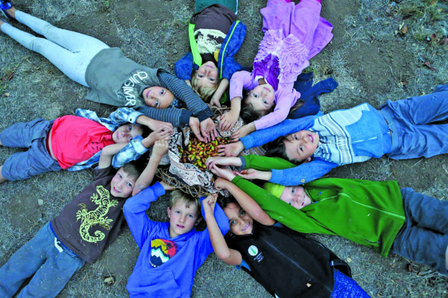 It was outside, in the mountains, beaches and creeks of Santa Barbara County. These were places he explored as a child, thanks to a local nonprofit called the Wilderness Youth Project (WYP). Serving kids as young as 3 and into high school, WYP is considered an early pioneer of an educational approach that's now gaining acclaim nationwide.
"It's such a good alternative to staring at a phone, computer or tablet screen. Instead, let's go outside, build a fort, learn how to make fire with two sticks and build a water filtration system," Diloia said.
When he was in the first grade, his parents enrolled him in the WYP, which was at that time an after-school program. They immediately noticed it made a difference for their son, who struggled with dyslexia and ADHD.
"One of the grounding areas of his early life was the Wilderness Youth Project and their ability to bring him out into the wilderness and outside of his head," said Tony Diloia, Rowan's father.
"A lot of after-school (programs) my parents tried didn't really work for me," Diloia said. "Most were a little too structured. But to be able to do my own thing at Wilderness Youth, go out in the dirt and climb trees, really helped."
When he entered high school, Diloia was accepted to the Visual Arts & Design Academy at Santa Barbara High School.  He is now a senior at California College of the Arts in San Francisco, where he is studying furniture design. He recently won a prestigious national award from the John F. Kennedy Center for the Performing Arts in Washington, D.C., for his functional art.
Diloia said that his artistic creations featuring wood and metal are influenced by the shapes, patterns and colors found outdoors, which he experienced joyfully as part of WYP after-school outings and campouts.
"The most important part is just being outside and being able to learn in ways you wouldn't be able to learn in the classroom," he said. "I expect that 95 percent of kids these days aren't experiencing what Wilderness Youth has to offer."
Now incorporated into part of the regular school day at five South Coast public schools and two private schools, WYP has gained traction as parents, teachers and funders see it making a difference in students' lives. Yardi has supported the WYP with grant funding through the Yardi Foundation.
"Because there is a shift in educational trends, people really understand now that experiential time in nature supports learning, and not just science learning," said Michelle Howard, WYP's Development Director. "There is a huge contribution that this is making to students' English language learning and language arts skills."
Once a month, students participating in the program get to spend a chunk of their school day with WYP mentors and volunteers. The outings are spread between Rincon and the Gaviota Tunnel and inland to the Santa Ynez River. Goleta Beach, La Cumbre Peak, White Rock on Paradise Road, and Tucker's Grove County Park are frequent destinations.
Tag along on a WYP program and you won't find the young naturalists lugging notebooks out on the trails. You will find them climbing trees, looking at animal tracks, and watching waves, skies and sunsets. Learning games that promote observation, exploration and appreciation of the natural world are the curriculum. A low mentor-to-student ratio, 1:4, keeps everyone safe.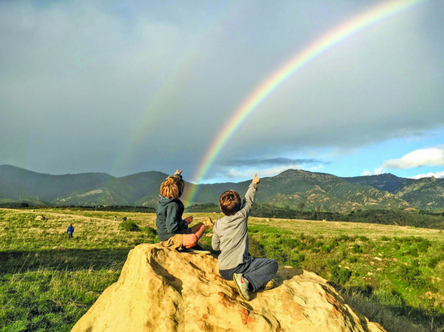 Andrew Lindsey, who directs WYP's school-based programs, grew up in rural Vermont. His own childhood was rooted in outdoor time, and he later wrote a master's thesis about why the natural world wasn't used more effectively as a place to learn about the environment.
When he moved to Santa Barbara, Lindsey found that he and his infant daughter Haven were often running into groups from WYP at local parks and trails. He connected with early advocates for the program, including current Executive Director Dan Fontaine, and became passionate about getting local kids outside.
Lindsey's approach to wilderness education is not to lecture, but to be there in the moment as the students are noticing and discovering new things.
"When you hear them saying 'Look what I found,' or 'I made this' or 'Look over here!' .. there is this unbelievable pride and excitement in the things they are capable of doing as learners," Lindsey said. It's that joy of independent discovery that might never be duplicated in a more controlled classroom environment.
Diloia confirms that it was that experience of self-discovery that made the WYP experience really stick with him as a child – enough so that he came back to volunteer with the program for two years as a teen. He helped out with the Chickadees, who are among the youngest of the program's participants.
"That's the happiest I've ever seen any kid ever," he explained. "Compare something like soccer to going out into nature, playing in mud, getting dirty, climbing trees, and seeing birds. I just saw pure joy in the kids."
Lindsey notes that while WYP knows they can never supplant the classroom, there is an overarching goal of the program that has tremendous value. "Our end goal is that kids have the opportunity to develop a relationship with outside that they benefit from, in health and wellness, and the world benefits from, in care and stewardship," he explained.
As a parent, Tony Diloia believes that the more pervasive technology becomes, the more important programs like WYP will be.
"It's essential to give your child opportunities to spend time outdoors, either with yourself or a program or both. It really diminishes the electronic distractions at a young age, and opens their eyes to the greater world that's out there. In my opinion, it creates an energy and connectivity to nature that they can carry with them throughout their lives," he said.
Michelle Howard notes that in 2018, the program plans to expand by 12 percent, adding an additional 120 students to the 1,000 it served in 2017. All expansion of WYP is privately financed, either through grants or individual donors.
"I do dream that one day the program is so compelling that the schools and districts will start putting it into their budgets, but we're not there yet," Howard said.
Learn more about the Wilderness Youth Project at www.wyp.org