Open Hand Atlanta
By Leah Etling on Nov 1, 2022 in Giving
Yardi is committed to supporting the community in every city where our offices are housed. Each year, the company distributes philanthropic aid to organizations selected by its employees.
In 2021, Yardi offices supported more than 350 nonprofits worldwide. For the remainder of the year, we will be bringing you the stories of those organizations and insight into how they aid their communities.
Today, let's gain insight into Open Hand Atlanta, whose mission statement is: "We cook. We teach. We deliver. We care."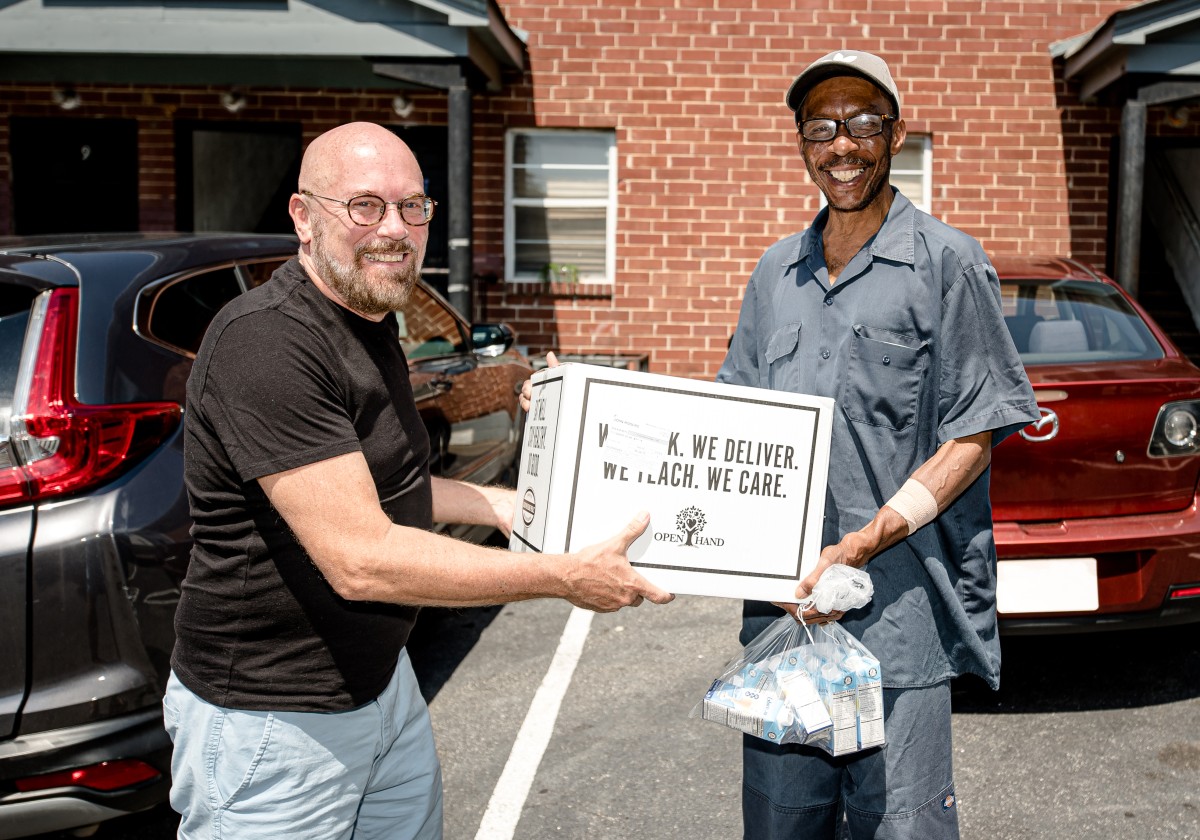 That statement is in action when the organization and its volunteers deliver love, dignity and nutrition to neighbors in need in metro Atlanta and throughout Georgia.
"For more than 30 years, we have provided delicious, nourishing meals and nutrition education to thousands of people who are home-bound or too sick to cook for themselves. We're honored to serve our community of seniors, children and families, and neighbors who are at-risk, have a disability, or medical condition," said Sam Ford, Communications Manager, and Tarai Kemp Brown, Health & Wellness Grants Manager.
Open Hand Atlanta is one of the largest community-based providers of home-delivered meals and nutrition services in the U.S.
"We provide all of our services free to clients as more than 90 percent of Open Hand clients are from under-resourced communities, and 75 percent of those live at or below the federal poverty line. One-third of our clients recently reported that, if not for Open Hand, they would have no idea from where their next meal would be coming," Ford and Brown shared.
Last year, Open Hand delivered nearly 1.5 million meals to neighbors in need throughout the state of Georgia.
Funds from Yardi are used to purchase capital needs for the organization. Yardi's support helps Open Hand Atlanta keep productivity aligned with the demand of cooking, packing, and delivering nearly 5,000 meals to chronically ill individuals across metro Atlanta.
"We're so grateful to have Yardi's continued support over the past three years, especially as we continue to deal with the long-term effects of the pandemic on those most as risk of serious complications. Our nourishing meals and nutrition education efforts are more essential than ever, and your support means increasing access to countless at-risk neighbors across the state in critical need of our services," said Katie Mackenzie, Director of Development.
Meet Mama T, an Open Hand client
Teresa—or "Mama T", as her neighbors lovingly refer to her—can often be seen in her garden or sitting on the front porch, surrounded by her beautiful yard. A very active and independent woman, she began slowing down in Summer 2021 when her health began to decline. In September 2020, she officially became an Open Hand client.

"I really love and appreciate the meals—they're so delicious," says Mama T. "When I tell my friends about them, they can't believe the meal descriptions."

Teresa is quick to tell you how much of a difference the Open Hand meals make in her life. She no longer drives and, like many Open Hand clients, relies on friends and family to get her to the grocery store, pharmacy, and doctor's appointments. Getting her regular delivery of medically tailored meals from Open Hand helps ensure she's getting the nutrition she needs to manage her health.

Having home-delivered meals from Open Hand has also helped alleviate the isolation so many seniors are feeling due to the extended pandemic. "Just having that interaction with the volunteers for a few minutes each week is a blessing," Mama T says. "They're very kind, sweet people."
Expanding throughout Georgia
"Our objectives and priorities for this year include further expanding our geographic footprint, so that we can reach more vulnerable individuals and communities in need of our nutrition programs and services," say Ford and Brown.
"As we are always looking for new and innovative ways to expand upon our mission and serve more individuals in need, we are working to pursue managed care and health plan contracts as a new avenue to reach individuals who need medically tailored meals."

Open Hand prioritizes Diversity, Equity, Inclusion and Access (DEIA) both within the Open Hand Atlanta culture as well as the communities served.
"Our DEIA efforts will help staff members feel comfortable coming to work as their authentic selves and have the confidence that opportunities for development and growth are available. In the community, we endeavor to move the needle on the social determinants of health and close the gap on health disparities by removing the access barrier. No matter your age, race, background or ideology, we believe everyone should have access to the healthy and nutritious meals Open Hand provides."
Volunteer opportunities in the Atlanta area
Open Hand is always in need of volunteer meal packers and volunteer delivery drivers.
As a meal packer, you can sign up individually or with a group and help pack the nearly 5,000 healthy meals Open Hand cooks and prepares for delivery every day.
As a meal delivery driver, you deliver meals straight to Open Hand clients. "We load the meals into your car, route out your deliveries, and in about 2 hours you will have made a direct impact on our chronically-ill neighbors," said Ford.
If you're a Yardi employee and would like to volunteer with your team, contact Senior Manager of Corporate and Faith Partnerships, Stacy Weenick, at [email protected] or 404-419-1118 to set up an opportunity that works best for you. Other community members can contact the Volunteer Services team at [email protected] or 678-306-6649.
If you would like to support the Open Hand mission, you can donate at www.OpenHandAtlanta.org/Donate.