My Possibilities
By Katrina McDowell on Sep 20, 2023 in Giving
Yardi is committed to supporting the community in every city where our offices are housed. Each year, the company distributes philanthropic aid to organizations selected by its employees.
Today, we introduce My Possibilities (MP), a nonprofit organization in Plano, Texas, founded in 2008, and North Texas' number one continuing education and job placement program for adults with Intellectual and/or Developmental Disabilities (IDD). My Possibilities' mission is the relentless pursuit of full, untapped possibilities for all Hugely Important People (HIPsters) and has seen rapid growth over the past 15 years.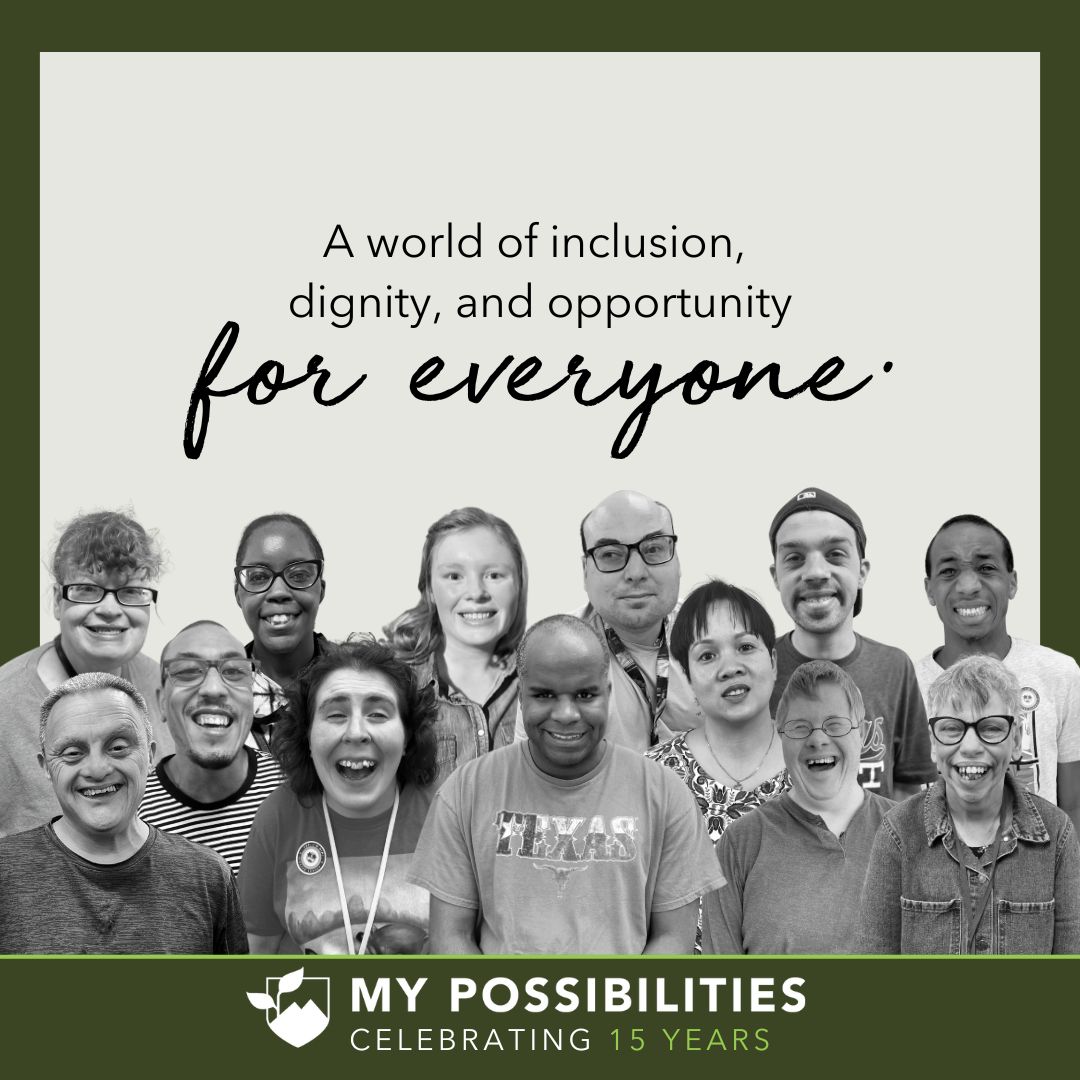 "In the past year, MP has matched the HIPsters we serve with major employers such as JPMC, Bank of America, REI, Toyota, Trader Joe's, and a host of other inclusive employers," says Rhys Wolf, marketing and communications manager for MP.
My Possibilities has had substantial success rates. With the training services MP provides, both for the employee in job readiness and the corporate partner in accessibility, it has had over 70 job placements with a 100% success record lasting more than six months and over 90% for over a year. Regionally, MP is reframing how North Texas thinks about diversity, equity, inclusion and access for adults with IDD.
MP has paved the way for inclusion and advocacy for adults with IDD. What started in a small storefront-turned-school supporting only 10 HIPsters quickly became a collegiate-style campus serving over 500 individuals weekly through high-quality continued education and vocational programming.
"When three mothers first envisioned a life where their adult sons with IDD would thrive and find a meaningful place in the world, they dreamt of a program providing education, job training, and residential opportunities for their deserving children," shared Wolf.
This fall, the Employment Innovations School, powered by Bread Financial, will open and create space for an additional 300-plus adults. This 30,000-square-foot addition to the campus will offer vocational training and certification in pathways such as administration, retail, facilities, technology, and culinary through hands-on, work-based learning.
"Opening our Employment Innovations School is a testament to the depth of MP's commitment to sourcing a highly specialized and untapped workforce. Our goal is to train HIPsters to become loyal and dedicated employees, helping organizations increase efficiency and social responsibility through inclusive hiring practices," Wolf shares.
Funding from Yardi has enabled MP for program expansions, fostering skill development and new specialized courses and workshops tailored to the unique needs of participants to develop and enhance their overall capabilities. Additionally, funding facilitates expanding MP's job placement programs, assisting students in finding meaningful employment and boosting its aim of creating more self-directed living opportunities. Training students and businesses on specialized job readiness training would ensure successful integration into the workforce.
"Yardi's invaluable community contributions are commendable," shared Wolf. He continued, "Yardi's unwavering dedication has positively impacted countless lives through its diverse philanthropic endeavors. From supporting local education initiatives and youth programs to championing environmental sustainability and community development, Yardi consistently goes above and beyond to make a meaningful difference."
Community voices
In 2023, MP focused on amplifying the messages and voices of the IDD community and those who assist in understanding its mission.
HIPster Parent Patricia M. shared, "Without My Possibilities, our family would not have been able to find a way to give each of our [adult] children an opportunity to grow."
Long-time HIPster Parent Beccy commented, "MP allows Thomas to experience new opportunities with cooking, community-based learning, and independence. With My Possibilities, Thomas has a safe and friendly environment where he can continue to learn and grow to maximize his full potential and purpose!"
Volunteer opportunities
"Yardi's commitment to social responsibility and proactive efforts to empower the community exemplify its corporate ethos. We express our heartfelt appreciation for Yardi's transformative work, which continues to uplift and inspire individuals and neighborhoods. Yardi's exceptional contributions truly embody the spirit of corporate citizenship," shares Wolf.
MP relies heavily on the investment of community partners and members who support the advancement of its mission. About 40 corporations lent nearly 4,000 volunteer hours to MP Days of Inclusion and Service as an active buy-in to its mission of elevating inclusivity and accessibility for the IDD community. MP focuses on education, experience and impact for volunteers. Interested volunteers can apply here.
Find future non-profit profiles at https://www.yardi.com/blog/category/giving.