Dementia Tags
By Elizabeth Cutright on Dec 17, 2016 in Uncategorized
As a dementia crisis looms, one Japanese city has ditched GPS locators and other wearable devices in favor of low-tech stickers for tracking elderly patients.  
While dementia locators have been around for a couple of years, a new system developed in Japan aims to fix some of the issues inherent t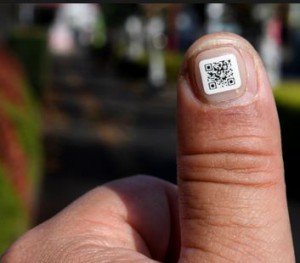 wearable tracking devices. Ditching pendants and pocket GPS trackers, a company in Iruma, Japan has developed a QR-code tagging system for dementia patients.
Beyond the ID Tag
Typical medical ID bracelets and patient wristbands still serve an important function, but anything wearable can be damaged or lost. Because dementia patients are often incapable of supplying basic information about their identity, the ability to affix a permanent identifier has become increasingly important.
While microchips may seem like an obvious solution, without the tools to read an implanted device any subcutaneous identifier has limited utility. Similarly, GPS trackers must often be within range of satellite or mobile service to be useful. As a result, there's a growing need for a practical, low-cost and easily managed solution.
The one-centimeter QR stickers recently deployed in Iruma are water resistant and designed to last up to two weeks. They can be affixed to a fingernail or toenail, and can be read by any free QR code mobile app. The code itself includes a unique identifier, along with the name, telephone number and address of the patient. The service, which is free, was just launched in November of this year to positive response.
"There are already ID stickers for clothes or shoes, but dementia patients are not always wearing those items," a Japanese official explained to AFP news. "Being able to attach the seals on nails is a great advantage."
A Crisis Point
The World Health Organization estimates some 36 million people suffer from dementia around the world, most of them with Alzheimer's. Sadly, more than 12,000 with dementia are reported missing each year. While many are eventually found, around 600 end up dead or permanently vanish.
About a quarter of Japanese citizens are over the age of 60, and about 4.6 million suffer from some sort of dementia. Last year, a record number of over 12,000 Japanese citizens suffering from dementia went missing, with 450 ultimately found dead while another 150 were never located.
With Japan's elderly population expected to reach to 40% by 2055 – with 7 million likely to wind up suffering from the disease – the health and safety of dementia patients has begun to take center stage.
"The impact will be so huge," Dr. Koji Miura, director general of the Ministry of Health, Labor and Welfare told The Star. "If we don't do anything, society will be in trouble."
"We see the crisis point as 2025," says Mayumi Hayashi, a research fellow with the institute of Gerontology at Kings College London. "And to cope with that crisis point, Japan is trying to create a society where everybody contributes and people with dementia have a better experience and quality of life."