Commercial Outlook
By Erica Rascón on Apr 7, 2020 in Uncategorized
Last week, Yardi Matrix hosted three webinars that provided insight on how the COVID-19 pandemic is impacting the self storage, multifamily and commercial real estate markets. Let's look at the insight on the commercial market, which is extensive. This post continues our first commercial sector recap, which you can read here.
Feast and famine in industrial
The industrial sector witnesses mixed results from shelter in place mandates. E-commerce is roaring as consumers and businesses go online to purchase necessities without leaving home. Logistics and distribution are regarded as essential services, largely immune to shut down mandates. These niches are among the few still adding jobs. Walmart has posted 150,000 new positions, followed by Amazon with 100,000 and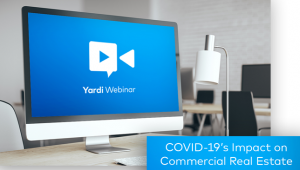 CVS with 50,000. They're offering enhanced benefits as well as boosted hourly wages.
Not all industrial tenants are forecasted to whether the downturn. Small business that occupy multi-tenant industrial spaces could dissolve. Most tenants aren't positioned for unlimited viability. Multi-tenant, smaller organizations compose nearly 45% of industrial space which will have a notable effect on overall industrial performance.
Retail on thin ice with few exceptions
Grocers are thriving, but the boon is not expected to last long after the COVID-19 recovery. Before the pandemic, cash flowed away from grocers to restaurants and meal kit delivery services. Social distancing has hamstrung both of those competitors, forcing consumers back to store aisles. Grocers are hiring as well as grocery deliver companies. Such businesses are expected to add 300,000 workers over the next three months. But as the crisis subsides, grocer revenue will return to normal.
No matter what, its clear that retail landlords will be hit hard. Social distancing policies have reduced and, in many cases, eliminated transactions at brick-and-mortar stores, which were already experiencing a decline with the prevalence of e-commerce.
Restaurants are also suffering short term and will continue to do so with growing shelter in place ordinances. Per a National Restaurant Association survey, the U.S. restaurant industry has lost $25 billion in sales since March 1. Nearly 50,000 stores of major U.S. retail chains have closed. Even noteworthy giants such as The Cheesecake Factory have announced they will not pay April rents. Both retail and restaurants will be disadvantaged until COVID-19 is under control. Restaurants are, at least, expected to quickly bounce back once consumers are able to leave their homes.
Dealing with absent-rent April and CARES relief for commercial real estate
Bank regulators will permit banks to defer mortgage payments for 90 days and will not consider the loans non-performing. Several cities including Seattle, San Diego, Los Angeles, Oakland, and New York are halting evictions for commercial tenants.
The CARES Act provides $357B in loans for small businesses up to $10M per business as well as a $5,000 refundable tax credit for retaining employees. Payroll, rent and other related expenses for the next two months can be converted into a grant and related tax payments will be delayed until the end of the year.
As these measures roll out, some landlords are already taking drastic measures to rescue their tenants and mitigate adverse impact on the economy at large. Bedrock, a Detroit-based commercial landlord, has announced a program that will not collect rents or fees from its tenants until July. Bedrock owns about 50% of the leasable commercial real estate space in downtown Detroit and the program covers nearly 40% of downtown retail and restaurants.
Matt Cullen, CEO of Bedrock, believes the measures could make strides towards preventing another downward spiral for the Motor City, which tends to take an augmented hit of any national challenges.  "The irony is that it's long been said if the nation catches a cold, Detroit gets pneumonia," he said.
Communicate early and often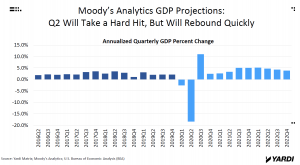 To usher organizations through the brunt of the pandemic, CRE owners and managers are encouraged to keep the lines of communication open and consistent.
"Talk to your tenants now and often," advises Adler. "Focus first on what's being done right and what's going well. Then ask how is their team holding up? Simple ask, 'what's the state of your business?'" Then build upon that information. For small organizations, lock in rents if possible, and only go month-to-month if necessary. Try to avoid concessions.
Adler also encourages landlords to leverage the ability to work remotely. Explore self-service options on new leases, online rent collection and online vendor management tools. Leverage energy conservation programs to cut costs.  "We didn't have such easy access to those tools during much of the '08 -'09 downturn," reflects Adler. "We are better positioned now."
Find the recording of the Yardi Matrix commercial webinar and the presentation materials online