Tech's Role
By Luis Estrada on Sep 23, 2020 in Technology
Many jurisdictions are now allowing for reopening, requiring managers and landlords to balance the value of workers returning to the office with the need to keep them safe.
There are tech advancements that will facilitate offices reopening, such as touchless door access, Bluetooth tracking, parking vacancy sensors, temperature readings and countless others. But the reality of this situation is that these enhancements were not created for a post-COVID world. We had the ability to leverage these tech drivers before, as Brandon Van Orden, senior vice president and CIO at Cousins Properties, explained. However, it has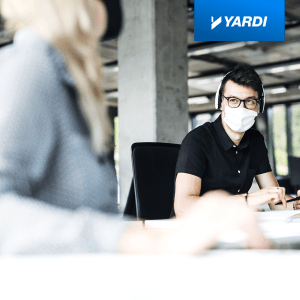 become a necessity for companies to use them more frequently now, some experts suggest.
What about those who make a personal decision to stay remote? Some workers may have comorbidities making them especially vulnerable to COVID-19. Some may be unable to arrange childcare while schools remain virtual. Regardless of the reason, many workers may not be ready mentally or physically to re-enter the workplace, and businesses must weigh the human elements of this just as much as the tech components of reopening.
In-office Value
There is one big question that nobody can yet answer: how long will capacity restrictions be in place? Because this is an indefinite timeline, it is much harder to determine in-office schedules. Some offices are moving to a hybrid work environment, which many experts believe is the future of work. It could mean that workers alternate days or weeks in office or it could mean that each day has multiple shifts, but the benefits of being in a work setting are numerous.
The initial wave of work from home success was tangible. Employers were generally pleased at the rapid adaptation to a WFH model and employees showed they can produce at a high rate when not in office. What has happened recently however, is people may be over the "honeymoon stage," as Karen Gill, vice president at Fidelity Investments, explained. "Working from home for this long could lead to loneliness or frustration of repetitiveness," she said.
One unexpected factor of working at home is that people tend to lose the sense of "having to go home" at the end of the workday. "We need to accomplish a way to block certain times to get away from Zoom, go for walks, take a call, eat lunch. Because we're not really stopping our day at 5 or 6pm," Gill said.
There is an undeniable social element to being in a traditional workplace. Water cooler gatherings may be off limits as offices reopen, but the ability to catch up with coworkers in person is more satisfying and necessary than via online chat or text message. Beyond personal conversations, bumping into coworkers in the hallway, kitchen or meeting room spawns meaningful work content discussions. As Van Orden said, some people are much more comfortable with a one-on-one, in-person conversation than they are in a Zoom meeting with the camera on. "People can be intimidated being in front of the camera all the time. Having a camera on a room full of people is very different from everyone staring at you on camera," he said.
Team culture matters in the workplace, as Kimberly Bertz explained. Bertz leads the workplace services and experience team at Wells Fargo and she believes a "normal feel" is the real value of being back in the office. "There's no benefit to coming back for your workstation alone. It could be that full teams need to come in and share a conference room and bond," she said. If going back to the office means you can't enter a meeting room, talk to someone in another department or sit in the kitchen, it may not be enough.
"The hybrid model is ideal to not get stagnant and accommodate all preferences," said Gill.
Tech in the new workplace
People are becoming more creative due to unforeseen circumstances. Bertz explained that whether it's high or low tech, people are coping with this new normal in many ways. Some are having to work while playing the role of teacher-parent for their kids simultaneously, and others are creating comfortable work set ups in odd spaces. "The new workplace is always going to have some level of mobility," Bertz said.
"Technology is the enabler for that mobility," Gill added. "As mobile as we are, we still need to build community."
Interoffice communication has increased while many workers were home. If your company was holding ten-minute calls just to touch base on priorities, rent collection or client concerns, don't stop that just because the office is reopening. Tech will drive the data collection for those meetings. Real-time reporting can provide hourly updates on internal business data as well as following guidelines for capacity limits and flow of foot traffic inside the office.
The fact that a transition to work from home happened so smoothly for so many large companies is a testament to tech advancements. Storing data in the cloud and the ability to hold virtual meetings were key to a quick transition. But the one aspect that lagged behind was IT security, according to Van Orden. "We always talk about ease of access, but now we have to talk about making access more difficult or limited," he stated. Because there are so many more mobile platforms and an enormous, sudden spike in the use of these apps from all over the country, breaches and hacks are a concern.
Technology companies and financial services now make up the largest portions of Cousins Properties' customer base. Van Orden said that is a drastic change from five years ago when the finance industry was their largest base by a wide margin. "Technology has come running into our market and it has pushed the need of implementing tech in buildings, but the challenge was always whether people were willing to pay for advanced systems," he said. "As we have [taken on] more tech clients, now they are definitely interested and we're putting the most technological equipment in their buildings." While business and back-end operations continue to perform day to day functions, IT departments are now getting pulled into the high-level discussions more often. It was already a trend, but the pandemic has necessitated it further.
"Spending on tech advancements is largely speculative," said Andrew Weakland, director of systems development at W.P. Carey. "Economic recovery and geopolitical factors will determine future spend." It is hard for companies to forecast what they don't know. Tech advancements in the workplace will help businesses reopen, but to what extent is unknown. We don't know how the public will be receptive to mass transit, long-term work from home plans or other human elements to a return to normalcy. What we do know is that businesses will need to balance health and basic human concerns with the tech advancements available to maximize workers' productivity.