OnePlus 3
By Anca Gagiuc on Aug 30, 2016 in Technology
OnePlus is no longer a new name on the market. The Chin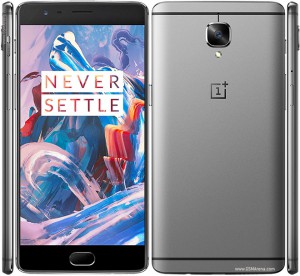 ese manufacturer premiered in 2014 with its first handset, followed up by last year's OnePlus 2 and the even more budget-friendly OnePlus X. Now OnePlus 3 takes the center stage and so far, the premise is better than before—Oppo dropped the invitation system so that everyone can use their money to purchase it.
Design
OnePlus 3 doesn't look bad with its curves and contours. It's a grown-up, solid device that comes in an elegant aluminum unibody—a great and durable upgrade over the plastic-clad and glass-backed precursor versions. The design doesn't bring anything new or original per se, in fact, the body looks a lot like that of an HTC phone. The only inelegant feature of the device is the raised camera lens, but it doesn't damage too badly the overall design.
The home button doubles as a fingerprint reader, something we're seeing more and more now that Android Marshmallow included native support for them. There is no water resistance or some other protection from the elements, if in case you were wondering.
A somewhat bizarre feature is the three-position notification switch on the side. It corresponds to the three modes of Android's notifications: silent, priority-only and all notifications. The switch seems to be the only way to change notification modes on the OnePlus 3 (there is no software method), thus making it a "hard lock" into whatever mode the user chooses.
The back plate cannot be swapped as with the OnePlus 2; if you're interested in changing the way your phone presents itself, you can order official slim cases from OnePlus—bamboo, black apricot, carbon fiber and rosewood are among those available.
Hardware
What puts OnePlus 3 in the spotlight though is not the looks, but the flagship specs at mid-range prices; its insides are comprised of a Snapdragon 820 processor, an impressive 6GB of RAM, a 3,000mAh battery and 64GB of internal storage—this is the only storage option and there is no microSD card slot. The 6GB of RAM is an overkill—most people don't use up half of the RAM at any point.
There is, unfortunately, a big compromise also—the 5.5-inch AMOLED display, running at a Full HD resolution of 1,920 x 1,080 pixels rather than the QHD 2,560 x 1,440 standard that can be found on most of the smartphone's rivals.
Down at the bottom of the phone are the speaker, the USB Type-C plug and a 3.5mm headphone jack. OnePlus 3 doesn't support Qualcomm Quick Charging, instead it offers a proprietary solution called "Dash Charging" which enables speedy charging over the USB Type-C connector, but using a charger and cable available only from OnePlus for $34. In terms of connectivity options, the device comes  with Wi-Fi b/g/n, Bluetooth 4.1 and NFC support.
Software
OnePlus' software is OxygenOS—stock Android with added extras, which OnePlus develops itself. One major addition is the "Shelf"—a leftmost home screen panel that can display the weather, memos, frequently used contacts and apps, and home screen widgets. Another great addition is gesture control while the device is asleep—draw a circle and the phone will launch he camera; swipe down with two fingers and music/audio plays; draw a ">" on the screen and skip to the next track; draw a "V" and the flashlight turns on.
Camera
The smartphone comes equipped with an 8MP front camera and a 16MP rear camera, which in most lighting conditions delivers pictures with accurate colors and plenty of detail. However, low-light performance drops considerably, but down to a level that is still good for a device that sells for only $400. The camera also comes with a manual mode, with ISO settings ranging from 100 to 3,200 and shutter speeds from 30 seconds to 1/8,000.
OnePlus 3 ripples the calm waters of the phone industry with its outstanding value for the money offer. It is a praised device that features no bloatware, has a well thought-out design and offers great user experience. It's known for its "flagship killers" that "never settle" and for offering the prospect of selling a phone at half the price of Samsung Galaxies and Apple iPhones, but with similar performance. Will it be successful?