Mobile Branding Matters
By Nik Edlinger on Jan 28, 2020 in Technology
Take a guess. How much time do you spend on your phone every day?
Add up all those downward glances, text replies, phone calls and photo filters. If you're like the average American, you spend 5.4 hours on your smartphone. And if you're like me, that's way more than you expected.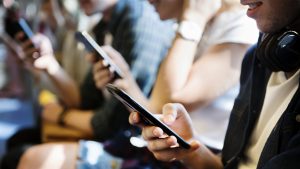 Those numbers come from a recent study asked 2,000 smartphone users to check their phone settings and report their screen time. Not only did the study reveal just how attached we all are to our devices, but it showed that usage across generations is similar. Millennials spend only a little bit more time on smartphones (5.7 hours) than baby boomers do (5 hours).
Over 50 times a day, we're checking our phones. This year, Gartner anticipates that there will be over 20 billion connected devices. Just imagine how much more dependent we'll be as these tools continue to pervade our homes and habits. Smart devices have led to incredible innovations, and they're changing our lives like very few other communication technologies have before.
By far one of the biggest differences is the way we interact with businesses. Why grab your car keys or dial a support line when the services you want are available at your fingertips in a mobile app? We now spend about 90% of our smartphone time in apps. Remember, that's hours of every day.
So for businesses looking to stay competitive, your mobile presence has to be top-notch. Of course, that goes for multifamily businesses too. You've spent so much time and money defining your brand strategy and designing your physical properties. Shouldn't your mobile apps match?
Put your brand in the palm of your residents' hands
Your residents are on mobile, so you should be too. Take advantage of this opportunity to connect with residents in the channels they prefer. "But wait," you might say. "What about our company website? Doesn't that work on mobile too? Why do we need an app?"
Mobile websites are a valuable resource, but they can't do everything a native mobile app can. Your mobile website is most often a shrunken version of the desktop website, accessible only from a browser and unable to offer a unique user experience or leverage phone capabilities like GPS, cameras or notifications. To top it off, consumers simply prefer mobile apps – by a large margin. One report suggests up to 85% of people prefer apps over mobile sites. Why? Convenience, speed and ease of browsing.
It's not just a matter of preference either. Apps have shown practical results as well. The conversion rate for apps is more than three times higher than on mobile websites. And if the app is poorly designed, 55% of people say it'd put them off using a company's products or services, and nearly as many would be less likely to recommend the company to others. Clearly, your mobile app experience matters.
It's why we're excited to introduce MyCafé by RENTCafé. The new white label mobile app for residents helps you promote your brand on the devices they use every day. Build awareness for your business and offer residents the convenience they expect in an app you own.
You can brand the look and feel of the entire experience:
Pick an app name that renters recognize
Select colors to reflect your brand
Feature images of your own properties
Upload an icon that stands out
Customize menu options to fit your needs
MyCafé has the same powerful and popular features that are built into our standard RentCafe Resident app. Your renters can submit maintenance requests, make online payments, reserve amenities, interact with neighbors and more, all from their smartphone. And your property managers have the ability to offer lease renewals and electronic signatures on the go, with push notifications to let residents know when action is needed.
If your property already uses RENTCafé Resident, you won't have to redo all your content and settings. Everything carries over into MyCafé, except now you get the chance to brand it to your liking. Your renters don't need a separate login either. They can access their account with the same username they've always used.
Carry your brand's momentum forward
Perfecting your app experience is just one piece of the brand puzzle. You still need to ensure your properties stand out in the crowded digital marketplace. As Paul Yount, industry principal for marketing solutions at Yardi, shared in a webinar, "There is a special saying: If you build it, they will come.  Wrong. In multifamily, you must build it, tweet it, optimize it, maximize it, and then they will come." Tweet this.
To take that next step in your brand journey, it's helpful to have guides who've been down the road many times before. Ensure your business doesn't miss opportunities to attract prospects or impress residents by partnering with RENTCafé Reach. Our team of property marketing experts can help you with search engine optimization (SEO), pay-per-click advertising (PPC), promoted internet listings and, of course, social media management.
By this point, you already know how popular mobile apps are. But among apps, the kings of time-consumption are social media networks. According to the same smartphone study shared earlier, we spend 64.5 minutes a day on Facebook and 48 minutes on Instagram, which beats out texting, email and phone calls.
Let us build you a holistic, digital marketing program that covers every base and gives you the brand exposure you deserve. We can even post on your behalf on social media and monitor conversations across the web to ensure your business is represented professionally. Interested in what RENTCafé Reach can offer? Join a webinar to learn more.
Make your brand the best it can be
If your goal is to attract and retain residents, then optimizing your brand is a must. And in today's mobile-dominated, highly connected ecosystem, you can't ignore your app or your social media efforts. They're both vital elements of any successful brand strategy. Yardi marketing solutions can help you get there. Put your brand in renters' hands with MyCafé, and let RENTCafé Reach promote your business wherever they spend their time.
Looking for even more brand strategies? See the branding tips and tricks that Brenda Studt of Excelsior Creative shared for how to create better resident experiences.