Knock Knock
By Anca Gagiuc on Oct 13, 2016 in Technology
This device, created by Houston, Texas-based startup Knocki, will take you back to you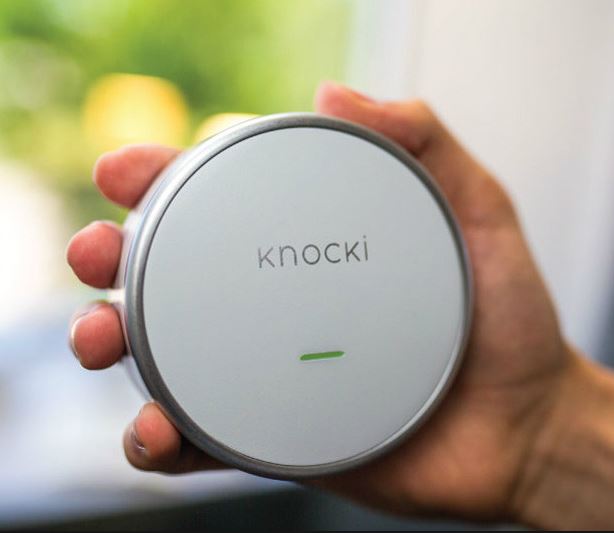 r childhood adventures, reminiscing of the immense power secret knocks had, and, apparently, still have. Knocki is a puck-shaped Wi-Fi gizmo with built-in vibration-sensing tech that fastens onto furniture, walls and doors. It has the ability to translate taps and knocks into controls for the Internet of Things devices. Do you remember now the special patterns like two knocks, a pause, three more knocks which gained you entry to a members-only treehouse?
Knocki showed early signs of a truly successful device after it blew way past its $35,000 target set for a Kickstarter campaign, to over $1.1 million committed. Where from comes this magnetism?
The gizmo uses an adhesive tape to stick to whatever surface the user wants, their patent-pending SurfaceLinkTM is said to ensure a solid connection to a surface for transmission of gesture signals, but if you're skeptical about the staying power of that adhesive strip, the company also provides mounting hardware for a more permanent installation. As far as configuration goes, it is said to be as simple as downloading the companion app on your iPhone or Android and entering your Wi-Fi credentials. From there, you should be able to assign up to 10 custom "knocks" to a single Knocki.
The device isn't always on, thus it conserves battery life—four AAA batteries will keep Knocki running for more than one year. Moreover, its simple sensor keeps production costs low.
The simple system was designed to help kids, the elderly, as well as the physically and visually impaired control the new generation of IoT hardware, without having to waste more time with a smartphone. Furthermore, the team behind the product claims upcoming support with the likes of IFTTT, Nest, Belkin WeMo, SmartThings, Philips Hue and other smart-home brands.
For instance, a double tap could turn on your LEDs, two taps followed by pause and a triple tap could unlock your wireless deadbolt, while a triple tap could dim your LEDs and turn on your TV. And that's just 3 of the possible 10 gestures one can create per Knocki device. If there aren't any smart products in the home, Knocki should be able to control music or find your phone.
What's even more interesting is that the quirky gizmo is also supposed to be able to distinguish between a deliberate tap and an accidental tap. "Our patents cover various aspects of the technology, and one of them is differentiating intentional gestures from random vibrations in the environment," Knocki co-founder and CEO Jake Boshernitzan explains. "We look at the intensity of the vibration and the period of time between the taps. If I were to tap three times quickly, all the taps have a very similar intensity. Even in a noisier environment, it can filter out things like putting a glass on a table or putting your elbow down."
Don't think that Knocki is listening in on what's happening around it, as it uses non-acoustic sensors. It has mechanical accelerometers inside which measure distinct vibrations on different types of surfaces, from drywall to marble countertops (apparently pavement is problematic); these connect to Wi-Fi and converts them into programmable actions. Thus, multiple Knockis can coexist in the same room without conflict, as long as they are on separate surfaces.
Knocki can be purchased (at the time this article was written) for $89 and will be delivered no sooner than February 2017, the black edition asks for $99, while a triple pack sells for $229. By the looks of it, sometime in 2017 it will also be available from brick and mortar retailers.