For App Addicts
By Anca Gagiuc on Mar 22, 2018 in Technology
Your smartphone is the one thing you carry on you at all times. It has become an omnipresent device, with v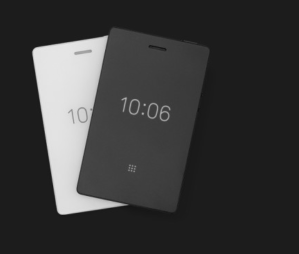 ery few places where one's not allowed to have it. It helps a great deal, but it's ever more damaging as well. Today we face something that's called 'app addiction' and there are more and more studies showing the damaging effects apps have on our brains.
Analytics company Flurry released some data that shows that people in the U.S. use their mobile devices for five hours a day. More so, the tech-support firm Asurion found that Americans check their phones 80 times a day on average. Even more so, you've surely heard that Silicon Valley parents (from the ranks of those who built these apps and devices) are raising their kids to be tech-free.
One Brooklyn-based company has proposed an alternative to the tech monopolies back in 2015 and now they've returned with a second model—Light Phone 2 is everything a smartphone isn't, an intentionally limited gadget. The device is a 4G LTE phone with a black and white matte E-ink display and only a few features extra compared to an old school landline: it can send and receive messages, set up an alarm clock, and maybe it will be able to calculate a ride home and perhaps even listen to your favorite playlist. It can also store a decent contact list, too. That's it—no social network tools, ads, email, games, or whatever else to distract you from the reality of life.
Joe Hollier and Kai Tang, the company's founders, came up with the idea while at a Google incubator where they were asked to design smartphone apps. They did… the opposite. The world already had too many addicting apps, it was time to 'go light'. Simple communication is at the heart of the phone—voice calls and text messages, what more do you need?
Light Phone 2's Indiegogo campaign had raised nearly $375,000 by March 2018, about 50 percent more than the established financial goal. The proposed technical specifications include 4G LTE, WiFi and GPS, 1GB or RAM memory, a proximity sensor, 500mAh battery that keeps the device powered for five days (standby) and enables a few hours of talk time, and a Qualcomm processor. Light Phone 2 will have an anodized aluminum casing with an E-ink display. Unlike some other devices, this device will have the infamous headset jack, as well as a USB-C port. For the proposed playlist, the developers also included a loud speaker.
Just like its predecessor, the Light Phone 2 will run on LightOS, a modified Android operating system. Available (hopefully) starting in April 2019, the phone will sell for $250. Considering that the first version of the phone was purchased by more than 10,000 people in more than 50 countries, the Light Phone 2's future looks promising. Any takers?