A 3D Printed House
By Anca Gagiuc on Dec 16, 2018 in Technology
Back in 2014, we were excited about the giant 3D printer USC Professor Behrokh Khoshnevis had designed with funding from N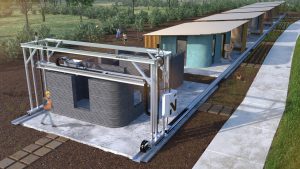 ASA and the Cal-Earth Institute. The robot was able to build a 2,500-square-foot home in just 24 hours. The process was then known as Contour Crafting and was barely in the research stage. Fast forward to today, the big machine has progressed and seems to have the power to aid the pressing homelessness issue.
Currently, the world lacks homes for more than one billion people, according to a report by the World Resources Institute Ross Center for Sustainable Cities. Some areas are in more distress than others, such as El Salvador, where to build a house it tricky because of the land's vulnerability to earthquakes, flooding and volcanic eruptions. Yet, San Francisco-based housing charity New Story built more than 850 homes in El Salvador, Mexico and Bolivia in the past several years. Those homes costed $6,500 each and each of them took more than two weeks to build. The slow process spurred the company to search for better ways to build.
That's how they came in contact with ICON, an Austin-based construction tech company, to create a 3D printer that can build a 600 to 800-square-foot house in 12 to 24 hours for as little as $4,000. This printer, called Vulcan, was unveiled at SXSW along with a 3D printed house, built to U.S. standards, that's in an Austin, Texas backyard.
The model in Austin has a bedroom, living room, bathroom and a curved porch and the 'ink' used in its development is in fact cement, which the company claims, will help normalize the process for potential tenants that wish to know more about the sturdiness of the structure.
The machine is designed to work in environments that sometimes can lack power or water and technical assistance is sparse. In other words, a printer that works in Austin, won't do so in El Salvador, because of the aforementioned land vulnerabilities. This is why, New Story and ICON included a battery, a generator and a container that will house the printer and that will have solar panels at the top to take advantage of the region's abundant sunshine. The machine will enter Phase II, which will enhance the printer based on the experiences and learnings from Phase I. Within the next 18 months the printer will be relocated to El Salvador and start test printing. With the new technique, the cost might drop even further to $3,500 and could even offer families options for different designs to suit their family size.
The idea is not new: in 2015, Chinese construction firm WinSun Decoration Design Engineering revealed a five-story apartment building along with a 11,840-square-foot neoclassical mansion, both made with a giant 3D printer; a year before that, the company developed 10 affordable houses of 650 square feet each in just 24 hours for about $4,800. Their developments use a patented ink created from recycled construction waste, which is fundamental—the lifetime of a building varies greatly around the globe—China demolishes them after 30 years, the U.S. after 75 years, while in Europe they are kept vertically for longer. All that construction waste (China is estimated to produce as much as 2 billion tons of construction waste from razed buildings annually).
There is also Italian WASP—their solution comes in the form of a printer easy to transport, which uses mud and natural fibers to create dwellings. In addition, it allows builders to experiment with different architectural shapes.
This relatively new industry could be the solution to a few issues: firstly, build more for less money; also, build more with less effort—WinSun claims their printer decreases needed labor by 80 percent, which is essential in the current climate, where the U.S. is facing stringent labor shortage and high cost of building materials.
Video courtesy of New Story