Sizzling Summer Luau
By Erica Rascón on Aug 23, 2017 in Giving, People
Did you know that 48 percent of California's seniors lack sufficient income to cover housing and meals? That means two out of every five seniors have to choose between paying rent and having enough money for food.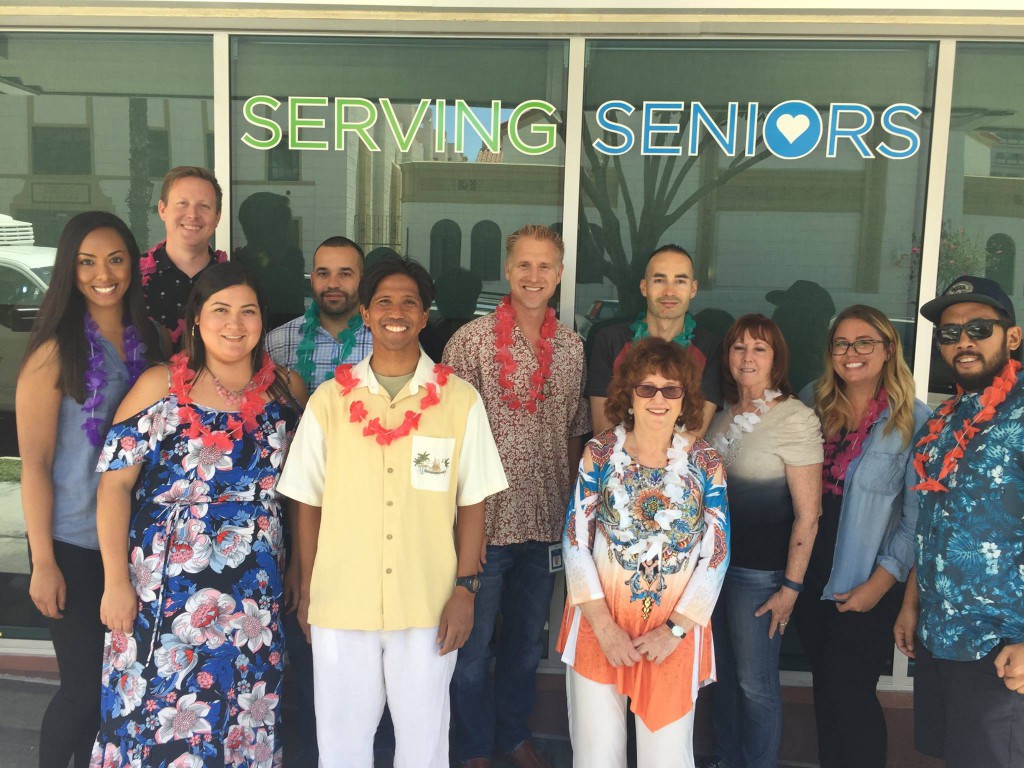 Serving Seniors is a 501c3 nonprofit that minimizes the financial burden faced by thousands of San Diego seniors. Since 1970, Serving Seniors has offered vital services including food, health care, housing, social and educational opportunities. It is the only organization of its kind in the county, and one of few in the country, to provide for the fundamental needs of seniors.
Food and housing top the organization's list of priorities. Seniors ages 60 and older are eligible for congregate meals and physical, mental, and social health services. Seniors 62 and older are eligible for those services as well as permanent affordable housing at the organization's communities in East Village and City Heights. There is also a transitional housing program for seniors facing housing insecurity.
"Meals and affordable housing are the most-needed services we offer," says Shannon Fogg, Communications and Special Events Manager at Serving Seniors. "San Diegans can always volunteer to help serve meals or lead classes. Any kind of class is typically interesting to our curious seniors."
Serving Seniors understands that clients have needs beyond the necessities. Learning and socialization opportunities give seniors a chance to make new friends, learn new skills and develop existing abilities.
To maintain mental and physical agility, seniors participate in classes for low or no costs. Yoga, Tai Chi, interactive games, art, crafts, and health education classes are just of few opportunities for mature adult learners.
The Civic Engagement league empowers low-income seniors to address challenges that impact their community. They participate in volunteer opportunities, brainstorm and execute solutions to community issues.
Fogg believes it is important for people of all ages to engage in advocacy for the aging. "Everyone can get involved by advocating and raising awareness for aging issues. We really need to get the attention of public officials – federal and state – and focus on building an infrastructure over next 40-50 years to support longer living."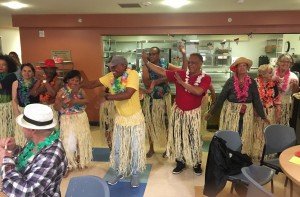 That infrastructure would include building housing at all levels with truly livable communities, providing access to public transportation, grocery stores, shopping opportunities, libraries, and other services.
Fogg also expressed the dire need for dental care, reliable access to food services, and programs to prevent and persecute elder abuse. "We need continued or increased federal funding to keep these programs operational," she said.
To raise money for Serving Seniors' multitude of programs, the organization teamed up with Yardi San Diego to host a luau. Yardi donated $4,000 in addition to supplies for the event.
Yardi employees Dave Chmelka, Beverley Aronovsky, Gabe Velarde, Joe Silva, Kathy Bretado, Larry Galang, Louie Arzaga, Maria Testa, Mesha Dean, Sarah McCormick and Tyler Dalsted represented the company at the Luau.
"Our seniors had a wonderful time at the luau and we're very grateful for Yardi's support!" Fogg said.
With the support of its sponsors, Serving Seniors is able to support more than 4,500 seniors and provide 350 units of affordable housing.
"The most important thing to me is that the work I do all day, every day makes a tangible difference to the people we serve. We provide a support network, sometimes a lifesaving one, for vulnerable seniors. I get a lot of satisfaction from that," says Fogg.
Yardi is Energized for Good. Join us by showing your support! Learn how you can volunteer or make a donation to Serving Seniors.  San Diego locals are invited to the Experience of a Lifetime Gala this May.