Meet Melise Balastrieri
By Geneva Ives on Jul 16, 2019 in Marketing, People
How do you get more renters to your websites? Just ask Melise Balastrieri, vice president of marketing for MG Properties Group. Using the RentCafe Suite, Melise and her team manage the marketing for more than 20,000 apartment homes across five states.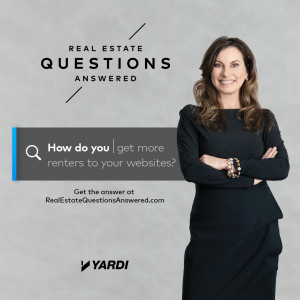 First, Melise uses RentCafe to create engaging property marketing websites. Then she drives more prospects to those websites using the expert SEO services of  RENTCafé Reach. Once leads become prospects or residents, she relies on RentCafe CRM to keep them engaged.
Keep reading to see how Melise makes it all work together.
What is MG Properties Group's mission?
Melise: Our mission is enriching lives through better communities. And we believe that we do that with every single interaction that we have, whether it's with a team member, our residents or our investors.
What is one of your business objective in your role as vice president of marketing?
Melise: A business objective that's important to me is maximizing our use of technology in a way that affects our bottom line. That includes using it to get more leads that turn into leases. Because it's not important just to have a lot of leads; you have to have leads that convert.
How do you make SEO work for you?
Melise: We use RentCafe Reach services to manage our SEO. We establish our goals based on the type of community we have, and our SEO specialist optimizes to make sure we're attracting the leads most likely to convert. After all, we don't just want a high quantity of leads; we're more interested in high quality leads.
RentCafe Reach provides clear and consistent SEO reporting. We can see things like website sessions, views and bounce rates to determine if we want to make adjustments. It's been working really nicely for us. After three years of strong consecutive growth, our organic sessions were up another 21% last year.
How do you improve lead capture?
Melise: To capture online renters that visit our property marketing websites, we use some features in RentCafe that I think are very impactful. For instance, we encourage prospects to text us and schedule their own tours. We also use nudge marketing. These tools help us get in front of leads and give them options to contact us in ways that work for them.
Our most recent data shows that, overall, our leads convert at 11%. But our self-scheduled appointment leads convert at 14% and our nudge marketing leads convert at 27%. These features are proving quite effective.
How do you follow up with leads?
Melise: At MG Properties Group, we automate follow-ups as much as we possibly can. Leasing teams are so busy onsite that follow-ups can get forgotten. Using follow-up tools in RentCafe CRM, we know our prospects are being contacted. We'll use automated appointment reminders and drip emails to make sure we're staying in touch with prospects. We invite them to call, tour and ask questions.
We also use automated emails to stay in touch with our residents and secure renewals. We check in throughout their lease. As the end of their lease term nears, we express appreciation for their residency and remind them that we would love it if they continued living with us.
Why do you use Yardi?
Melise: What I really like about having Yardi as our property management technology provider is that most of the services we need are available in one solution. So we can deal with one company. That helps us simplify things as an organization.
What marketing trends are you most excited about?
Melise: I'm most excited about artificial intelligence. I think it's super exciting and am anxious to see what it's going to do for our industry. For example, Alexa and other digital assistants, what are they going to do for us? Will they be able to host tours, collect rent and submit service requests for our renters? (Editor's note: Yes! Coming soon from RENTCafé.) And what else will we be able to do with artificial intelligence? I'm also very interested in the progression of chatbots.
What is something interesting abut you that might surprise someone?
Melise: People are often surprised to know that I was a barrel racer. I love horses – they're not surprised to learn that – but yeah, I did some small competitions. It was very fun when I was younger.
To see this marketing genius in action, watch the video below then visit Real Estate Questions Answered for more.