Cancer Support
By Leah Etling on Apr 20, 2020 in People
Sometimes experiencing a true hardship, like a life-threatening illness, can present a way to later extend a healing hand for others.
That is the story of Erica Jones, a technical account manager at Yardi's Raleigh, North Carolina office. A breast cancer survivor, Jones is the founder of a 501c3 non-profit organization called Tickled Pink Breast Cancer Support, Inc. which provides healthy Cuisine Care Packages  for patients (men and women) who are without the support of a spouse as they battle breast cancer.
That was the position that Jones found herself in when she was diagnosed with breast cancer in 2015.
"It was heart stopping to hear those four words: 'you have breast cancer.' But going through the treatments really did something to my heart and filled me with compassion for others who were going through those same experiences. I knew I wanted to be able to help others that were on that journey as well."
Jones promised herself that once she was declared cancer free, she would start such an organization. Last year, Tickled Pink Breast Cancer Support, Inc. became a reality and Jones and her non-profit have helped a dozen patients so far, with plans to help many more in the future. Patients receive the complimentary Cuisine Care Packages weekly for up to three months during their treatment timelines. Culinary partners of the non-profit prepare the cuisine, which is full of healthy nutrition and made without preservatives or additives. It's a much better option than reaching for frozen food or a packaged alternative. Dishes typically include protein, grains and vegetables. For those who might need it based on circumstance like low to no appetite, tender palates or mouth sores, soup and smoothies are an alternative option.
Tickled Pink also provides healthy Snack Care Packages for single adult breast cancer patients to enjoy during their chemotherapy treatments or at home in between treatment visits. Yardi's Raleigh, North Carolina Global Solutions Team observed Breast Cancer Awareness month and partnered with Tickled Pink Breast Cancer Support, Inc. by donating, providing and organizing 148
Snack Care Packages to the vulnerable population of breast cancer patients in our community.
After going through chemotherapy or radiation treatment, Jones explained, aiding your body's recovery with healthy food is vital, but the treatments can be exhausting and the last thing you may want to do afterwards is grocery shop and cook.
Tickled Pink volunteers (there are about 20) deliver the Cuisine Care Packages once a week to patients in the Raleigh/Durham/Chapel Hill Triangle. Cuisine Care Packages are complimentary and not based on income and funding for the cuisine comes from donations and grants.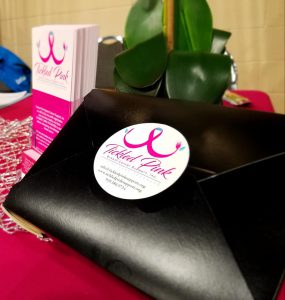 "If can help someone smile through trials by providing a weekly meal for them, that feels like a supportive resource, especially for those who are single adults," said Jones. During her own cancer treatment, she relied on the support of friends who would accompany her to chemotherapy treatments  and after she finished her appointments, they would enjoy lunch together – even if she wasn't feeling like eating.
"Whether I had an appetite or not, it was just fellowship to have them there with me. But after lunch, then came dinnertime, and I didn't have the energy to prepare anything.  As I navigated through my diagnosis and started chemotherapy treatment, my son was starting his sophomore year in college away from home and I lived alone."
Now that the first year of the program has concluded, Jones hopes to help many more "smile through trials" next year, and she has even more ambitious goals long term.
"Once we can bring in more funding and resources, we will be able to reach many more people. I have been getting calls from elsewhere in the state," Jones explained. "Long term, my vision is not just for Tickled Pink to be a local effort, but a national one. That's the vision I'm working towards, and with help from others with compassion and empathy perhaps that will be a reality in the very near future."
Learn more about Tickled Pink Breast Cancer Support, Inc.