Call of Duty
By Joel Nelson on Jul 18, 2016 in People
"Hunt Companies is always giving back," says Crisha Kamphorst, a business solutions manager for Hunt Companies Inc., referring to he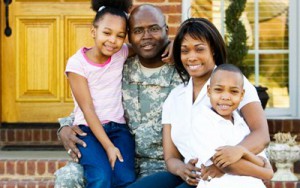 r employer's devotion to employees, residents and communities.  Hunt Companies is a Yardi® client that manages more than 32,000 housing units across the U.S. as one of the military's privatized housing partners.
That dedication is rooted in El Paso, Texas, Hunt Companies' headquarters since 1947.  The Hunt Family Foundation, founded in 1987, has made grants and commitments of $52 million to 548 organizations.  Organizations that have received funding include the University Medical Center Children's Hospital, Texas Tech Medical Center's School of Nursing, the University of Texas at El Paso, the El Paso Museum of Art and the El Paso Zoo.
Deep Commitment
Just as the scope of Hunt Companies' business extends far beyond El Paso, so does the company's commitment to residents and their special circumstances.  "From the moment a military family sends us an application to the moment they move out of our house, they're part of our lives.  We're part of their support network, we're part of their group," says Kamphorst, who as the wife of a retired U.S. Navy chief is quite familiar with the rigors of military life.
"As a family-owned company, Hunt is not only committed to employees, it's also committed to its mission," adds Dennis McDonald, Kamphorst's fellow business solutions manager at Hunt Companies.  "In military housing, that boils down to providing the best possible housing for our military members and giving them the support they deserve.  It's something we take very seriously."
A major event for services members—and for Hunt Companies—is a permanent change of station (PCS), which can uproot a family by redeploying somebody from Germany to Hawaii, from Hawaii to Maine, or from California to Washington state with little advance notice.  "Hunt communities face many situations that conventional sites don't.  When PCS orders come in, a site might have 70 move-outs in a week, and three days later it has 70 move-ins.  It's challenging and sometimes difficult for everybody involved," Kamphorst says.  "We have to support the residents and make quick decisions because they're making quick decisions on their lives."
New Capabilities
The complexities of PCSs and other special aspects of military life prompted Hunt Companies' adoption of Yardi Voyager® Military Housing, a dedicated platform for military housing providers, along with mobile solutions for maintenance and invoice processing.  "Voyager offers customized reporting that helps us make the partnership work for the government," McDonald says, adding, "The idea of doing everything on a mobile platform hits home for a military family that's scattered and on the go.  Moving in this direction will provide service members with even more efficiency, such as the option to make payments online. Yardi has been great about providing us with new solutions as we need them.
"Our main focus is making our employees' jobs easier with better customer service and training.  Yardi provides a level of customer service that we pass to our sites.  That makes our jobs a little easier—and serves our military families better."