Blake Cole
By Leah Etling on May 11, 2022 in People
Meet Blake Cole, a team lead for RightSource auditors in Yardi's Minneapolis office. Blake started at Yardi in November 2020 as an auditor and was promoted to team lead within six months.
Recently, he had the opportunity to be part of longtime Yardi affordable housing client ALCO's very first internal podcast. We caught up with Blake to learn more about how he proactively tackles client challenges. Read on to learn more.
TBS: How do you spend your work hours?
BC: As Team Lead, I oversee the compliance and review of certifications for numerous affordable housing programs (e.g. HUD, LIHTC, HOME) across 11 states. My work hours are spent developing and cultivating strong relationships with our clients, responding to compliance questions and inquiries, supporting auditors in their review of complex certifications, as well as problem solving and troubleshooting software issues that may arise.
I began my career in affordable housing 14 years ago as a Leasing Consultant for a 175-unit elderly property in Atlantic City, NJ where I utilized Yardi Affordable software daily to process rental payments and complete certifications on site. This experience of overcoming the day-to-day challenges of compliance in affordable housing ironically are some of the same challenges that my clients presently endure. Having walked in their shoes for more than a decade of my career has unquestionably positioned me to better meet their needs today.
TBS: What do you most enjoy about your work at Yardi?
BC: I enjoy being able to pursue my passion of problem solving and providing exceptional customer service all while working remotely. I enjoy having easy access to continued education and online training. I believe Yardi attracts the best of the best; and doing so gives me the opportunity to learn from professionals who are experts in their field. As a minority, I love working for an innovative and diverse company where inclusion is encouraged and intentional.
TBS: What do you most appreciate about Yardi's corporate culture and approach to teamwork?
BC: I shared on a client podcast (more on that below) that I truly believe that "when you do the right thing for the right reasons consistently over a period of time, that things just work out for you." Integrity is the core value that I appreciate most at Yardi. I believe integrity is the foundation to which successful organizations are not only built but sustained. It is a core value that my parents instilled in me from a young age and one that I continue to live by today.
I also appreciate the value of collaboration through Yardi's "One Team, One Dream" philosophy. The success I have achieved in my role as a Team Lead was undeniably cultivated through a "village" of individuals. Co-workers, mentors, and supervisors who saw something in me that I did not see in myself, and then were patient and persistent enough to lift me there. I work with and for an incredible team at Yardi.
TBS: Tell us about your work with ALCO and how it's been a positive experience?
BC: ALCO was the first client assigned to my portfolio as a Team Lead in June 2021. And as with any client onboarding new systems and software, the process of change management was both unique and at times challenging. I quickly learned that the practical solutions I applied as a RightSource auditor were not as well-suited for the needs of ALCO. The unique challenges ALCO experienced not only required more of a hands-on, meticulous approach to client engagement, but also required that we cultivate a relationship built on effective communication and openness. We embraced the fact that we could not solve all our problems on day one; but that together through consistent, open communication we could establish a sustainable process that works.
TBS: How did you end up as a guest on their podcast and what did you talk about?
BC: Due to the challenges ALCO and its staff faced during the implementation of new software, I was invited to join ALCO's weekly corporate video calls with their managers to field questions, listen to concerns, and provide guidance on compliance related issues regarding their certifications. ALCO enjoyed my "positive and infectious" approach to listening and responding to their concerns that they invited me as an honorary guest on their first company-wide podcast. We discussed resourceful topics such as recurring findings the auditing team discovered in their certifications and how to avoid them.
TBS: What are a few of your favorite activities outside of the office?
BC: Prior to the covid pandemic, I worked as a freelance videographer in which I produced wedding short films for newlyweds. I enjoyed my work tremendously as it allowed me to meet some incredible people and utilize my artistic ability to move people through creativity. My weekends are now mostly spent sharing quality time with family.
Also, here are a few fun facts about me:
I have a twin brother who looks exactly like me although we are fraternal twins.
I enjoy traveling, but have yet to visit the state in which Yardi is headquartered, California
I love trophies!
TBS: That demands a follow up. What's the greatest trophy you've ever received?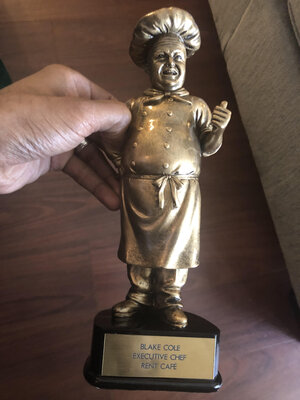 BC: Because of my ability to effectively troubleshoot technical issues during client software integrations, a co-worker had a trophy designed and delivered to me on behalf of the team to commemorate that success. It's my favorite trophy not only because of the creativity behind it, but because it serves as a reminder that I work with an incredible team who loves to share and celebrate success!