YASC Global
By Leah Etling on Oct 23, 2020 in Events, News
October 20-22, Yardi provided three days of education, training, inspiration and support to clients during the YASC Global conference. The expansion of the online event to attendees worldwide, building on a U.S.-focused event held in May, was well received. Over 20,000 attendees, representing more than 2,500 companies from 58 countries, took 45,000 courses over 72 hours. The event was hosted on the Yardi Aspire learning platform.
Anant Yardi, founder and president of Yardi, delivered an introduction to the event and remarked on the rapid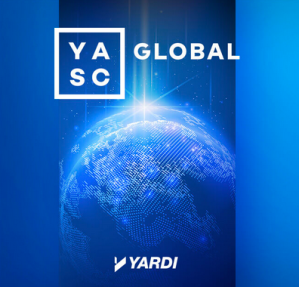 adaptations real estate professionals have made worldwide.
"Last year we had six different conferences: Washington, D.C., San Diego, London, Dubai, Singapore and Sydney. They were festive occasions where we had the opportunity to meet and greet you. Today, things have changed," Mr. Yardi said. "We now work from home. We no longer meet face to face, but through digital media. And as all of this is going on, we yearn for those good old days. I don't know about you, but it sure is nice to meet face to face. And we look forward to the day when we can do that."
But to help deal with the "new normal" that the real estate industry now faces, Yardi has continued to expand its product suites to assist with remote business management, data transparency, social distancing, working from home and much more. These features augment the business and accounting features that have made Yardi the go-to technology provider for real estate over the last 40 years.
Product spotlights
During YASC Spotlight sessions, clients heard from Yardi executives about the development and progress of product suites, including Affordable Housing, Commercial, Investment Management, Multifamily, Senior Living, and Public Housing. There were also regional updates for international clients from Asia, Australia/New Zealand, Europe and the Middle East.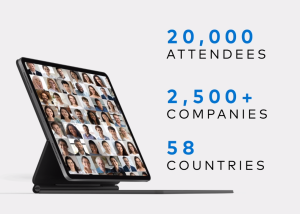 "Through a single connected solution, we remain focused on providing a set of products and services that have a real impact on your property operations and property performance. These products help to create transparency and efficiencies in the interest of reducing risk, reducing expenses, increasing revenues and increasing property values," said John Pendergast, senior vice president at Yardi.
Products highlighted for multifamily operators were RENTCafé Reach search marketing;  Marketing IQ, a new marketing analytics product; RENTCafé  Self-Guided Tours, which allows socially distanced property tours; RENTCafé Chat IQ, an automated marketing assistant using AI and machine learning; Maintenance IQ; Asset IQ; and the Procure to Pay suite.
"There have been some dramatic changes. Remote working, asset distress, residents and tenants' ability to pay rent, and a real focus on data have been part of our conversations with clients both big and small, operational or institutional ownership. The challenges are common across the different platforms and client perspectives," shared Richard Malpica, vice president and general manager, Eastern region for Yardi, in the investment management spotlight.
While different commercial real estate sectors have been affected uniquely, data visibility and the ability to access operational data have been especially important to investors and operators alike. The Investment Management product suite provides tools to deliver data transparency, risk exposure analysis and real time reporting that investors are seeking now.
"Though we have incredible optimism about the next 18 months, it is important that we acknowledge the hardship that many of you have faced in a personal and professional manner," said Rob Teel, senior vice president at Yardi, in the commercial product spotlight. "I want to assure you that Yardi has passionately contributed philanthropically and to professional trade organizations to help with a global rebound from this crisis."
Commercial clients learned about the latest updates to the Yardi Commercial Suite, including Yardi Elevate, which sits on top of Yardi Voyager and provides operational tools to drive performance and gain operational visibility. Leasing, forecasting, deals, retail tenants and construction projects all have specialized management modules and reporting oversight within Yardi Elevate. Its real time informational visibility has been especially beneficial for commercial clients during 2020. A new commercial suite, Corporate Real Estate Occupancy Manager (COROM), will help CRE clients reopen offices and assist with tenant questions during that process. Clients can also deploy COROM for their own tenants to use.
"COROM is a new development that has been accelerated by COVID-19. It will help you open office buildings back up in the short-term. Longer term, COROM will help you answer how your offices are occupied, physically and economic occupancy as well as desk-per-employee, and how many folks are you expecting to be in your building," explained Kevin Yardi, vice president at Yardi.
Global reach and benefit concert
Broadening the reach of the event to all Yardi clients worldwide was a highlight of the event. Course tracks for each of the international regions in which Yardi operates were available, and 24/7 support ensured that client questions were answered.
"Our focus has been to continue to support you, our clients, our employees, as well as the communities that we live in. Throughout COVID, we've also continued to invest heavily in people, infrastructure and new products to be able to serve you better. We've continued to increase the number of employees we have across Europe and in other global destinations. We've also opened up an office in Paris, which is important because we can better support our clients who operate in France, and we'll be continuing to build out that office in the coming years," said Neal Gemassmer, vice president of international for Yardi.
In addition to attending over 6,500 hours of educational content, there was an opportunity to have some fun. Yoga and meditation classes were offered as relaxation breaks. And the traditional YASC "Yardi party" became a virtual charity benefit concert with a well-known indie band that raised over $75,000. A donation was made for each attendee who viewed the show.
"I was able to take classes on the newest products, ask questions on topics I didn't fully understand, and dig into things that interest me. Yardi still pulled off a virtual concert with Of Monsters and Men all while giving charitably. Plus, they offered virtual yoga classes and built an environment in which I could still network with those I missed seeing face-to-face," said YASC attendee Marcie Trivette of Fore Property.
Clients who missed the event will be able to view course recordings on Yardi's Client Central portal in about one week. Notifications will be sent when the courses are available online.
YASC Global will be back in spring of 2021 with another outstanding event experience. Stay tuned for details on the YASC information page.