Yardi Dubai
By Katrina McDowell on Aug 4, 2023 in News
#TeamYardi of Dubai is here again, showcasing their influential excitement in and out of the office. Here are a couple of updates from the Dubai office.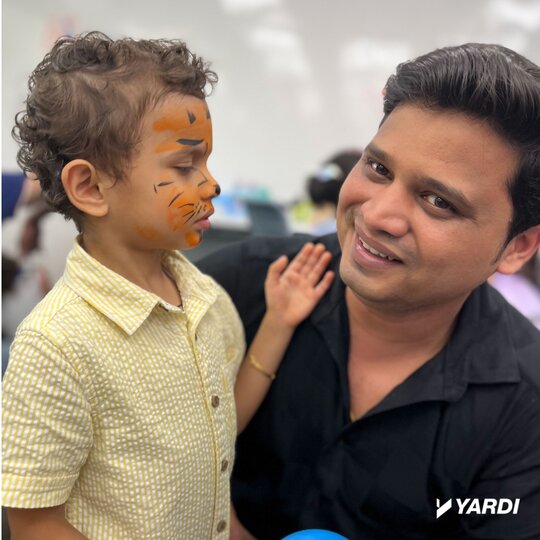 Bring Kids to the Office
Bring Kids to the Office was an exciting event and opportunity for Yardi's wonderful parents to introduce their kids to the place where parents spend a significant part of their day. Employees had the chance to share the work environment with little ones and create an engaging and fun atmosphere for everyone in the office. The day was jammed packed with a range of activities suitable for children of different ages:
Office tours– Kids had the chance to explore the office and learn about what their parents do when working.
Interactive fun– entertainment included balloon twisting, face painting, games and music with party hosts.
Snacks, treats & sweets to keep the energy level up throughout the day.
"We were so excited to see the workplace come alive with the laughter and joy of our employees' little ones. It was undoubtedly a fantastic day of bonding and creating cherished memories together," exclaimed Oksana Goliak, Yardi Dubai office manager.
Fostering Healthy Competitions
The friendly yet competitive nature of employee team building encourages employees to showcase their skills while cheering on their teammates. Healthy competition can instill a sense of pride and accomplishment, motivating individuals to work harder as a team. Moreover, the Cup cultivates a supportive environment where employees celebrate each other's successes and learn from their setbacks, strengthening team bonds. The Yardi Sports League continues with a new season for 2023 and promotes employee well-being.
Recently, Yardi Sports League held a Table Tennis Cup: a fantastic team-building event promoting physical fitness and enhanced employee teamwork, communication and camaraderie. Be sure to check out all the action:
We'll keep you in the loop for their next adventure and event soon!