Workplace Accolade
By Erica Rascón on Jul 12, 2019 in News
Yardi client Brightview Senior Living was named a "Best Place to Work" by the Great Place to Work Institute. It is one of only 40 aging services workplaces in the nation to receive the honor.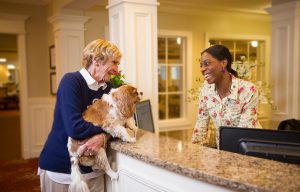 Each year, Great Place to Work reviews applications and surveys to determine which thriving employers also have satisfied and enthusiastic employees. The goal of its evaluations and certifications is to help employers create outstanding, competitive workplaces that shine in business metrics like growth, profitability, and retention. Great Place to Work is also responsible for the annual Fortune "100 Best Companies to Work For®" list.
To determine a "Best Place to Work" certification, Great Place to Work reviewed the surveys of more than 1,000 Brightview Senior Living employees. Each survey addressed 60 elements of team members' experiences on the job. Those elements explored how employees feel about their work, their views on their workplace, employer's involvement in the community, and the support and encouragement provider by the employer. Rankings are directly influenced by employees' survey responses.
Additional factors include metrics on cultural programs available to employees, workplace practices to attract and maintain talent, and programming that supports employees' work-life balance.
"We applaud Brightview Senior Living for seeking certification and releasing its employees' feedback," said Dr. Jacquelyn Kung, CEO, Great Place to Work's senior care division. "These ratings measure its capacity to earn its own employees' trust and create a great workplace for high performance."
Check out the feature story on the Brightview blog.
Brightview Senior Living constructions, owns and manages a portfolio of 35 senior living communities that offer independent living, assisted living and dementia care. Properties span the East Coast as far south as Virginia. Learn more at BrightviewSeniorLiving.com.