Working From Home
By Joel Nelson on Aug 25, 2020 in News
Gallup reported that the percentage of employed adults working from home because of the coronavirus went from 31% in mid-March to 49% a few days later, peaking at 62% in mid-April. That's a lot of people suddenly forced to accept drastic new circumstances. How is working from home, which the COVID-19 pandemic made a necessity in many sectors, affecting business productivity?
Problems made worse?
Some workers weren't fully enthusiastic about the work-from-home concept even before the pandemic. About 29% of respondents to a poll of full-time U.S. employees taken in 2019 by outsourcing marketplace platform Airtasker said they experienced difficulty maintaining a healthy work-life balance; 23% of office workers reported the same problem. Remote workers also reported higher levels of stress, anxiety and procrastination. (Telecommuting respondents did appreciate eliminating their commutes and reported putting in longer workdays than their office-based counterparts.)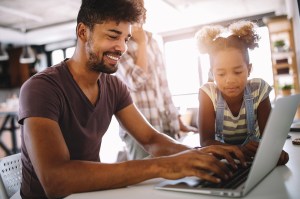 The initial stages of the pandemic amplified those issues. "The scale and scope of what we're seeing, with organizations of 5,000 or 10,000 employees asking people to work from home very quickly, is unprecedented. So, no, organizations are not set up for this," Tsedal Neeley, a professor at Harvard Business School, said in March, citing concerns about ensuring employee access to hardware, software and other resources. Neeley also addressed the social aspects of work: "People lose the unplanned watercooler or cappuccino conversations with colleagues in remote work. These are actually big and important parts of the workday that have a direct impact on performance."
She wasn't the only one bemoaning the loss of in-person collaboration. "I fear this collapse in office face time will lead to a slump in innovation," says Nicholas Bloom, a senior fellow at the Stanford Institute for Economic Policy and Research. "The new ideas we are losing today could show up as fewer new products in 2021 and beyond, lowering long-run growth."
Even after three months, some continued to regard working from home as detrimental to efficiency. Elysa Nelson, a vice president in public relations firm Pierpont Communications' Houston office, thought the transition would free her to devote more time to client needs. But that hasn't worked out, according to a New York Times article published June 23. "I was hopeful that I would become more productive because [my employees] wouldn't barge into my office all the time. But they're still finding ways, through calls and texts and Slack," said Nelson (no relation to this writer).
The Times also quoted Douglas Merritt, chief executive of San Francisco-based IT operations management software provider Splunk: "There's a big difference between activity and productivity. There's no doubt that our employee population is not performing at the same level they were."
Polls spotlight benefits
But there have been positive outcomes as well. Fran Katsoudas, chief people officer for Cisco, reported in the Times article that his company has seen improvements in productivity as measured by increased calls to customer service and improved customer satisfaction from the resulting service.
A survey of people working from home in North America, Europe and Asia-Pacific, conducted by Boston research and advisory services firm Valoir and published in May, indicated an average productivity reduction of just 1%, with those working alone actually losing more productivity than those with children in the home. Social media was a bigger distraction than kids. Survey participants also said their companies were doing a good job of supporting remote work; four of five gave their company a grade of A or B, with fewer than 5% giving a failing grade.
Gallup reports that three in five U.S. workers who have been doing their jobs from home during the pandemic would prefer to continue to work remotely as much as possible, even when public health restrictions are lifted, with 41% preferring to return to their workplace.
Stanching productivity loss
Even some with misgivings about the sudden transition to remote work see positive aspects of the practice. Bloom, the Stanford economist, notes that "the average working American spends 100 minutes a day commuting, so the potential impact on all our lives is massive," as is the potential, he says, to eliminate cross-state doctor-patient care restrictions and a host of other regulations that some consider unnecessary.
Moreover, if working from home is thoughtfully implemented, "productivity does not have to go down at all. It can be maintained, even enhanced, because commutes and office distractions are gone. There's robust evidence showing that it shouldn't change," Harvard's Neeley says.
Steps organizations can take to maintain productivity include regular check-ins between managers and team members, schedules that separate work from family obligations, and favoring video calls over phone calls as their medium of choice.
Finding flexibility and fun
It seems, then, that most businesses are finding ways to make working from home, which business writer Marcel Schwantes termed "the new normal" back in October 2019, an asset despite – or maybe because of – the unwelcome intervention of COVID-19. Keys ways that managers can sustain productivity over this indeterminate period of social distancing include communicating adequately to keep their teams connected to the organization, its clients and objectives, and seeking ways to resolve issues quickly when in-person meetings aren't possible.
If impediments are resolved, says Neeley, business performance can match expectations and doubters might find that they "actually enjoy working from home. You can play the music you like. You can think flexibly about your time. Remember, too, that you can do fun things virtually: happy hour, coffee breaks, lunch together. Take whatever [sales calls or client engagement] you would be doing face-to-face and keep doing it [with visual media]. Maybe you can't wine and dine. But you can do a lot."
Learn about resources Yardi has dedicated to helping real estate companies and their communities manage the disruptions created by COVID-19.