Value Quantified
By Erica Rascón on May 13, 2015 in News
Research by DTZ, one of the top three global commercial real estate services companies in the nation, has quantified the perceived benefits of sustainable office spaces. The studies are helping owners channel their efforts towards features that are most valuable to te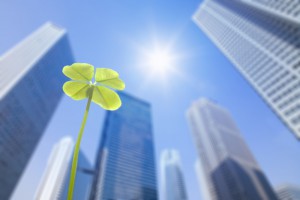 nants.
In 2014, studies by Nils Kok, Ph.D., executive director of the Global Real Estate Sustainability Benchmark (GRESB), helped to establish the financial benefits of sustainable construction. Kok's findings revealed that sustainable office buildings trade at a 13 percent premium over conventional buildings, receive rental rates that are at least 3 percent higher, and increase internal rates of return by as much as 6 percent in less than 15 years.
New research by DTZ examines the correlation between tenant surveys and the buildings that tenants occupy. More specifically, the team evaluated responses to Kingsley Associates' tenant surveys with 61 buildings in Washington, D.C.
Allison Porter, vice president of sustainability certifications at DTZ, reports that sustainable features positively influence tenants perception of their workplace. "The results seem to show that tenants who are in sustainable buildings are more satisfied," Porter says. "We already know that tenant satisfaction leads to tenant retention, which decreases vacancy and rollover costs."
Tenant satisfaction is preceded by two major factors: knowing that the building is green and experiencing the benefits of its sustainable features.
Even the greenest building with the best environmental and tenant wellness upgrades will fall flat with tenants if it is not certified by a third party. The DTZ report revealed that buildings with posted Energy Star certifications scored higher than buildings without the certification by an average of 30 points. LEED EB certified buildings received ranking increases averaging 10 points higher than non-certified buildings.
Office buildings must also have the sustainable features that tenants appreciate. DTZ findings suggest that occupant comfort is the leading cause of satisfaction or dissatisfaction for tenants.
"From the data we see, a building [too] hot or [too] cold is the number one complaint to building management," says Porter.
For optimal results, owners can rely on data-driven programming. Load Based Optimization System (LOBOS) by Yardi tracks metrics in a single building or across multiple buildings on a campus. The software platform layers on top of existing HVAC control systems to reduce energy consumption by providing automated energy efficiency reset control strategies, real-time automated demand response functionality ("Smart Grid"), system fault detection and diagnostics, and continuous commissioning.
As complex as it may sound, LOBOS has two simple goals: to increase building efficiency and improve tenant comfort. From a tenant perspective, the software minimizes hot and cold spots within a building, ensuring pleasant heating and cooling for all occupants.
The increased comfort on a day-to-day basis supports tenant satisfaction and lease renewals. Surprisingly, it may also improve employee productivity, which may soon have tenants requesting LOBOS and similar products.
"A facility achieving energy savings may achieve a high 'green' score, but a low productivity score because employees are too hot or cold," says Bob Best, executive vice president at JLL's energy and sustainability services group. "The right metrics will enable a company to quantify the impact on annual revenue."