Tips for Hosting + Staging
By Erica Rascón on Dec 12, 2020 in News
If you thought that virtual tours and self-guided tours were flashes in the pan, think again. Renters throughout the U.S. are speaking up about their tour preferences. Non-agent-lead tours are ideal for more than 52% of renters, reports a survey by RentCafe.com.
That same report reveals that more than 83% of renters would take a self-guided tour. Though social distancing is a factor for some, 63% of renters would do so because they want to tour at their own time and pace. Additionally, more than 70% of renters would rent an apartment without seeing it in person if they could explore it via virtual tour.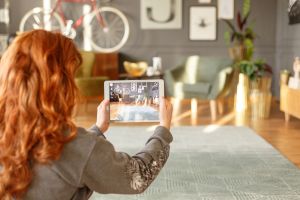 Virtual and self-guided tours offer convenience as well as safety. Since convenience is always trending, these tour types are here to stay! Check out the pro tips below to host effective virtual and self-guided tours.
Special camera considerations for virtual tours
Property photographer Deanna Campana of Welcome Home encourages agents to conduct tours in landscape mode (horizonal) rather than portrait (vertical). "The latter will make all your spaces seem narrow and cramped," she explains.
Campana notes that time of day is also important. During a conventional tour, you may choose to tour midday, open all the blinds and let the natural light cascade into the room. When walking from space to space during a virtual tour, however, this will cause your camera to fade between very dim and bleached-out spaces. The results are a tour that's challenging to see, much less enjoy.
"Midday light is too harsh," warns Campana. "Consider scheduling most video tours in the early morning or evening light. Cloudy days are ideal so you can shoot at any time." She adds, "If you must tour midday, close the blinds. The outdoors will be overexposed, too bright for renters to see what's out there, anyway. It's better to focus on what's inside."
She advises treating the view from each room as its own feature when necessary. Go outside when you can. If not, approach the window, open the blinds, and close them once done. When light distortion is unavoidable, schedule in the evenings during "golden hour" when the light is "soft, magical and with a golden glow."
"Many phones will allow you to snap pictures while recording," says Campana. "Take pictures of things the renter likes. You can include them in your follow-up email."
Live vs. pre-recorded tours
Pre-recorded tours are a great option. About 27% of renters said they would prefer to see prerecorded videos of units over live virtual tours, reports Adobo listing site.
Once posted, pre-recorded unit tours are available 24/7 on your website, which saves time for staff. A videographer or component agent can pick the ideal time of day for the best lighting and noise control. Image stabilization tools create a beautiful, smooth tour and less hassle for staff.
For agents taking on the challenge, Campana adds, "For pre-recorded tours, shoot the video at night using ambient light. It's uniform, flattering and won't cause troublesome light imbalances."
Since pre-recorded tours require editing, they may not be ideal for hot markets where units are listed and leased in a matter of hours.
Other considerations for pre-recorded and live virtual tours
Pace matters. Walking too quickly through a unit will cause renters to feel rushed and possibly dizzy and disoriented.
"Walk slower than you think you need to, like you're walking with a senior," smiles Genitra Maxwell, assistant manager at Bridges of Kennesaw apartment community. "And just check in and ask if the pace is okay."
Leasing agents may be accustomed to narrating conventional tours. Too much talking may seem distracting to some.
"Just ask them what they prefer," advises Maxwell. "Some may want a narrated walkthrough and then silence during the second pass where they can ask questions."
Maxwell encourages agents to home in on details that renters won't see a camera phone. "Any technology in the unit, upgraded features like soft close drawers, those things you will have to point out since renters aren't there for the tactile experience," she says.
Tips to optimize self-guided tours
While lighting and staging tips for self-guided tours mimic conventional tours, there are a few additional considerations. When no agent is present, provide a way for renters to ask questions and receive information.
"Have a chatbot on your app or website that renters can interact with," suggests Maxwell. "This is especially helpful for Gen Z and Millennial renters but anyone who is comfortable with a smartphone."
Chatbots improve the tour experience by providing immediate, intelligent and accurate responses to chat and text messages. The bots use information from a property's database. They can be trained to give custom responses on any topic.
Learn how you can use chatbots to answer every renter question, every time.
A new way to follow-up
Phone calls will always have their place. Renters who opted out of conventional tours may also appreciate more flexible follow-up options as well. Consider using email or text, both of which can be an automated template and then customized. Include pictures of the unit, especially any that you took during a virtual tour.
Maxwell says, "People tour several properties. Include pictures to remind them of the location and all the things that they loved about it."