Tiny Homes
By Erica Rascón on Nov 4, 2020 in News
On the surface, tiny homes seem to address the needs of those who need the least. The affluent New Yorker seeking a COVID getaway near the beach, or a recent grad making a name for herself off the grid are the ideal images of tiny house inhabitants. But in (what we hope is) the wake of a pandemic, public health officials and city planners are seeing the value of tiny houses for those in need.
The compact panacea
This summer, the U.S. faces an interconnected web of high unemployment, a high cost of living near job hubs and seemingly unending wave of COVID-19 infection rates. Those who can are migrating from cities to less populated suburbs in search of space and peace. They're often taking their remote work with them. But for more than half a million homeless people in the United States and 16.3 million unemployed, that's not an option.
City planners are turning to tiny houses to de-intensify shelter housing, bring people in off of the streets and offer affordable housing for those in need. Additionally, the compact units facilitate social distancing while offering access to private, outdoor space that isn't readily available in multifamily and public housing. Long term, low-cost tiny houses provides a pathway to homeownership (and potentially, wealth-building equity) for marginalized communities.
It took a pandemic to showcase the true value of tiny homes. Affordable housing and homeless services in America are permanently enhanced because of it.
Tiny homes improve public health in major metros
Seattle was one of the first cities in the US to feel the full force of the pandemic.  The city's vulnerable populations, the homeless and elderly, were the hardest hit. On April 20, Public Health Seattle & King County officials reported 112 COVID-19 infections amongst shelter occupants and staff. Later that month, The Multi-Service Center South shelter in San Francisco reported 96 guests and 10 staff tested positive. As the pandemic spread, major metropolitan reported high infection rates among vulnerable populations.
Homeless shelters, traditionally arranged in barrack-style floorplans, did little to slow the spread of the virus.  Major metros throughout the nation soon ditched conventional shelter arrangements to promote social distancing: they removed beds to lessen density, and converted hotels and public buildings into emergency shelters.
These short-term solutions, however, highlight problems that won't quickly fade from memory. Homeless shelters are underserved and overpacked. Low-Income Housing Institute's (LIHI) tiny house villages stood out as a long-term solution. They facilitate public health procedures, foster a sense of safety and autonomy, and have proven to be more cost-effective than conventional shelters.
LIHI operates 12 villages serving Seattle, Olympia and Tacoma. The newest community stands in Puget Sound, offering 400 houses that have helped more than 1,000 each year. Two more communities are in the works with at least 50 houses. Each community contains units with less than 100 square-feet. The tiny spaces offer more personal space and privacy than shelters. The houses permit residents to live and sleep more than six feet apart. On-site case managers provide the support residents need while facilitating a path towards permanent housing.
The villages pay off for residents as well as city managers. The City of Seattle, for example, funds nine villages. The average cost of tiny house living is only $38 per night. That's $18-$94 less per night than The City's current housing options.
The construction of the homes is also a cost saver for The City. Shelterforce organizes volunteers to build the homes. Much of the construction can take place off-site in volunteers' yards when necessary. The free labor reduces home construction costs to $2,500 each. In dire straits, Shelterforce hires contractors who build the homes for $5,500 including labor and materials. In both cases, the per square-foot cost has proven to be more cost effective than conventional shelters.
Be Loved Village, Asheville combats homelessness and affordability crisis
Asheville has struggled with affordability for years. According to HUD, paying more than 30% of income for rent or mortgage expenses is a cost burden. Per the 2019 Housing Needs Update for Buncombe County, more than 46% of renters and more than 20% of homeowners are cost burdened.
As a tourist town and social hub, affordability problems in Asheville are being exacerbated by COVID-19-related unemployment and homelessness. The latest report by the Asheville-Buncombe County Homeless Initiative reveals that the number of homeless families in the county increased by about 70 percent in May.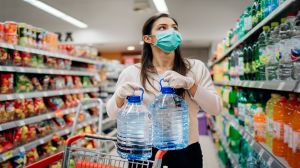 The BeLoved Asheville Village aims to combat homelessness through a village of tiny houses. So far, the community of 12, 500 square-foot homes cost only 30% of the median income. Costs are kept low because the community rests on land donated by a nearby church.
Amy Cantrell, co-director of BeLoved Asheville, affirms the value of the village beyond pandemic relief. The neighborhood is a model to help combat discriminatory practices in housing such as redlining.
Says Cantrell, "We know our African-American community, for decades and decades, has literally been pushed out of housing through urban renewal and through redlining."
After the Depression, the Home Owners' Loan Corporation designated historically African-American neighborhoods as high risk areas, ultimately limiting access to loans and hindering access to home ownership. As a result, African Americans in these areas are denied access to the wealth-building potential of home ownership.
The BeLoved team took those factors into consideration when developing the village. In addition to providing affordable housing, BeLoved Ashville Village gives residents the opportunity to build wealth. For each home, a portion of the rent is placed into an equity account.
"If you move, you take all your home equity with you," Cantrell says. "And you can draw off that home equity for things that will help you move forward in life or mitigate a crisis."
Each tiny house comes with a porch and garden space, both of which have become even more valuable during the pandemic. Nearby transit options give residents access to essential businesses and services.
Challenges in tiny homes
Tiny homes have helped city planners, health officials and local organizations combat the effects of the pandemic and affordable housing crisis. While the homes are small and mighty, they are not without disadvantages.
Insider Magazine and the New York Post chronicled what it's like to live in a tiny house during the pandemic. Some homeowners struggle to find parking for their homes during the height of state lockdowns: when public parks, campgrounds and RV parks closed, tiny homeowners found fewer lots with water, electricity and gas connectivity.
Supplies and storage posed another problem. Some tiny homes rely on propane. Like toilet paper, propane supplies quickly diminished in March, leaving some without access to fuel. Tiny houses also made it difficult to stock up on more than a week's worth of supplies. Tiny homeowners faced potentially greater infection risk from more frequent deliveries or store visits.
Remote work still poses challenges, particularly for couples. The New York Post reports that at least one resident often relied on coworking space for quick connectivity, comfort and socialization. With coworking spaces closed, duos struggle to secure those necessities. This adds to the strain many couples report in tiny house living, piled on top of pandemic challenges.
A surprising amount of tiny house residents relied on showers at their gym or place of employment. When those businesses closed or limited their hours, tiny homeowners had to get creative with hygiene.
In the reports, most tiny home users still feel that their tiny home was the right choice. They see far more advantages than disadvantages to tiny home living, especially during the pandemic. They have reduced overall housing expenses, cut costs of living, improved work-life balanced, and offered freedom to travel and explore.
Tiny house villages, the approach most often used by cities and organizations, provide protections and considerations that solo homeowners struggle to secure. Village residents have consistent access to fuel, power and bathroom facilities. Yet they also share the space limitations and the challenges that come with it.
A nation evolves one tiny house at a time
Yardi client Berkshire Hathaway estimates that the tiny home market will accelerate at a CAGR of almost 7% before 2024. Tiny homes are no longer seen as niche living for the nation's quirkiest residents. COVID-19 has revealed the potential of tiny homes to ease the economic and health-related strain placed on vulnerable populations.