RentCafe TextPay
By Erica Rascón on Dec 16, 2014 in News
Yardi's RENTCafé TextPayTM feature is the most recent addition to the software's mobile payment functionalities, reducing delinquencies by giving users another convenient option to make rent payments on schedule.
Residents opt into the service through the property's resident portal, then set up the account from which payments will be deducted. Whenever they'd like to make a payment, residents can text "pay now"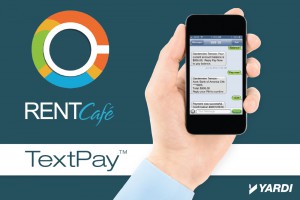 to a short code and then verify the payment. A confirmation marks the completed transaction. The TextPay service is free for residents and property managers as part of the RENTCafé resident services package.
The mobile feature helps to decrease delinquencies by giving residents yet another option to conveniently make a payment: those who enjoy face-to-face interactions can still pay in person; those with steady fund availability can schedule a reoccurring payment online; and now those who desire the greatest degree of flexibility can pay through the app or via text.
Robert Sang, Technical Project Leader, Programming with Yardi, believes that it's the convenience of text-to-pay that makes the tool so effective. "The capability of making a payment from your mobile device at any time is appealing," says Sang. "These features offer the residents a new comfort level when making payments by eliminating the need for a computer or check."
By offering a variety of payment options, property managers can help residents work around the barriers that hindered on-time payments. Limited leasing office hours, a lack of checks, no stamps, federal holidays—those delays are a thing of the past. Online portals and mobile payments make settling balances simple and convenient. Everyone stands to benefit.
"Does it decrease delinquency? Absolutely," confirms Sang. "I will tell you that we see greater through traffic in our resident services application between the 25th – 5th of the month. During that period, there is a spike in online payment activity. Approximately 90% of payments are made within this time."
As an added bonus, TextPay and other online services save time for managers by reducing the workload of onsite staff and minimizing the risk for costly human errors. Mobile payments eliminate the need for staff to process physical checks or take a credit card payment in person. The flexibility of when, where, and how to pay is placed in residents' hands.
While mobile payment options help to hedge against delinquencies, Sang and his team acknowledge that promoting reoccurring payments is still the best option for property managers who would like to improve rent rolls.
"By having scheduled reoccurring payments, the benefit is that a property manager can project out into the future on the rent roll with a greater certainty than you can now when users are just making a one-time payment," says Sang. Encouraging residents to sign up for reoccurring payments while they are signing or renewing their leases could be a beneficial tactic for onsite staff.
Each method of payment through RENTCafé offers the reliability and safety features that residents have come to expect. "We employ multiple layers of security on all of our resident services applications, so from the moment that you log into the application to the moment that you log out, it's all on a secure channel just as if you were logged into your bank's website. That's the same level of security that we enlist. We have a really high regard for user security and privacy," Sang says.
By offering a variety of secure, convenient payment options for their clients, property managers can minimize delinquencies, save time for onsite staff, and gain a competitive edge in the multifamily market. "It's safe, easy, and immediate. That's what residents want," says Sang.