Simplify Resident Management
By Erica Rascón on Oct 14, 2020 in News
The events of the past several months necessitated major shifts in the housing industry. The pandemic made it clear—if there had been any doubts—that the future of efficient, healthy social housing relies on integrated technology.
When it comes to tenant files, bypassing physical touch points reduces exposure risk while increasing process efficacy. The latter benefit carries with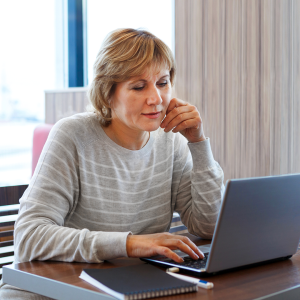 social housing providers long after the pandemic has faded from conversation. Integrated leasing and property management technology expedites daily processes by digitizing, streamlining and automating tasks.
One of the first steps towards greater efficiency begins with tenant portals. When resident portals integrate with back-end property management technology, the results are improved safety, maximized compliance and more accurate reporting.
Ontario housing receive a mandatory tech makeover
Leasing social housing units has always been an elaborate process: paper applications, manual reviews, in-person interviews, and seemingly endless data entry were a few trademarks of the process before online portals. Redundant and tedious tasks can cause staff burnout, costly errors and inconsistent tenant experiences.
The pandemic forced social housing to evolve. Social housing management has been transformed by social distancing protocols and health guidelines. The transformation is changing office processes and the work environment. Months into the pandemic, an industry that has been accustomed to incremental change is adapting online leasing tools at a rapid pace.
Technology, such as online tenant portals, comes with a host of benefits for social housing providers and tenants.
5 Benefits of a tenant portal for housing providers
Tenant portals are tools of empowerment. Staff members benefit from online portals in five major ways:
Save staff time with online and automated services. Online portals make data management easier for staff. Tenants enter their own data which is seamlessly integrated with back-end software. This reduces data entry for staff, minimizes errors and eliminates redundancy.
Simplify resident management with user portals. Staff experience significantly fewer phone calls and in-person meetings when they can conduct rent geared to income (RGI) reviews and resident management tasks online. There is also less downtime between correspondences: no waiting on snail mail or returning calls.
Improve financial management. Accurate reporting is crucial to long-term success. Online portals facilitate faster reporting. Housing providers can leverage software that supports provincial, municipal, board and internal reporting requirements. Staff can also create custom reports from any web-enabled device. Housing providers can also generate more complete rent collection and rent geared to income (RGI) reviews with user-submitted data.
Increase data accuracy and accessibility. Physical documents are stored on premises and not accessible in remote work environments. Online portals facilitate telecommuting by storing resident information in a secure database that staff can access in the leasing office or their remote work locations.
Enjoy a simple, single sign-in. Managing multiple software products requires multiple credentials for staff. Staff must manually rekey and update renter profile information in multiple locations if errors are made or changes are necessary. With an integrated solution complete with portals, tenants manage their own personal information. When staff must intervene, there is a single sign in and greater consistency throughout the leasing and RGI review process.
Through the gained efficiencies of user portals, staff members are empowered to shift their focus from tedious tasks to building relationships and offering stellar services.
Top 3 benefits of a tenant portal for tenants
Tenant portals also empower residents. Users can safely and easily complete tasks with three added benefits:
Offer convenience and flexibility. Tenants can gain 24/7 access via web browsers to their customizable profiles. A simple, self-service data entry process allows them to update personal information, complete forms and review their status. With a website, tenants can interact with staff without the restrictions of leasing office hours. They can also communicate with staff and receive responses via SMS/text messaging that abide by CASL requirements.
Increase accuracy for annual or interim reviews. Residents can log in at their convenience and update RGI information. They can skip leasing office hours, hectic scheduling or playing phone tag with staff.
Expedite routine tasks. Via online portals, residents can securely submit application documents with eSignatures. They can also complete online payments and submit maintenance requests, complete with photos and voice memos.
When tenants experience efficiency, flexibility and convenience they are one step closer to a positive renter experience.
We are here to help!
Contact your client services representative to learn how a social housing tenant portal can optimize the staff and resident experiences at your properties.
Visit our website to learn more about RentCafe Social Housing.