MB Real Estate
By Leah Etling on Mar 11, 2013 in News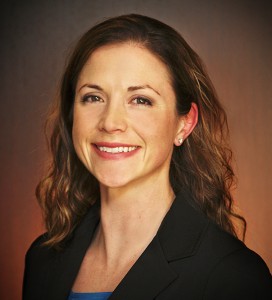 MB Real Estate (MBRE), a third party manager of multiple high profile commercial buildings in Chicago, sees sustainable property management practices as much more than good environmental stewardship. In fact, when talking to building owners or tenants about sustainable practices, MBRE's Director of Sustainability focuses on the bottom line. More specifically, the triple bottom line.
"It's a matter of finding that equilibrium between the social, the environmental, and the economic aspect of everything we do," said Natalie Stanley, assistant vice president for MB Real Estate, a Yardi client. The three pillars of the triple bottom line philosophy: people, planet, and profit, are cornerstones of MBRE's sustainable efforts, which benefit multiple stakeholders: building owners, tenants, and the community at large.
The firm's portfolio includes five LEED-certified buildings that total 5.5 million square feet, and eight ENERGY STAR buildings that total six million square feet. The green building portion of the MBRE portfolio has been growing every year.
The benefits are myriad, Stanley explains.
"If you look at all the energy use in the city/world, it is primarily buildings and facilities that use the most energy. If we can collectively work with the owners and tenants to reduce consumption of resources like water and energy, they all benefit from that reduction in operating expenses. Conceptually that will add value to the building itself," Stanley said.
Energy efficiency has been a major thrust of MBRE's sustainability efforts with building owners.
"We focus on the base building systems and the operating schedules of the HVAC system. Changing the operating schedules is really important and that's an easy fix, because it's free. The building engineers just have to make modifications to the schedules. That's an easy one to handle right off the bat," Stanley explained. "We have most our buildings on ENERGY STAR's portfolio manager. We can track the buildings month over month, year over year, and then compare them to other like buildings in our portfolio. We can easily understand if there are any opportunities for increased efficiency."
To reach tenants, MBRE has created an "Eco-Guide for Tenants" that focuses on simple, practical ways to reduce use of resources, and more advanced sustainability tips such as using recycled content for a renovation or build-out. Knowing that tenants of commercial buildings are always busy and focused on running their own businesses, the guide pulls in cost-effective i
deas that can save tenants money in the greening process.
Chicago's city government has taken a proactive approach to encouraging green building practices and building retrofits. One of MBRE's managed buildings, 333 North Michigan (right), is participating in the Retrofit Chicago initiative from the Mayor's Office. The goal for each building participating is to reduce energy consumption by 20 percent over five years. In exchange for committing to the goal, participants can receive fast-tracked city permitting for retrofit work and publicity on their sustainable efforts amongst other benefits.
MBRE also encourages its tenants to participate in the Green Office Challenge, where the emphasis is on tenant engagement. The year-long program awards those who reduce their impact on the environment the most using benchmarks like electricity use, water consumption and recycling performance.
Recycling is the program that generates the most questions from clients and tenants, Stanley said. She's frequently called on to educate about the various types of recycling programs and field concerns about whether single stream recycling programs are in fact resulting in actual recycling after onsite collection. The inquiries reveal a public passion for sustainability: people are concerned about recyc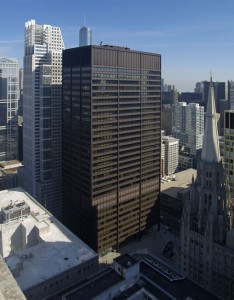 ling and want to make sure it's done right.
MBRE manages high profile properties like the Richard J. Daley Center, which earned LEED certification status in summer 2012. The Daley Center (left) is Chicago's largest publicly owned LEED certified office building at approximately 1.6 million square feet. One of the Daley Center's innovative sustainability projects has been the use of a guaranteed performance energy contract for a HVAC retrofit. This low risk energy retrofit option has guarantees energy savings for the building owner and has limited up-front costs.
With their portfolio-wide effort, MB Real Estate is gaining respect and notoriety as a sustainable real estate leader in Chicago.
"I think we're right up there with the big guys. There are certainly global companies that have dedicated sustainability teams. What we try to do is educate all the general managers on opportunities, programs, incentives, events, and sustainability tips, so that they can educate their tenants and owners. It's entrepreneurial, and we definitely place a focus on it," Stanley said.