Technology Is Community
By Natalie Mahn on Jul 11, 2022 in Senior Living, Technology
Senior living operators build community, and community is increasingly defined by its technology — the tech used by residents, staff and family.
These integrated systems are a community's lifeblood, enhancing key aspects of the day-to-day experience for both residents and staff. They help staff communicate, empower residents and ease concerns for family members. Ultimately, these systems keep senior living communities in sync.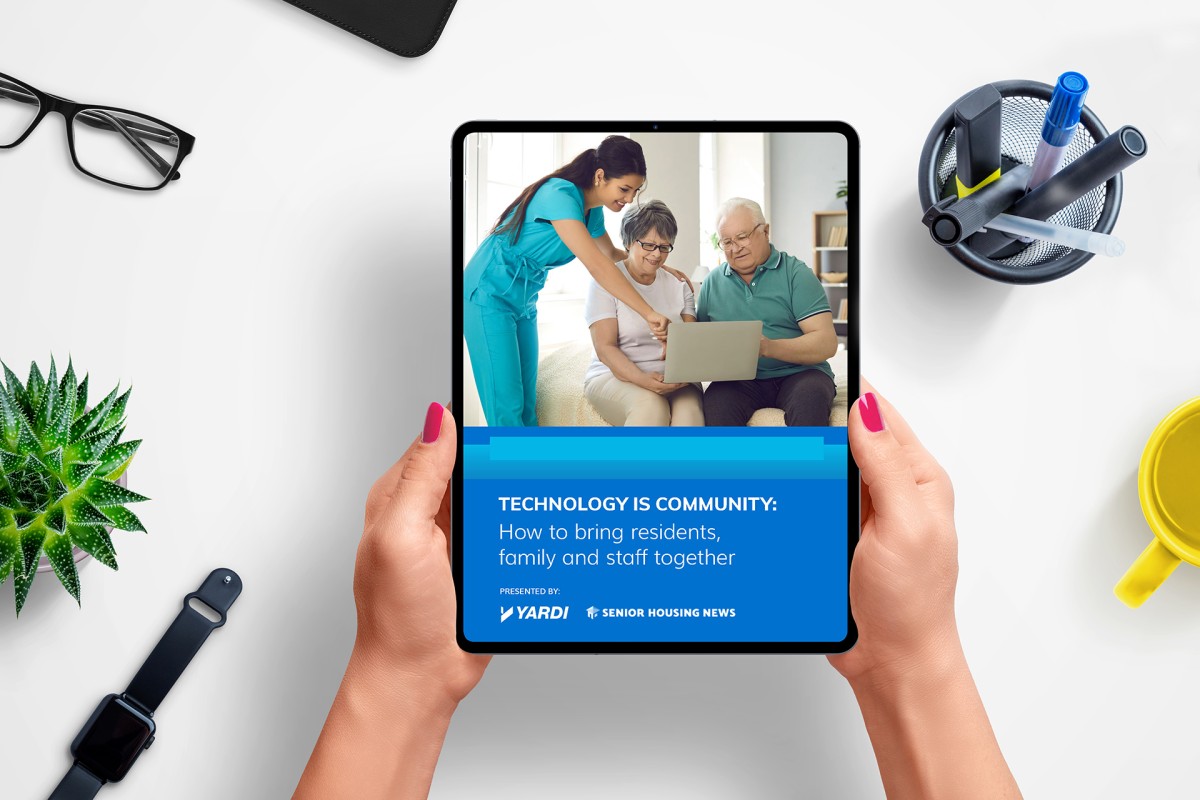 That's the focus of a brand new Yardi-sponsored white paper, Technology is community: How to bring residents, family and staff together. Published by Senior Housing News (SHN), the resource offers an inside look at how providers are using tech to connect their communities in creative ways.
See below for a snapshot of what the white paper entails.
Using tech to connect residents, families and staff
While the COVID-19 pandemic and subsequent restrictions changed communication in every industry, the pandemic's risks to seniors made communication in senior living even more important, and more challenging. Today, operators need ways to connect families with their loved ones in communities, and ways to help staff deliver quality care no matter the circumstance.
That's why it is crucial for operators to implement technology tools that streamline communication. Drawing insight from operators Validus Senior Living and Maplewood Senior Living, the white paper shares how solutions like RentCafe Senior Living — a secure online portal — help staff members communicate with each other, with residents and with resident family members. Additionally, how this integrated solution helps users make online payments, review health and wellness information, sign forms electronically and submit maintenance requests.
From Validus, you'll learn how RentCafe Senior Living works to improve communication, streamline billing and even enhance medical care. Through the Maplewood spotlight, you'll see exactly how this Connecticut-based company is using RentCafe Senior Living to enrich residents' quality of life in four key areas. That includes socialization, entertainment, safety, exercise and health tracking.
Top benefits of improved communication systems
New technologies have improved senior living for residents, giving them enhanced experiences in their finances, health, socialization and more. Leading communication tools have also improved the experiences of staff and family.
With RentCafe Senior Living, three of the industry's major stakeholders — residents, staff, families — share a communication tool that is easy-to-use and wide-ranging in impact. Areas of impact include:
Resident surveys
Easy community communication
Paperless payments
Activities and wellness calendars
Health updates for families
Electronic signatures and document management
Explore the white paper for a detailed look at each of these areas.
Read more
As the pandemic has largely affected senior living communities, it's imperative for operators to implement technology that enables communication anytime, from anywhere. Read the white paper in full to learn how tech solutions like RentCafe Senior Living make the difference.