New SL Ebook!
By Natalie Mahn on Jan 3, 2023 in Senior Living
Curious how the right technology can help you optimize staff efficiency, maximize occupancy and boost revenue? In our new ebook, in partnership with McKnight's Senior Living, you'll discover how CRM tools thoughtfully designed for senior living drive success.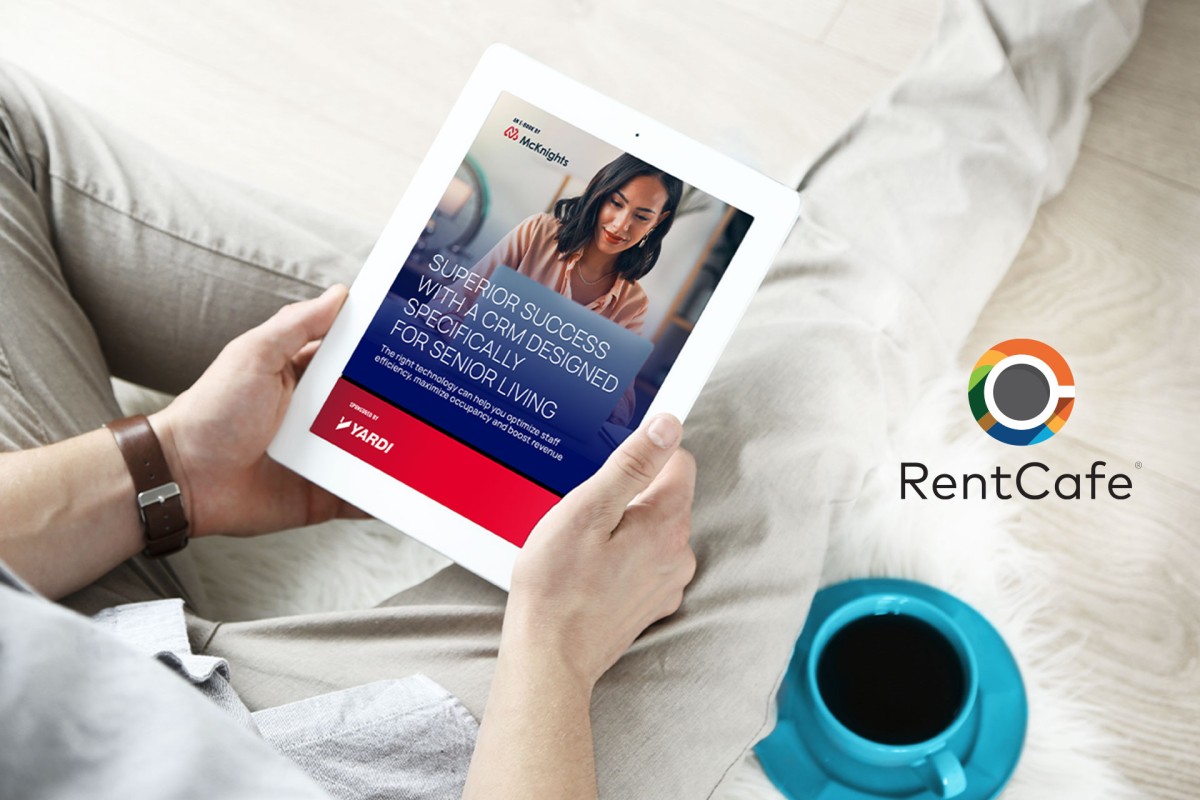 Read the highlight below then read the ebook for all the insights, including a closer look at RentCafe Senior CRM (our single connected solution).
How to choose the right CRM technology
Given the life-changing nature of moving into a senior living community, it's important for sales counselors to connect with prospective residents in a thoughtful, strategic manner. And in today's day and age, CRM technology is available to aid that process throughout the prospect to resident journey.
The right CRM helps sales staff track and nurture leads, build positive relationships and so much more, but not all solutions are built the same. For providers, a CRM solution needs to be designed for the unique needs of senior living in order to maximize success. That's a key focus of the ebook, which shares the benefits of senior living CRM tools and offers guidance on selecting the solution for you.
"A good CRM should do the work for you and allow you to focus on what's most important: building relationships," says ebook interviewee Candace Seidle, senior living team leader at Yardi.
Discovering RentCafe Senior CRM
In an effort to illustrate how the right CRM solution builds success, the ebook spotlights our single connected solution, RentCafe Senior CRM. This all-in-one platform is part of the Yardi Senior Living Suite for senior living providers.
Not only does RentCafe Senior CRM help you nurture leads from first contact to move-in, it's also configurable, mobile-friendly and fully integrated with key elements of your business. The ebook covers top benefits and reasons why RentCafe Senior CRM is a trusted solution for providers across the industry.
Interview highlights from a senior living provider
When exploring CRM solutions, it's nice to find strong testimonials from likeminded leaders. The ebook offers just that, featuring insights from Charity Stanis, director of sales enablement at Harmony Senior Services, an avid RentCafe Senior CRM user.
Since adopting the solution in 2012, Harmony has seen real successes such as boosted staff performance. "The Yardi system allows us to see our performance in real time and in ways that are very easy to understand," shared Stanis. "It shows us the areas in which we're succeeding and the areas in which we may need to pivot to meet our goals."
Read the ebook for more insights from Charity Stanis.
Read the CRM ebook
Although we love highlighting fresh resources here on The Balance Sheet, there's nothing like reading a content piece in full. Be sure to get a free copy of the ebook — Superior Success With a CRM Designed Specifically For Senior Living. Happy reading!
For more information on RentCafe Senior CRM, contact team Yardi.