Offline Charting
By Natalie Mahn on Feb 3, 2022 in Senior Living
It's crucial for senior living providers to keep resident information accurate and secure — especially when it comes to medications. But when using an online system to execute point-of-care charting, errors can occur if your community loses power, or the Wi-Fi disconnects.
Luckily, we have a solution. With the Yardi EHR Care Stream app, your resident data stays safe and up to date, no matter the circumstance.
Say hello to offline charting. Keep reading to learn about the latest functionality.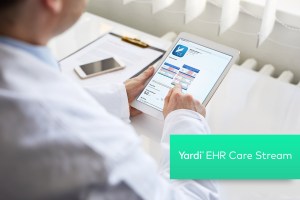 All about Care Stream
The Yardi EHR Care Stream app allows caregivers to perform order resolutions, execute electronic point-of-care charting and complete related tasks. This includes medication orders, behavioral issues, daily assignments and more.
With this simplified, mobile record-keeping solution, caregivers can spend less time on administrative tasks and more time with residents.
Fully integrated with Voyager Senior Housing, providers can easily connect business and resident care to keep their communities moving forward. For added convenience and efficiency, the Yardi EHR Care Stream app is compatible with both smartphone and tablet devices.
Meet offline charting
How does offline charting help providers eliminate errors, empower caregivers and pass medications securely? It's simple. Offline charting allows senior care staff to work offline, without an active internet connection, all from one central platform. And thanks to the newest functionality, caregivers can remain offline as long as needed, even if the internet is down for days.
So if you're facing connectivity issues, whether briefly or for extended periods of time, it's not a problem. Caregivers can still log in to Care Stream and complete their work. Every input automatically saves and syncs when the system comes back online.
At Yardi, we're passionate about helping you deliver the best possible care — and making care-related tasks seamless. Offline charting is continuously updated with you in mind. No more errors from manual tasks and caregivers under pressure when connectivity problems arise. Our mobile technology, crafted so staff can operate with or without internet, is here to help.
More new features
And there's more! In addition to enhancements to offline charting, the latest functionality in Care Stream allows staff to:
Access the Order Resolution Queue (ORQ) in online mode
Process incoming orders from third-party systems, such as pharmacies
Access key features in the ORQ, including duplicate orders detection
Report order discrepancies to pharmacy partners for reconciliation
Get the app
For care staff in senior living, having an efficient record-keeping system is crucial. Best case scenario, that system is electronic and available through a mobile app.
The Yardi EHR Care Stream app is just that. We hope you'll take advantage of the app's many features, including offline charting.
Get the Care Stream app on Google Play. You can also download Care Stream via the App Store.
To learn more about our full-service electronic health record solution, visit the Yardi EHR product suite.