Explore New Functionality
By Natalie Mahn on May 29, 2023 in Senior Living
The newest improvements in the Yardi Senior Living Suite are here! This release (7.18) includes enhancements in RentCafe Senior CRM, Yardi EHR and eMAR. As always, each enhancement was powered by feedback from our amazing senior living clients.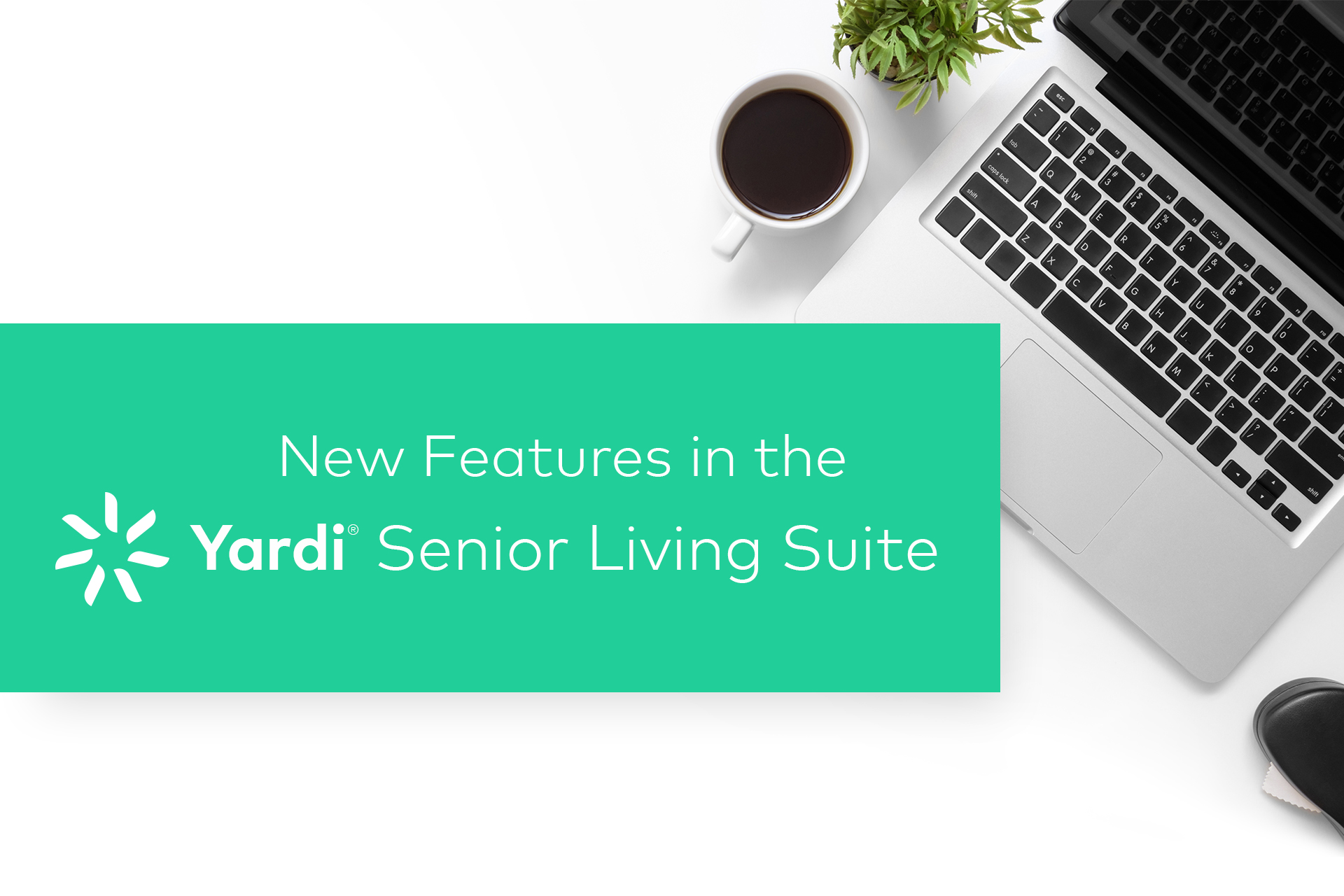 To learn about what's new and improved in 7.18, read the highlights below. We're also sharing links to informative webinars, crafted for clients, which explain the new functionality in detail.
For a complete list of new features documentation, clients can also visit the help center in Client Central and select new features.
What's new in RentCafe Senior CRM
RentCafe Senior CRM, our mobile-friendly CRM solution, is packed with fresh functionality courtesy of the 7.18 release. From simplified workflows to completely new features, the enhancements equip you to:
Track your competitive analysis with new options to create custom configurations that automatically save for future use
Store marketing collateral in one centralized location, the document center, allowing staff to quickly grab attachments to email to prospects
Enjoy expanded options for automated correspondences including those produced by birthdays, anniversaries, email templates, lead status and prospect status change — plus apply filters to individual rows to ensure you send the prospect's preferred correspondence type
Sync your Outlook calendar with your RentCafe Senior CRM calendar, enabling items to instantly populate in Outlook as they're updated in RentCafe Senior CRM
Build savable templates that automatically generate common tasks, conducted before or after an event, to avoid starting from scratch when creating future events
Access a simplified digital signature invitation that enables copying and pasting a verification pin sent via email, or via SMS mobile phone when you have RentCafe Conversations
Watch the RentCafe Senior CRM New Features Webinar.
Watch the RentCafe Senior CRM Set Up New Features Webinar.
What's new in Yardi EHR and eMAR
Now for Yardi EHR and Yardi eMAR, solutions built to help you enhance care at every level, here's what's possible thanks to the 7.18 release:
Benefit from a redesigned service plan screen that clearly presents every action, making it easier to manage plans and identify what's missing prior to activation
Utilize new order direction templates that allow you to set the direction for an order with the click of a single button
Enjoy an updated variable/sliding scale feature that auto-selects the correct quantity based on the vital information entered
Save time with new bulk charting options in Care Stream that allow staff to chart multiple medications at one time, and apply specific notes to everything at once
Streamline assessments with enhanced dynamic profile sections, which enable staff to update the resident's profile while performing an assessment
Watch the Yardi EHR New Features Webinar.
Watch the Yardi EHR Set Up New Features Webinar.
Have questions?
If you have any questions about what's offered with the 7.18 release, visit the help center in Client Central. If you're new to Yardi senior living solutions and want more information on the success they create, get in touch with us!