Recognizing Doris-Ellie Sullivan
By Natalie Mahn on May 24, 2023 in Senior Living
"Change is always tough, even when it's good for you."
Those words come from Doris-Ellie Sullivan, a 2023 Changemaker and dedicated Yardi senior living client! As president of Retirement Unlimited, Inc. — a 21-community organization with living options across Virginia and Florida — Sullivan knows a thing or two about skilled, innovative leadership.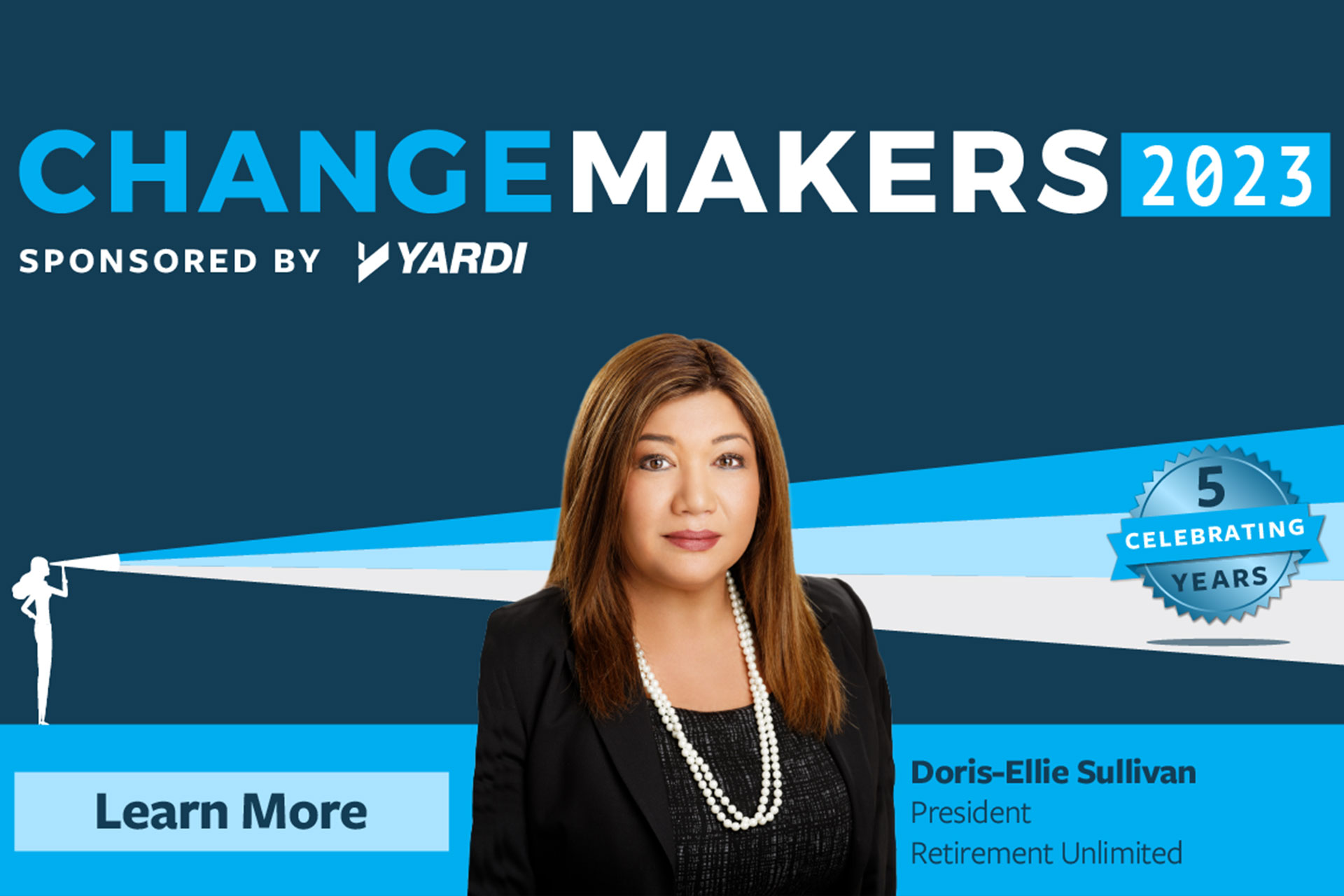 We're proud to join Senior Housing News (SHN) in recognizing Sullivan as the Changemaker she is — spotlighting her extraordinary advice and insights (gathered in a detailed interview). It's an honor to be part of this special series, sharing inspiration from leaders like Sullivan, as sponsor for the fifth year in a row.
Yardi client Doris-Ellie Sullivan named 2023 Changemaker
Through her conversation with SHN as part of this year's Changemakers series, Doris-Ellie Sullivan shares how her background has shaped her leadership style today. Coming to the senior living industry by way of the U.S. Armed Services, where she was a nurse, Sullivan's career has been guided by a passion for service and a dedication to helping others.
Keep reading for a look at her insightful interview:
SHN: How have you changed as a leader since starting in this industry?
Sullivan: I came into senior living from the military, so that was quite a big difference. Empathy and servant leadership is definitely at the core of my leadership style.
The discipline and systems came across from the military, but I think it was more of the residents-centered focus – believing in the mission. Of course, our mission at Retirement Unlimited is to provide a lifestyle that our residents have earned and deserve. I think it's a different mission. I think that you have to evolve, and that's what sets me apart is evolving and always being open to learning.
SHN: How do you think about timing, so that your company can innovate without getting so far ahead of the market that a new idea doesn't work?
Sullivan: We launched the MyRUI app in 2019 before the pandemic. We also partnered up with a lot of companies to prepare for the pandemic, not knowing that the pandemic was coming. I don't think you can ever be early. I think innovation equates to adoption: What is the adoption at the community level? What is the adoption at the resident and family level? What is the adoption to the general public?
I think that if you can create adoption and not distraction in anything that you're innovating, whether it's AI or ChatGPT or some new software product or some hardware or some new system.
One of the things that we've learned with the MyRUI app — and with any innovation that we've put out there — is that it's not a one-time, "Let's have this big party and launch it." It's every three months, you have to almost do a soft launch to keep the adoption rates going.
More showing us as shoulder-to-shoulder versus telling people that it's going to make your lives easier, that is a big difference that we have at RUI.
SHN: Can you talk about how you see the need for Diversity, Equity and Inclusion in the industry, and what you are doing to drive change in this regard?
Sullivan: I am a female of Asian descent and started this business in the 1990s. I and several other women out there had the great opportunity of being on an all-female panel a month ago with some other pioneers like Shelley Edsen from Sonata Senior Living and Sevy Petras from Priority Life Care.
It's just important to find the right candidate for the position. If everybody has that focus and they're looking for the right candidate with no judgment, I think that that blossoms into opportunity. As I said, we looked for the right candidates and created a very diverse home office, a very diverse community operations side, and a very diverse region.
That comes from trust and that comes from everybody understanding and being kind to each other but just being open. It is interesting.
We have people from every facet of life in our home office. It's a beautiful thing to see everybody collaborating, and working well, and I think a lot of that is because of respect.
I would hope that it comes out in what we show. When people are talking about DEI, but then you see their leadership page and it doesn't look like DEI, then it's hard for the line staff or the regional staff to believe it. I think that it's almost like one of those old adages: "See what I do, not what I say."
Read Doris-Ellie Sullivan's entire interview
Want more insights from Changemaker Doris-Ellie Sullivan? Read her interview with SHN from start to finish. If you're wanting to learn how Yardi supports clients like Retirement Unlimited with our dynamic software solutions, reach out to our senior living team.