Lease Renewals
By Erica Rascón on Mar 11, 2019 in News
Wouldn't it be fantastic if your residents signed lease renewals months in advance? Wouldn't it be even better if they signed a multi-year lease? When you know that good residents are staying in place, you can save time and money. Cut costs on searching for new tenants and turning units. Save time on tours, interviews, and paperwork. Business becomes easier with more renewals, and these five practical tips can secure them.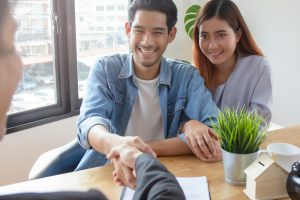 Start Renewal Campaigns Early
Don't waiting until a month before the lease ends to ask residents about renewal. You're placing yourself at a disadvantage. First, you've given residents plenty of time to think about leaving and shopping around. Worst, you've only given yourself a month to find a new resident if needed. If you can't quickly fill the vacancy, one month's loss of tenancy can deplete nearly a year's worth of revenue.
Consider contacting residents about renewals midway through their lease. You're getting their attention long before they think about shopping around. You're also giving yourself ample time to secure a new resident before the current lease ends.
Make it Easy to Renew
Don't make your residents take time off work to trudge down to the leasing office and sign their renewal. They will postpone signing until the last possible moment.
Encourage early signing with online lease renewals through a convenient resident portal. Residents can renew their lease via a responsive website or a mobile app. This means that renters can submit renewals 24/7, even when your leasing office is closed.
Be Transparent
Rent hikes, fee changes, and other surprises give residents an opportunity to pause. "Do we really want to sign this? Are other communities charging this much?" With the terms of your renewal in hand, they may begin to shop around.
Notify residents of changes to rates, fees, and other updates as soon as the information is available. For example, when signing the initial lease, notify renters that rents have historically risen about 3-5 percent per year in your market. When renewals come, the increase will come as less of a shock. They will also know that other properties are likely to issue similar increases.
Offer Mutually Beneficial Incentives
Incentivize renewals in a way that is cost effective for you and appealing for residents. Consider discounted rent in exchange for signing a multi-year lease. You can skip finding a new tenant, which saves money and time. The renters save money upfront, which is the start to a good relationship and a longer lease.
Upgrades and renovations also offer mutual benefit. By signing a renewed or extended lease, renters receive an update to their apartment such as new appliances or upgraded fixtures. Be sure to focus on upgrades with proven ROI. Your focused investments on the property will make it easier to lease out in the future.
Create Focused Retention Efforts
Consider having a staff member dedicated to renter retention like Resource Residential's resident concierge. This person ensure that residents have smooth transitions to your property during move-in. Then they regularly scheduled follow-up calls during the duration of residents' stay.
While a dedicated staff person may sound like a big investment, consider this:
A positive move-in experience increases the likelihood of renewals, decreasing the time and cost of securing new residents.
Proactively addressing residents' concerns can keep bad online reviews to a minimum. J Turner Research reveals that 78 percent of prospects use "online rating and reviews in their apartment search. Prospects rank the influence of online ratings and reviews on their rental decisions at 6.94 on a scale of 1-10."
J Turner Research also suggests that "a lack of communication with staff" is among the top five resident complaints. A designated liaison keeps the lines of communication open.
A staff person dedicated to renter retention adds value to your property!
As you may have noticed, securing lease renewals is a matter of planning and resident retention techniques. With those tools combined, you're bound for success!